Marketers aren't spending enough on technology, they aren't making some fundamental changes and they need to wise up or get left behind, says ex-Xero and Commonwealth Bank marketer Andy Lark.
Lark, who was involved in CommBank's digital transformation before moving become CMO of New Zealand-based software company Xero, was speaking at Ashton Media's Marketing Tech Symposium on 'The end of automation. The beginning of something bigger'.
He said marketers are "fundamentally not good at change" which is why many businesses have not embraced digital technology.
Marketers must move quickly
Lark went on to show a slide of the technology adoption lifecycle and added how "it is the biggest load of bollocks ever created in marketing" as the landscape is changing so rapidly.
"It doesn't actually exist, because of how quickly change occurs," Lark says, referencing the emergence of online YouTube sensations Dude Perfect and PewDiePie as well as online players that shake up the market such as Amazon, Tinder and Pokemon.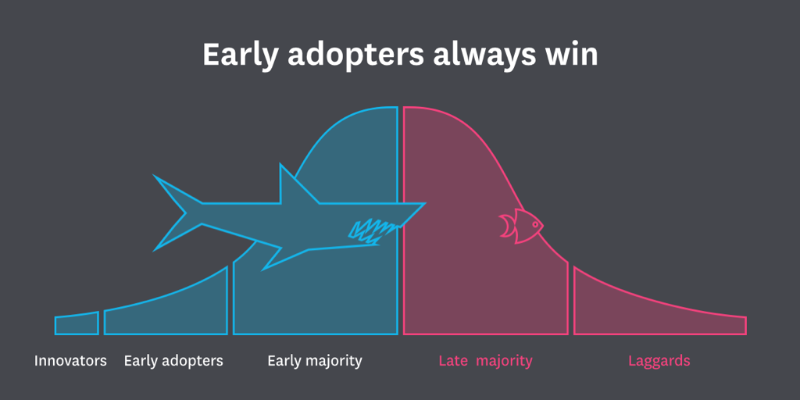 The tech adoption lifecycle (above) is a model that describes the adoption or acceptance of a new product or innovation, which Lark says is actually is a pointless diagram due to the rapid rate of change in the sector
He said marketers think they have the time to deploy all this marketing tech, with the average marketing technology stack taking between 24 and 36 months to bed in in the average business, but the reality is that they don't have that time any longer.
"The problem starts with the fact that we are just all over the shop," Lark says.
"We are running around frantically figuring out how to deploy all this technology, most of of the leads we generate don't close, most of our sales reps don't achieve quota, most of our boards have no marketers on them so there's no one at the board table who even vaguely understands what we do - it's just a trainwreck and it doesn't get any better."
Budgets – rinse and repeat
Lark went onto say explain the average tenure of a CMO is shrinking not increasing as CMOs are increasingly being replaced by the "new in-vogue, hip, cool chief customer officer" who are merely just CMOs in disguise. 
He said as it takes more than than 24 months to even see an ounce of benefit out of most of the platforms out there, with the way budgets get allocated today it's all very chaotic.
"It's a trainwreck because we all sit in our little swim lanes and we swim up and down the pool. The people with the greatest spend are heaving money into TV and their favourite creative agencies are getting a free trip to Cannes; the digital team are frantically going to some banal Google conference in some hotel. Budget-wise it's just rinse and repeat," he said.
Marketers need to make stuff
Lark, who also touched on the shift in amazing system redesigns such as pizza delivery by drones, dash buttons and the birth of the access economy, also notes that if you go to the average marketing department and go looking for people that make things, you'll soon discover there is hardly anyone that makes anything.
"It's full of bloody middle managers who are managing agencies and going to meetings.
All the making is done outside of the business and that's a huge issue if you are going to be agile and move at speed.
"There's no regard for the art of making things so we have to do that."
He said you need to 'be a maker' and hire more engineers as great product and great experiences through martech are largely built by people who make great things – adding that's why Amazon and Facebook have had such success as they have more engineers.
As well as making more, he said you need to have open/dual sided platforms; you have to 'do data differently' by building heaps of big data pools and also have a 'beautiful' dashboard system that's done well.
Have something to say on this? Share your views in the comments section below. Or if you have a news story or tip-off, drop us a line at adnews@yaffa.com.au
Sign up to the AdNews newsletter, like us on Facebook or follow us on Twitter for breaking stories and campaigns throughout the day.