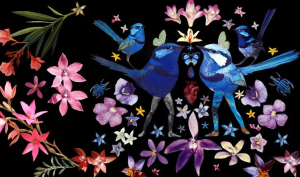 The finalists and winners of the inaugural $30,000 Fivex Art Prize: Billboard Art Reimagined, sponsored by QMS Media, Australia's first award dedicated to digital billboard art, have been announced:
Magdalena Carmen (VIC)
Hello Sign / Hey Sign
Artist Statement: "These works from my street sign series, inspired by the simplicity, power and universality of city street and construction signs (particularly those amber ones). Mobility, a plethora of visual media and micro messages mark the 21st century, its zeitgeist perhaps best summarised in the graspable beauty of the mobile phone with its apps – camera to games, social media to utility – containing our whole lives. The series of works articulates that zeitgeist and celebrates the urban, Melbourne, and what is universally app-arent and accessible (& often taken for granted)."
Bio: Magdalena Carmen is a designer-photographer / poet-performer. The urban in general, and Melbourne in particular, is a primary subject of interest. She likes finding the extraordinary in the everyday 'ordinary'. Then there is the English language, her first love: words everywhere – in poetry, in music, in advertising. Creative Writing, Photography and Design education also nurtured her creative expression and gave it direction. She cannot imagine life without the power of words, pictures, sound and theatre – without the power of the Arts as a whole – transforming even the everyday into the extraordinary, and imparting messages that inspire, provoke thought, cheer on, make sense of lives and change them too.


_________________________________________________
Catherine Clover (VIC) - joint winner
Song Cycle
Artist Statement: "These seemingly nonsense texts incorporate the phonetic words used by naturalists in bird field guides to approximate a bird's call or song. When voiced the texts make surprising sense. The Red Wattlebird's scratchy raucous song is rendered for the horizontal billboard using the rhythm and metre of an early morning exchange, which includes two slightly varied groups of three notes, repeated. The complex song of the Common Starling includes a long dropping melodic note which seems ideal for the vertical billboard. Hopefully, viewers will find it irresistible to sound out the bird calls when they pass by the billboards. The texts are site-specific: both birds are common to Melbourne including the city center. Both are songbirds but the Red Wattlebird is native and the Common Starling is introduced. The Woiwurrung word Yan-Guk (Red Wattlebird) is a translation by Wurundjeri Elder Aunty Gail Smith."
Bio: Catherine Clover's multidisciplinary practice addresses communication through voice, language and the interplay between hearing/listening, seeing/reading. Using field recording, digital imaging and the spoken/written word she explores an expanded approach to language within and across species through a framework of everyday experience. With listening as a key focus and the complexity of the urban as a shared sonic space, the artworks prompt transmission and reception through the fluidity, instability and mobility of voicing and languaging. The artworks are social in nature and frequently involve collaboration and participation with other artists and with audiences. They take several forms including texts/scores, sound, installations, sound walks, performance, readings, external public artworks. Brought up in London, UK, she studied at Wimbledon School of Art and East London University, and arrived in Melbourne Australia as visiting artist through Gertrude Contemporary in the 1990s. Her work has been exhibited and performed regularly within Australia and internationally since the 1990s. She teaches at Swinburne University, Melbourne (MA Writing) and holds a practice led PhD (Fine Art) through RMIT University, Melbourne.


_________________________________________________
Phi Do (VIC)
Move In All Directions
Artist Statement: "My bespoke artwork pays tribute to the unique location of the billboards themselves at the corner of Flinders and Elizabeth streets - home to the only diagonal crossing in Melbourne. As I stand at this intersection, I am captivated by the fluid movement of people as they break from the boundaries of the perpendicular lines of a city grid. The Escher-inspired, topsy-turvy world I've depicted builds on this idea, showing us the limitless freedom of taking the unconventional path. Drawing inspiration from the geometric wonders of Melbourne's iconic architecture, I also wanted to excite viewers as they see themselves through individually-drawn people immersed in our vibrant city, looking at it at different angles. Ultimately, building their connection with public art and the urban environment. Like a powerful queen on a chessboard or a weightless astronaut in space, I invite us all to move in all directions."
Bio: Phi Do is a Melbourne-based, multidisciplinary designer and illustrator. A graduate from Monash University with a Bachelor of Design and Mechanical Engineering, he expertly blends the world of analytical thinking with art and creativity. Phi works professionally as a user experience (UX) designer at NAB, where he applies human-centered design to shape products and services to ensure the experiences are desirable, usable and accessible for users. He is also a freelance designer, specialising in branding design and illustrations for start-ups and nonprofits. An active supporter of community and cultural festivals, Phi was the artist behind the 2018 Melbourne Queer Film Festival creative and is the featured artist-in-residence for the 2020 Pint of Science Australia Festival. In his spare time, Phi likes to do life drawing and create quirky illustrations. He likes to look at the world around him to see the beauty in the little things be it science, nature or even food. Whether digital, physical, spatial or visual, Phi is passionate about crafting beautiful and thought-provoking compositions that bring a sense of joy and optimism.


_________________________________________________
Deborah Kelly (NSW)
Evolutionary Exuberance
Artist Statement: "This pair of works is in thrall to the gleaming treasure of life itself. A new composition with elements created over three years of research and accumulation, Evolutionary Exuberance seeks to enchant the human viewer with a shimmering array of complex inter-species entanglement. As history narrows and the world warms, this artwork is a balm and a herald of recovery and resilience. Presenting a hybrid imaginary of teeming, dynamic life in the city and beyond, the assembled figures, their powers and possibilities hope to suggest glorious adventure, of the natural world's resilience and promise, of resolute harmony, justice, diversity and dynamism."
Bio: Deborah Kelly is a Melbourne-born, Sydney-based artist whose works have been shown around Australia, and in the Biennales of Singapore, Sydney, Thessaloniki, Tarra Warra and Venice. In 2017 her first international solo exhibition, Venus Envy, was shown at the Kvindemuseet in Denmark. In 2018 her second one-person European show, Life in the Ruins, was held at the Fabian & Claude Walter Galerie in Zurich, curated by Daniel Blochwitz. Deborah's projects across media are concerned with lineages of representation, politics and history in public exchange, and practices of collectivity on small and large scale. Her work has been presented in group exhibitions at MOMA PS1 in NYC, the ICA in London, the Hammer Museum in LA and the Pera Museum in Istanbul. Her moving image works are currently touring Australia in the exhibitions Craftivism, Rococolonial and Moving Histories//Future Projections until 2020. She has recently participated in PhotoBasel, Switzerland; Strangelove Festival in Antwerp, Belgium; PortoFemme in Portugal; Spaced3 at the Art Gallery of WA, My Monster at RMIT Gallery and in the historical survey Unfinished Business: Perspectives on Art & Feminism at ACCA in Melbourne. The collaborative portrait project No Human Being Is Illegal (in all our glory) she instigated for the 2014 Biennale of Sydney toured regional galleries 2015–2018, and moved to a permanent home in the Wellcome Trust Collection, London, from September 2019.

_________________________________________________
Daniel Kotsimbos (VIC) - joint winner
Peak Frequency
Artist Statement: "Peak Frequency is a data visualisation of sonic patterns recorded at Melbourne Square Crossing. Made from a site-specific audio recording, the artwork is essentially a spectrogram of the billboards' location. The spectrogram on the 'wrap' billboard shows time represented horizontally on the x-axis, and sonic frequency on the vertical y-axis. A colour key indicating decibel intensity is shown on the vertical billboard. Peak Frequency is a hypnotic representation of our public space, reflecting and distributing what is already there in pursuit of encouraging critical awareness of the systematic and routine foundations of our public lives."
Bio: Daniel Kotsimbos' work distils and recasts information using new-media technologies, open-source materials and found artefacts. His practice explores a transitory media culture, investigating an existence within, between and across an ever-expanding digital terrain. Daniel has exhibited at Sutton Gallery, No Vacancy Gallery, Margaret Lawrence Gallery, Melbourne's Living Museum of the West, and White Night Melbourne. He has been awarded the Fiona Myer Graduate Prize 2019, New School Art Prize (Next Wave) 2018, and was shortlisted for the Majlis Prize 2018.


_________________________________________________
Kent Morris (VIC)
City of the Future
Artist Statement: "Indigenous history is embedded in the Melbourne landscape. Significant stories regarding people, sites and events are continuously being revealed and shared, changing our lived experience over time. I envisage that Australian cities of the future will incorporate Indigenous knowledge, histories and ancestral stories in an immersion of time periods, past, present and future. A cultural utopia where interconnection provides diversity, safety and prosperity. Indigenous creation stories, including those of the Kulin Nation, tell of magpies industriously and ingeniously working together for the betterment of all and singing to mark their achievement. Australian native songbirds are the oldest on the planet. They embody ancestral stories and represent spirituality, continuity, adaptation and change. Magpies (Australia's favourite bird) and other native birds, are interwoven into Melbourne daily life through their interaction with the ever changing contemporary spaces which we inhabit. They are our ancestors, protectors and messengers. A city of the future awaits."
Bio: Kent Morris is an artist, curator and cultural arts educator of Barkindji and Irish heritage living on Yauk-ut Weelam Country in Melbourne. He holds a Bachelor of Fine Arts from Monash University and a post-graduate Diploma in Fine Art from Victorian College of the Arts and is an alumnus of the National Gallery of Australia's Wesfarmers Indigenous Leadership Program. In 2017, Kent's artworks were featured Tarnanthi Festival of Contemporary Aboriginal and Torres Strait Islander Art and have been shortlisted for the National Aboriginal and Torres Strait Islander Art Awards each year from 2016–2019. His work is also included in numerous major collections, including the National Gallery of Victoria, Artbank, The University of Technology Sydney, Australian Unity and the Parliament House Art Collection. Central themes in his art practice are the connections between contemporary Indigenous experience and contemporary cultural practices and their continuation and evolution. By reconstructing the built environment through a First Nations lens, Kent reveals the continuing presence and patterns of Aboriginal history, culture and knowledge in the contemporary Australian landscape, despite ongoing colonial interventions in the physical and political environments. The interaction of native birds with the built environment reflects resilience, adaption, continuity and change to ecological systems reflecting on the ways in which Indigenous culture survives and adapts. Through digital photography, Kent manipulates structures and nature into new forms that reflect elements of Aboriginal tangible and intangible cultural heritage and reinforce cultural continuity since time immemorial. All Kent's artworks are constructed from a single photograph taken while walking on Country. Apart from basic editing, digital information has not been added or subtracted from the original photograph. Kent is also a curator and the CEO of The Torch, a not for profit organisation that provides art, cultural and arts vocational support to Indigenous offenders and ex-offenders in Victoria through its Indigenous Arts in Prison and Community Program which he began in 2011. Kent Morris is represented by the Vivien Anderson Gallery.

Have something to say on this? Share your views in the comments section below. Or if you have a news story or tip-off, drop us a line at adnews@yaffa.com.au
Sign up to the AdNews newsletter, like us on Facebook or follow us on Twitter for breaking stories and campaigns throughout the day.