Jens Monsees, the new chief executive of WPP AUNZ, is doing far better on base pay, bonuses and allowances than his predecessor Michael Connaghan.
He can potentially end a full year with several million dollars, including allowances, and short and long term incentives. In future years his take could go as high as $5 million, depending on the performance of shares in his long term incentive plan.
Monsees is also getting a special allocation of $1.5 million in share rights, spread over the next two and a half years, as compensation for lost opportunity at his previous employer, BMW Group. 
But much depends on the future of WPP in Australia. The company, feeling an industry squeeze, posted a 1.4% drop in sales to $857.3 million for 2018. 
The average realised pay for CEOs at companies within the ASX101-200 is $1.76 million, according to the latest annual study by the Australian Council of Superannuation Investors (ACSI). WPP AUNZ falls below the top 200 companies by market capitalisation but is within the ASX300.
At oOh!media Limited, where revenue was up 27% to $482.6 million last year, the CEO Brendon Cook was paid $1,578,064 in 2018 with about half that made up of short and long term bonuses. His base pay was $750,014. 
Monsees joins WPP AUNZ from the BMW Group in Germany, where he was corporate vice president leading global digital strategy, corporate planning and product strategy.
According to documents lodged with the ASX, Monsees is being paid a base of $1.5 million, almost 58% higher than Connaghan's $950,000.
The interim CEO, executive director John "Steady" Steedman, also got $950,000, up from his 2018 base of $707,051, while he sat in the chair from October last year.
The new CEO also gets $250,000 a year to cover living away from home expenses provided for under his visa to work in Australia. He is moving with his family from Germany to be based in Sydney
But it is bonsues and potential share allocations which put the package and potential higher.
For short term incetives, he can earn up to 150% of his base pay, depending on whether he meets various performance hurdles, including financial ones. Half that bonus is in cash, the rest in share allocations.
The financial hurdles are usually operating proft and operating margin improvement, plus individual strategic objectives. Monsees' targets will be revelaed in the 2019 annual report. 
Monsees will get $250,000 for the 2019 financial year as a short term incentive because he won't be at the company for a full year.
In a normal year, his potential earnings are the base pay of $1.5 million plus as much as 150% of that ($2.25 million) in short term incentives, for a total of $3.75 million. 
But this can be boosted by long term incentives, another $1.5 million.  This is also subject to performance conditions and the approval of shareholders at an AGM. 
If all goes well, he could pick up $5.25 million when long term incentives fall due some time in the future. 
On termination of his contract, he is entitled to a $1.5 million payout on top of anything else he is owed including annual leave. 
In 2017, Michael Connaghan's total pay was listed in the annual report at $1,033,636, down from $1,383,822 the year before. Last year it was $1,937,680 but that included a termination benefit of $950,000.
WPP AUNZ in February posted a statutory loss of $17.1 million for 2018 on top of impairments, taking a hit to revenue from its Advertising, Media Investment Management segment. 
The loss was a 123% fall from the $73.3 million profit result in 2017.
A summary of Monsees' contract: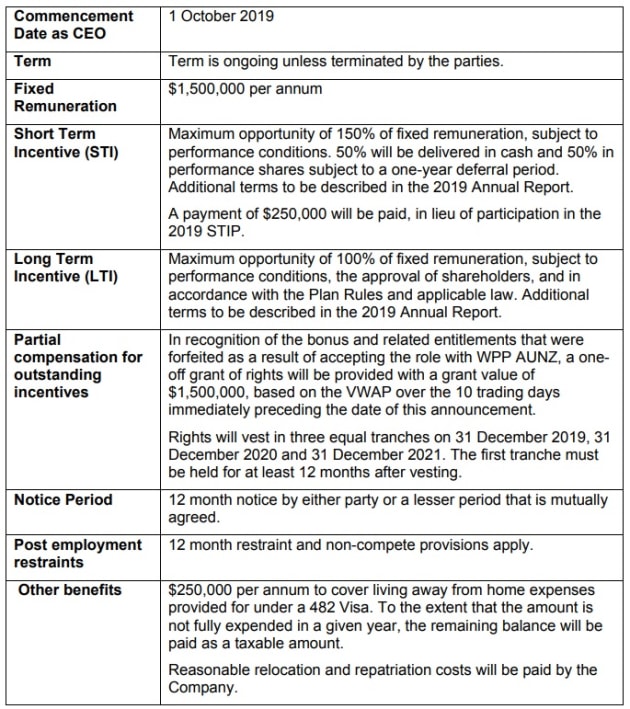 Have something to say on this? Share your views in the comments section below. Or if you have a news story or tip-off, drop us a line at adnews@yaffa.com.au
Sign up to the AdNews newsletter, like us on Facebook or follow us on Twitter for breaking stories and campaigns throughout the day.