The creative behind the viral Ikea ad taking a swipe at would-be politician Clive Palmer received a nod from Labor's new leader Anthony Albanese, who personally asked him to join the party's next election bid.
Adrian Elton created the ad following the federal election results, when Clive Palmer's United Australia Party (UAP) failed to gain a single seat in parliament despite an estimated $60 million in advertising.
The ad read: "Geez Clive… $60 million dollars and not a single seat?" on a billboard appearing to advertise one of Ikea's chairs.
Many believed the mock ad, which had no involvement with Ikea, was genuine, and it quickly spread across social media. It even delighted Pauline Hanson who shared it on Facebook. It also appeared on the Insiders' Talking Pictures segment on the ABC.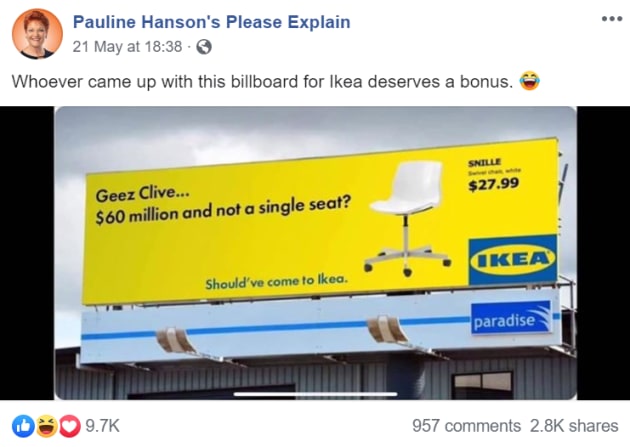 While Ikea itself hasn't commented, Albanese made a personal call for Elton while touching on the issue of political advertising during election campaigns.
"There's no doubt that if you spend tens of millions of dollars on a campaign, part of which is full-page ads that are negative about Labor, that it will have an impact," Albanese said during a media conference after being endorsed as Labor leader.
"Clearly it didn't have enough of an impact to elect Clive Palmer or any of his party, in spite of the bold predictions he made that he would be in government today, they did not win a seat.
"I pay tribute, and one of the things I'm going to get my team to do is find out whoever did that Ikea ad I want them to be bidding for the Labor party work at the next election."
Elton, who heads up Adrian Elton Creative, agrees there needs to be better regulation around political advertising. He believes the ad struck a chord with so many because Australians were frustrated that a mining magnate could bombard them with a "steaming hot turd" of a campaign.
"The UAP campaign included a bastardised slogan, artwork most likely assembled in Microsoft Paint and, for the main part no discernible call-to-action or 'reason for being'," Elton says.
"Aussies, ever quick to cut down tall-poppies, must have felt a cathartic rush of 'Schadenfreude' to see what many thought was Ikea, taking the veritable piss out of his [Palmer's] epic fail.
"I think they also responded to the colloquial language that addressed Clive so directly like he was the ultimate dill."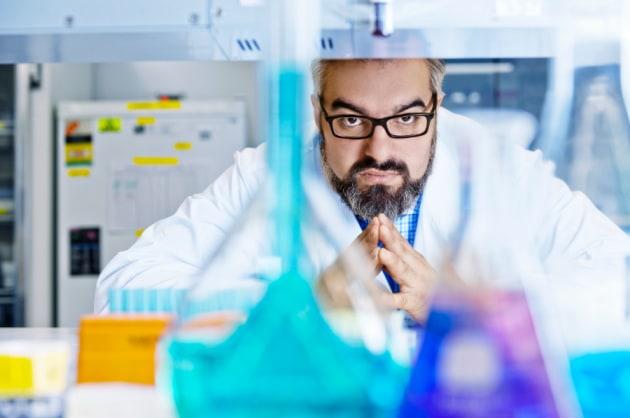 Adrian Elton. Credit: Lynton Crabb
While Elton says all ads need to cut through the "cacophony of noise" to reach and resonate with audiences, context matters.
"I think this was a lightning in a bottle thing. Right message. Right moment. And it caught the headwinds perfectly," Elton says.
"My takeaway is that you can have the message and moment down pat – but without the headwinds, it's going nowhere fast."
While high ranking Labor members may have tapped Elton to join its reinvigorated party, he acknowledges it has a tough task ahead in trying to appeal to the public.
"If they [Labor] just 'copy and paste' what have proven to be the most popular policies and ideas across the board, then they'll no longer be holding true to their vision for Australia," Elton says.
"And it's a hard fight when you're up against those (across many parties) who are happy to stoke the easy triggers of fear and division."
Have something to say on this? Share your views in the comments section below. Or if you have a news story or tip-off, drop us a line at adnews@yaffa.com.au
Sign up to the AdNews newsletter, like us on Facebook or follow us on Twitter for breaking stories and campaigns throughout the day.