Sometimes, problem solving happens over a can of beer while watching the cricket. AdNews speaks with Finch founder Rob Galluzzo and Clemenger CEO Nick Garrett about the story behind The Lion's Share.
Great ideas are both simple and inevitable, says Finch founder Rob Galluzzo, and it's the simpleness of The Lion's Share that's behind its stunning success so far.
The Lion's Share is an initiative by Galluzzo and Christopher Nelius, the Australian production company's film director.
Launched in 2018, its aim is to protect endangered wildlife with a simple proposition: advertisers who sign up contribute 0.5% of their media spend for each campaign that features an animal to The Lion's Share.
Already it has the United Nations Development Programme (UNDP) on board as a co-founder, Mars Incorporated as a partner, Clemenger BBDO as a creative partner and a list of other brands signing up.
"This isn't [a case of] should it happen, could it happen – it has to happen," Galluzzo said.
"We [advertisers] spent $600 billion on media last year and $120 billion of that had an image of an animal in it which brands rightfully use to sell their products and make a profit.
"Yet at the same time, we have 3,800 tigers left."
Heartbreaking figures show that nine of the 10 most iconic animals are either endangered, critically endangered or vulnerable; the tiger, lion, elephant, giraffe, leopard, panda, cheetah, polar bear and gorilla. Just the grey wolf is safe.
According to the World Wild Fund for Nature (WFF), African lion numbers have fallen by more than 40 percent in the past three generations, due to loss of living space and conflict with people, leaving approximately 20,000 roaming the planet.
Yet, The Lion's Share special ambassador Sir David Attenborough notes animals are in 20 percent of all the ads we see.
In Australia, there's no shortage of iconic brands leveraging animals, such as Qantas' kangaroo, Holden's lion and Cadbury's gorilla ad, so it's easy to understand why the imminent threat our animals are under can be missed by society when we're surrounded by their images everyday.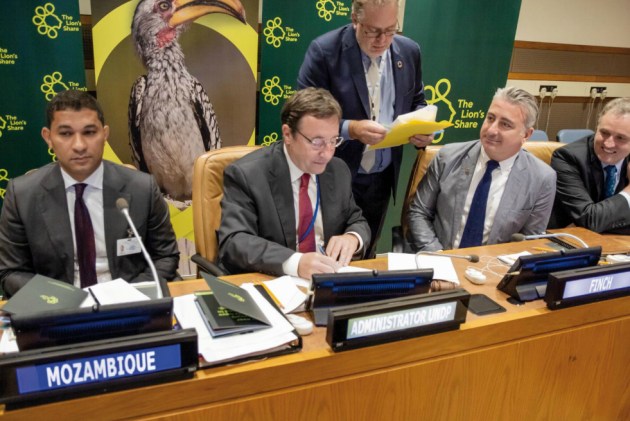 The idea behind Lion's Share came to Nelius while he was watching the cricket with his child in his lap, and, along with Finch EP Michael Hilliard, he pitched it to Galluzzo who took it to the Mars CMO at the time, Andrew Clarke.
"This is a person [Clarke] who was already looking to do good in the world," Garrett said.
"In addition, Mars has a history of cause-related opportunities and for several generations has been very passionate about animal conservation."
But Garrett says it was aiming for the heart that was important.
"We didn't present to the global CMO of Mars, we presented to Andrew Clarke who has two kids," Garrett said.
"He connected as a father of two kids, not as a person who runs some of the most powerful FMCG brands in the world."
With Mars enthusiastic about the idea, Galluzzo then sought to lock in the UN, which now leverages its expansive network of NGOs, civil society and governments to manage the funds and conservation impact for The Lion Share.
To reach the UN, Galluzzo approached Cheryl Wannell, CEO of the Global Trade Body for Screen Advertising, who then connected him with Maher Nasser, the director of the Outreach Division in the United Nations Department of Public Information, who was on sabbatical for three months.
Nasser is a veteran of the United Nations system for more than 29 years.
"Nasser said I leave in 10 days, if you can get to New York in 10 days, I'll meet you," Galluzzo said.
"So I flew to New York and I pitched to a room of four people at the UN.
"Two hated it and one thought it was interesting. That was Boaz Paldi (global engagement manager at UNDP). Paldi picked it up and it grew from there at the UN."
In addition to Mars and the UN, other brands such as The Economist Group, JCDecaux and Nielsen have signed on, and it's also received the backing of Sir David Attenborough, which is no easy feat.
Already, The Lion's Share has raised about $6 million and is putting it to work.
It has directed funds towards an elephant orphanage, purchasing land in Sumatra to save it from being turned into a palm oil plantation.
Despite this, Galluzzo and Garrett say The Lion's Share won't be in full swing for about another year, with Galluzzo expecting to reach the $100 million mark in the third year of operation and a quarter of a billion US dollars by year five.
"We've done the numbers and know what's available and a quarter of a billion dollars is only a fraction," Galluzzo said.
Giving people an easy option
Garrett's confidence in the initiative comes from his trust in the simple behavioural science theory: give people an easy option and they'll take it.
"If you do something quite complicated to create change, there's a barrier," Garrett said.
"By saying can we tax 0.5 percent, it makes it easier to say yes, verses saying we need you to change your palm oil purchasing or your sustainability, for example."
Galluzzo added that brands, and the rest of the world, are learning about the mechanism that The Lion's Share has built and all they have to do is say yes.
"Brands are going to have to work out which side of history they want to be on and at that point I believe in the good brands of the world to make the right call."
So far The Lion's Share hasn't reached Australian brands given the UN, which focuses on nations such as France, the US and China, oversees its pitching.
However, Galluzzo and Garrett want to see local brands join the initiative in the future.
"It would be amazing for an Australian business, not a global business with Australian output, to do something extraordinary first," Garrett said.
"Whether that be Tourism Australia, Qantas or Telstra. Then we're starting to do something."
Who's responsible for saving the planet?
Many brands have incentives to do good built into them, such as Corporate Social Responsibility programs, but Garrett doesn't think this goes far enough.
He believes the businesses that survive in the future will be those which strive for both commercial and social value.
"I don't think it's necessarily marketing's role to do good for the world," Garrett said. "It's the business world's job to do good for the world and brands that do good will be good for business."
Galluzzo reminds us what's at stake for not just brands, but the planet.
He visited the Serengeti National Park in Tanzania, famous for the Great Wildebeest Migration, the annual migration of more than two million wildebeest, zebras
and gazelles.
"This [The Lion's Share] is not at all amplified because of what's at stake," Galluzzo said.
"I was lucky enough to visit Serengeti and it changes you. I've never really seen wild animals, what they need and the innate nature and behaviour in them.
"It's beyond remarkable, it's astonishing."
For Garrett the end goal for The Lion's Share is simple; "Your great grandchildren's great grandchildren are able to see tigers."
A note from Galluzzo: It would mean a huge amount to receive the Australian communication industry's support. To get involved or help, visit thelionssharefund.com or follow on Instagram at @lionssharefund. 
Progress so far
The Black Mamba
The Black Mamba is an anti-poaching group set up in 2013 to protect the Olifants West Region of Balule Nature Reserve and has already expanded into other areas. The unarmed group, overwhelmingly women, protects rhinos, among other animals, round-the-clock by tracking poachers carrying AK47s looking to kill the animals for their horns. The Lion's Share flew the group to Cannes in 2018 to appear on stage and talk about their conservation efforts.
Sumatran tigers
The Lion's Share has purchased 260,000 hectares of defunct palm oil plantation that will be rehabilitated into the rainforest. The program, focused on saving Sumatran tigers, orangutans and rhinos which roam the Leuser ecosystem, is working with the local community to ensure conflict between humans and wildlife is reduced. By the end of 2020 The Lion's Share will have purchased an additional 500,000 hectares.
Pantanal
The Lion's Share will be working with the local community to ensure it moves to a sustainable economy that's not based on jaguar trade. It will also work to ensure better cattle management, decreased conflict between farmers and jaguars, and expanded corridors for the animals across 13 countries.
Mozambique
The Lion's Share will upgrade the rangers' communication equipment to digital communication in order to help with the severe elephant poaching crisis in the area.
Have something to say on this? Share your views in the comments section below. Or if you have a news story or tip-off, drop us a line at adnews@yaffa.com.au
Sign up to the AdNews newsletter, like us on Facebook or follow us on Twitter for breaking stories and campaigns throughout the day.