This first appeared in the AdNews March 2019 magazine and is part of a new feature AdNews introduced last year called Spotlight. Support AdNews by subscribing here.
A gap in the market for content produced by experienced storytellers spurred on founders of Storyation, Lauren Quaintance and Mimi Cullen, in 2013. With a team of journalists, designers and videographers, the agency has produced works for brands such as NRMA and Bupa. AdNews speaks with Quaintance to find out more. 
Why did you start this company?
When brands first vowed to "become publishers" we saw a gap in the market for a new breed of content agency run by people who had worked for major media companies. My co–founder Mimi Cullen and I had senior roles at publishers like Fairfax Media and News International, which meant we had spent a lot of time working with major brands, and knew how to create content audiences valued that also delivered business results. It seemed like an obvious next step to open the doors to our own content agency and to work with those brands directly.
What do you do? And how has this adapted since you launched?
We are a fully-integrated content marketing agency. We design content strategy, create high quality editorial–style content and offer tools to manage workflows and measure performance. Since launching in late 2013 content marketing in Australia has definitely grown up. There is no question marketers need to prove how content contributes to the bottom line — and enable collaboration across teams, since the whole organisation is often involved in creating and distributing content. This is why we've recently signed a strategic partnership with a New York–based company called NewsCred, the world's leading content marketing platform. This focus on driving performance and enabling collaboration is only going to accelerate in the next few years as Australia and New Zealand catch up with the US.
What's the company's point of difference?
Content is a broad church. Our publisher background means we take a different approach to content to other agencies. We draw on an exclusive network of expert journalists — not copywriters — to create our written content, and we use a network of photographers, videographers and designers with editorial expertise so everything that we create looks and feels like a story, not an ad. Our in–house team of editors, strategists and producers all have an editorial bias and we're particularly good at telling real stories about real people.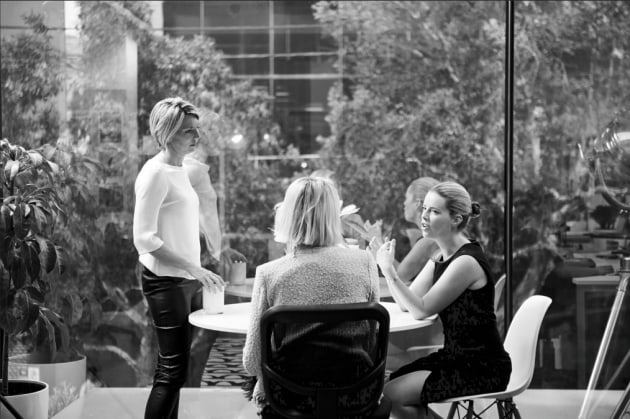 Storyation team
What's the biggest business and wider industry challenge right now?
Like all good buzzwords content marketing has lost some of its lustre. Too many marketers and agencies have focused on vanity metrics and too little on performance and the bottom line. To us there is no such thing as good content without good strategy. Last year we hired one of our favourite clients, who was head of Tourism Australia's content globally, to be our head of strategy and we are being asked more and more to build effective and actionable success scoring as part of a clearly defined content strategy which is an encouraging sign.
How do you view the competitive landscape?
As large agency groups face tighter margins and more challenging trading conditions globally the pool of agencies that say they create "content" is growing - from creative, SEO and digital agencies to custom publishers and PR agencies as well as traditional publishers. But Storyation is still one of the few agencies in Australia and New Zealand with content marketing as its singular focus and our focus on high quality, strategically-grounded content created with a publisher lens is unique.
Why is Storyation one to watch in 2019?
With the ink barely dry on our regional partnership with NewsCred we're having conversations with large brands about helping them to more effectively create, collaborate and share content across teams and better measure performance. We think that together with NewsCred we can help marketers realise the promise of content which is for it to be a strategic asset across an organisation. As I said when we picked up the trophy for AdNews Small Agency of the Year last March: "From little things big things grow." 
Top three pieces of work:
Tourism NZ Premium: Welcome to Our Place
Tourism New Zealand was a foundation client and we're particularly proud of the work we've done for its Premium team. Authentic, local characters are the key differentiator for New Zealand as a destination and, unlike their equivalents overseas, many New Zealand lodges are not run by large corporations, but by genuine, can–do people who really make a trip there memorable. In this video and print series that ran in US publications, we told the back–stories of two lodge owners — one in a helicopter–access–only high country station in the South Island, and one in a vineyard on an island off the coast of Auckland.
Smartgroup: Business and Sport
Since 2016, we have worked closely with diversified support service company, Smartgroup, creating article content for their digital hub and social channels. This year, we expanded the partnership by crafting a high–end video series with well–known sporting personalities; Brad Thorn, Jamie Whincup and Sharni Williams, that delved into the intersection of sport and business. The documentary–style videos, titled 'Ahead of the Game', reached into the talents' personal and professional lives to highlight Smartgroup's key themes of team building, mentorship and the will to succeed. The resulting content, augmented with a long–form whitepaper and an event at the SCG, showcased our ability to weave a complex story across multiple media formats.
APT: Voyage / Unforgettable Voyages
While much of what we do is digital and video content, we still produce magazines for some clients and APT trusts us with both their quarterly and annual member magazines. The biggest travel company in Australia and New Zealand with cruising and touring operations in more than 70 countries, APT's older and affluent audience consider themselves "travellers, not tourists", so everything we do in these magazines is serving an audience that wants a deep understanding of the history and culture. Voyage has been hugely successful winning various awards. As a former travel and magazine editor, it's an absolute pleasure to work on.
Voyage Magazine
Have something to say on this? Share your views in the comments section below. Or if you have a news story or tip-off, drop us a line at adnews@yaffa.com.au
Sign up to the AdNews newsletter, like us on Facebook or follow us on Twitter for breaking stories and campaigns throughout the day.