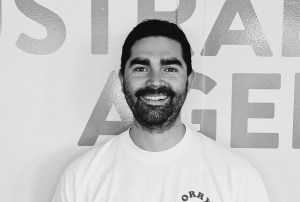 Some of Bastion Collective's senior recruits share their insights on landing and starting a new job remotely, and how they're
adjusting to being back in the office.
With 30 roles filled over the past 12 months, Bastion was forced to innovate its recruitment and onboarding processes and get to grips with delivering excellent client work with team members they'd never met. 
Some of the key learnings, according to Bastion:
The need for increased chemistry sessions during recruitment – less about the job, more about the people and culture and greater investment in getting to know people informally before either party commits. Chemistry sessions are a recruitment tactic kept post COVID.
Appointing virtual buddies to new team members who help guide the way – another construct retained.
Building fun opportunities for staff interaction. One of Bastion Effect's favourites was a hilarious Microsoft Paint-a-thon where team members had to emulate works of art using Microsoft Paint live on Teams and share their artworks.
Stephen Cuff, social account director at integrated consumer PR and social media arm, Bastion Effect, worked just 10 days in the office before the first lockdown. 
"Being the first pandemic in which I've started a new role at, there was no playbook in what was to come! I originally saw a position advertised through LinkedIn and had always rated Bastion highly, knowing a few others who had passed through the big yellow doors," he says.
"My first week in March 2020 was a memorable one, but not for the right reasons – as it was the week when 'Rona really spiralled out of control. Between Tom Hanks announcing he had COVID-19, and the F1 pulling the pin at the eleventh hour, I knew things were changing quickly.
"On my first Friday we were all told to take our laptops home, for what I imagined would be a few weeks. I learnt pretty quickly that my kitchen table is much more suited to eating (and dancing) on, not working on.
"Microsoft Teams became the new go-to, and to be honest, it was a great way to learn everyone's names. Plus, I got exposed to others that I may have not otherwise met for some time. Friday drinks became virtual drinks, which became virtual trivia, which became virtual art class (Microsoft Paint represent). There were plenty of fun activities that made it easy to settle in and brought the Sydney and Melbourne offices closer together.
"Between the lockdowns I managed to meet up with a couple of colleagues and the first thing we said was how big we all looked (in 3D that is). Like others, the morale and motivation were harder to find towards the end of the second lockdown, but knowing we had such a great support network who were all in the same boat made it much better. Our senior management really did cater to the different ways of working, to ensure that our health was a priority, with work a second."
Savannah Zhang, who works as account director in the Asian marketing and communications business Bastion Asia, found it daunting starting a new role during Melbourne's tough lockdown, but regular check-ins helped.
"In any typical setting, starting a new role is always an exciting time for anyone. However, starting a new role during a pandemic was an exciting, yet daunting experience for me," says Zhang.
"While excited for a new chapter in my life, I couldn't help but wonder: with so much to learn, so many new colleagues and new clients to meet, and so many things to do, where do I start?
"Thankfully, Bastion Collective and my team at Bastion Asia have been very helpful in making me feel welcome. From regular check-ins organised by Senior Management and People and Culture teams, to all the weekly Uber Eats vouchers and virtual trivia, it didn't take much time for me to adjust to new responsibilities and, more importantly, to a new remote work environment."
Bastion Collective's general manager, people and culture, Edwina Webb, says a huge emphasis has been placed on adapting the onboarding process to allow for interactivity and team collaboration to thrive in a virtual way.
Webb: "The staff onboarding experience is incredibly important - as it sets the cultural and performance tone for the business. It plays a critical role in setting new starters up for success - developing strong working relationships, setting expectations and importantly, building confidence. Regardless of whether it is pre, post or during a pandemic – we only have one shot at getting it right".
Have something to say on this? Share your views in the comments section below. Or if you have a news story or tip-off, drop us a line at adnews@yaffa.com.au
Sign up to the AdNews newsletter, like us on Facebook or follow us on Twitter for breaking stories and campaigns throughout the day.