Amazon's move into Australia has rattled several sectors, most notably retail, but one business that isn't perturbed is Stan.
The leading local streaming service, which had more than 750,000 active subscribers at last count, is on the growth part and on track to become profitable in FY18 when it's subscriber figure breaks through the 1 million point.
Stan has a clear strategy to become the Australian home of Hollywood studio hits as well as an supporter of high quality local productions, such as Romper Stomper, The Second and The Other Guy, to name but a few.
An example of deepening relations is major Hollywood studios inviting Stan to pre-screen their slate ahead of official screenings in May.
"That's a reflection of our growing importance in this marketplace," Stan CEO Mike Sneesby says. "Hollywood recognises the opportunity to collaborate early, such as the case with Electric Dreams where Sony Pictures invited us when the production was at script stage to work on this as a Stan Original."
Sneesby says this places Stan on a different content path to the direction taken by global SVOD giants Netflix and Amazon.
"The strategy for Amazon and Netflix is their content slates are moving more and more to a lot of original content that is exclusive to their platforms. It's created a really great place for Stan to own as the home of the biggest Hollywood studio hits," Sneesby says.
"The greater the differentiation there is between platforms the more multiple subscriptions there is between ourselves, Netflix and Amazon."
Amazon Prime vs Amazon retail
Sneesby believes there is a fundamental difference between Amazon's threat to retailers – its biggest global business segment – and Amazon Prime Video's threat to media and entertainment companies.
"When Amazon comes into Australia as a retailer, almost every dollar they take out of this market is a dollar of market share they have to take from somebody else. In that space Amazon is perceived as a real threat," he explains.
"In the television space, firstly in streaming penetration in Australia is only at around 20% and we've got a long way to go to grow the market. When you've got highly differentiated propositions, you increase the overlap of subscribers.
"We're excited for Amazon to be here as another player that can grow the market. Netflix has been an absolutely fabulous co-pioneer with Stan in the market."
If Amazon follows the same strategy as it has in other markets, where Amazon Prime Video is part of a bundle package with its retail arm, Sneesby believes the proposition is even further removed from pure play SVODs like Stan and Netflix.
Romper Stomper begins production this Friday.
Stan Originals
While they might be positioned differently, Stan is also looking to build its own Stan Originals line-up, recognising the importance of exclusive local content.
This summer sees a six-part TV series based on the iconic Australian movie Romper Stomper, a concept that was pitched to Stan by Rough Diamond production house's John and Dan Edwards. 
"Summer is a peak period for a streaming service like ourselves and we wanted to be able to have some really big shows to premiere in the summer time. Romper Stomper was one of a handful of ideas they had in their pipeline and we asked them to develop the concepts more," Sneesby says.
"We realised with what is happening in the world today, the political climate and concerns around religious fundamentalism and extremists, it felt like a subject that's extremely topical and if done right was a great fit, so we gave it the green light."
Another widely anticipated launch is The Second, a feature film that is heavily backed by Screen Queensland and will be shown simultaneously on Stan after a two-week headstart on cinema, an Australian first.
The film, a psychological thriller about a female friendship that unravels on an isolated property in Queensland, is also Stan's first original in the feature film format.
"Taking feature films to a world where consumers can experience them in their loungeroom at the same time as they're in a theatrical environment really highlights how this whole world of entertainment and the way people are consuming is changing," Sneesby says.
"Stan in the loungeroom is a very different experience to a night out at the cinema with the popcorn and the nibblies. I don't think it detracts, rather it's complimentary." 
Stan will look for more opportunities to collaborate on feature films in Australia and abroad, although it remains a minor part of the company's content focus.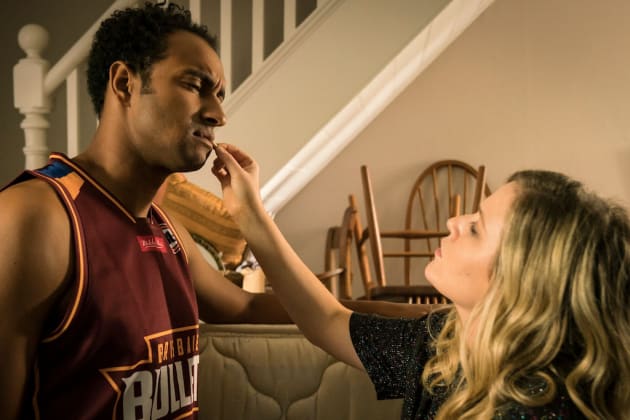 Matt Okine and Harriet Dyer are hilarious as best mates on The Other Guy.
The Other Guy, starring Matt Okine, is another Stan Original that is shaping up to prove a hit and has already generated a lot of buzz on social media.
"There's already a huge amount of awareness for this show, a huge amount of pent up demand for it and I'm absolutely certain when we launch it that it's going to be a big hit," Sneesby.
"This is a drama comedy and it switches between the dramatic side of things with the break up and the world that AJ lives in with Harriet Dyer as his best mate taking it back to the funny side of life.
"That switching between drama and comedy is done so well and it should broaden the audience from people who are hardcore comedy fans to people who are going to get into the dramatic story."
Have something to say on this? Share your views in the comments section below. Or if you have a news story or tip-off, drop us a line at adnews@yaffa.com.au
Sign up to the AdNews newsletter, like us on Facebook or follow us on Twitter for breaking stories and campaigns throughout the day.