In the face of splintering audio audiences, despite Spotify saying it can complement radio buys, Commercial Radio Australia argues the Swedish streaming firm's new research is merely "riding on the coattails of radio".
According to a study piece by TNS, called 'The New Audio', 10-year-old Spotify is rapidly changing Australian listening habits, enabling media buyers to reach audiences moving away from traditional media. The study compares the reach and quality of Spotify's free, ad-supported audience against commercial radio.
Its overriding point is that with radio audiences fragmenting, Spotify can help complement a radio buy - with incremental unique reach of +19% on average when combined with commercial radio networks.
The results are based on a survey of more than 2,000 respondents in Australia. It marks the first time Spotify's advertising tier has been compared alongside other audio platforms.
Radio comparison makes sense
Speaking to AdNews, Spotify global director of business marketing, Jeff Rossi, says Spotify has an audience that is not reached by terrestrial radio stations and by comparing audio-to-audio with the largest market place – being radio – made sense.
"We hope, to the radio buying community, that we can build a better mouse trap. We hope that we can build a solution that can help them [advertisers] achieve their goals more effectively and efficiently," Rossi says."
"That's why we asked questions beyond simply reach. It wasn't just about 'how many ears are out there', but we asked questions on what are people doing and how is it different."
He says Spotify wants to challenge the way people are thinking about media planning.

Above: a snippet from the survey's infographic
Spotify users have more money
Key findings state across every age group the global digital music service provides incremental weekly reach to all radio stations in Australia; for people aged 18-39 Spotify delivers incremental unique reach of +19% on average when combined with commercial radio networks; people pay significantly more attention while listening to Spotify than they do to commercial radio; and, its free users have higher household incomes than commercial radio listeners and are more likely to spend on key categories including auto, FMCG, travel, electronics, entertainment.
Spotify, which is also said to be moving closer to an IPO after hiring a Wall Street veteran as its head of investor relations, also found that FM radio audiences for people 18-39 have decreased by -15.6% between 2010-15, according to GFK figures.
The national industry body representing Australia's commercial radio broadcasters, Commercial Radio Australia (CRA), says when you look at radio reach for the same period, it sees an increase in the number of listeners of 6.2% since 2010, from 3,684,000 to 3,913,000.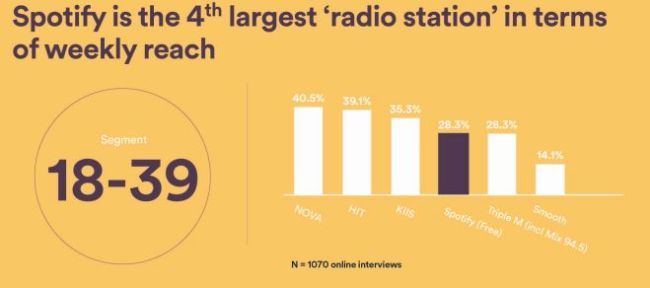 Above: a snippet from the survey's infographic
Research is flawed says industry body
CRA CEO Joan Warner said the statements in Spotify's study are "questionable" and the correct comparison should be with cume and reach not average audience. However Spotify argues cume isn't used in planning for radio and added it's important to note that average audience isn't a measure used for digital or streaming, as media are buying impressions on a CPM or CPCV basis - and audience delivery is guaranteed and based on real time authenticated data.
"Interesting to see, once again, a music streaming service trying to compare itself to, and ride on the coattails of, radio," Warner said.
"It is hard to comment on the research as there seems to be a lack of information on methodology. Unfortunately the comparisons are flawed, source attribution incorrect for radio ratings and the way the average audience data has been used for comparisons of cume and reach is also incorrect."
Warner said radio's audience has in fact increased by 6.2% since 2010 and agreed that radio also increases ROI which is why it works when combined with any other media, adding that radio has the "proven multiplier effect."
Deep data can deliver
Spotify's director of sales ANZ, Andrea Ingham, who is also a former national sales director for Souther Cross Austereo, says while an audio message delivered is similar to radio, it's the targeting and data layers that stand it apart from radio.
"We are quite different services," she says. "Have a look at terrestrial radio and what you can do as far as targeting and measurement. Because we are a digital business, from a data and targeting perspective, we have very deep data that isn't available in radio and isn't available in a lot of heritage media.
"We offer brands a unique audience at scale in a low clutter, accountable and highly targeted environment. As traditional radio audiences fragment, there's never been a better time to speak to our users."
Spotify's findings will be integrated within TNS' media planning tool to help deliver tailored audience insights for buyers.
Ingham added that it's much-talked about new sponsored playlist offering, whereby it allows brands to sponsor its owned-and-operated playlists, will also be available in Australia in the next couple of months.
Have something to say on this? Share your views in the comments section below. Or if you have a news story or tip-off, drop us a line at adnews@yaffa.com.au
Sign up to the AdNews newsletter, like us on Facebook or follow us on Twitter for breaking stories and campaigns throughout the day.