Driven by a warm pressure to increase a jet steam of brand awareness and a heavy shower of ROI, Spotify has merged fronts with AccuWeather to create playlists reflective of weather.
'Climatune' is the product of a year-long study which compared 85 billion anonymised streams on Spotify in over 900 cities nationwide. The new offering, come rain or shine, aims to provide listeners with local playlists based on weather moods in their city - using "the most accurate, most comprehensive global weather data from AccuWeather".
Spotify data researcher Ian Anderson says there is a clear connection between what's in the skies and what's on users' play queues.
"For almost all of the major cities around the world that we studied, sunny days translate to higher streams of happier-sounding music," Anderson says.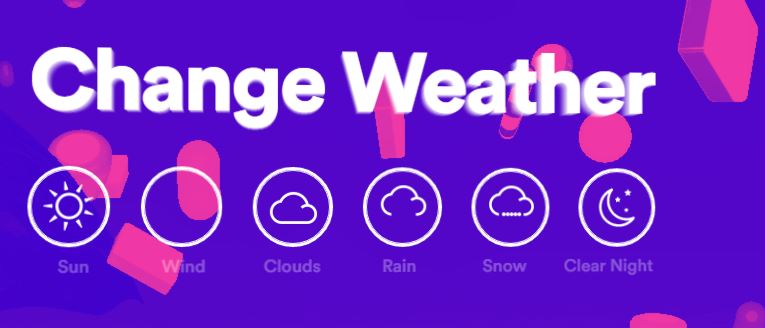 The study looked at the impact weather has on the music people listen to and results found snowy days encourage more instrumental music; sunny days typically encourage listening to happier and higher-energy music; and rainy days bring lower-energy, sadder-sounding music with more acoustic vs. electronic sounds.
There were also variations in weather/listening behaviour based on location. As an example, New York City and Philadelphia listeners are the most affected by bad weather, with residents of these cities substantially changing their listening when it rains; Chicagoans get excited by the rain and stream happier music; Miami and Seattle listeners buck the trend and listen to more energetic music on cloudy days; San Franciscans, on the other hand, seem saddest on cloudy days; and Houston responds the most strongly to rain, with acoustic listening increasing by 121 percent when it rains.
Sydney saddest when it rains
Speaking to AdNews, managing director ANZ at Spotify, Kate Vale, says it partnered with Accuweather to create the microsite for people who desire to view data in a new and exciting way – for those "who have wondered how weather affects the music they have listened to".
"We're always looking for new, innovative ways to enhance the consumer Spotify experience," Vale says.
"AccuWeather were a natural fit for this project and as such we were able to gather data from hundreds of weather stations around the world. This included a year's worth of data mapped to six different web toys: sun, cloud, rain, snow, wind, and clear night. We then correlated this with 85 billion anonymised, aggregated streams in over 900 cities, to uncover any patterns."
In terms of who the new site will be promoted, Vales says it's solely a PR-led initiative.
Trends-wise she says major Australian cities listen to more acoustic music on rainy days; Sydney is saddest when it rains - one of the most affected cities in the world, but unlike the rest of Australia (and most of the world), Brisbane chooses more runnable music on cloudy days.
Recently Spotify also custom-built a number of interactive products for music fans such as OOO, a microsite-based tool that let's you add a Spotify holiday playlist to your out of office email, as well as a Game of Thrones partnership allowing users to discover which GoT character they were most like (based on music taste); and more recently, its 2016 Wrapped digital campaign which gave users an opportunity to review and share their top streamed tracks (along with other personalised statistics) of the year.
In October Spotify launched a new native ad experience called Branded Moments, enabling brands to engage their audience in real-time moments. The offering allows marketers to tell their story "to the right people, in the right moment, right when the moment starts".
It works by leveraging its data and insights to work out what a listener is doing and then gives brands the opportunity to 'own that moment' and bring value to the customer that is more timely and relevant.
To start with Spotify opened up six highly scaled moments including Chill, Dinner, Focus, Party, Sleep, and Workout, so brands have the opportunity to reach listeners in all aspects of their day.
President of digital media at AccuWeather Steven Smith says Climatune provides Spotify users with music playlists based on the weather in that user's area, and the moods which fellow local music listeners experience during weather conditions.
"Climatune is another innovative, engaging way that AccuWeather personalises the weather so people can improve their lives," Smith says.
Have something to say on this? Share your views in the comments section below. Or if you have a news story or tip-off, drop us a line at adnews@yaffa.com.au
Sign up to the AdNews newsletter, like us on Facebook or follow us on Twitter for breaking stories and campaigns throughout the day.