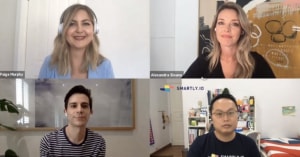 Social media has become a "chameleon" for marketers in 2020, offering flexibility that is unparalleled by other channels.
Country Road digital manager Paul Conti, speaking in The Social Revolution webinar, called it the "most flexible tool" a marketer has today.
"The platform itself has evolved and that's allowed us to think about it in a way where we can still, if we want to, get a campaign out in front of everybody," Conti told viewers.
"We can reach millions of people. But it also offers one-to-one personalisation at scale matching our thousands of products with those that are most likely to be interesting to the people that we're reaching.
"It can be real-time, ephemeral. It can be a brand archive. If you look at our Instagram page, it's word of mouth marketing.
"It's a community platform, where we can build a community of people and give exposure to our community partners. And it's a really important customer service channel for us."
The role of social media in 2020
The way that consumers are engaging with social media is multi-faceted and continues to evolve.
As a result of the pandemic, social media has been an important platform to keep people connected with family, friends and the brands they love.
Facebook customer marketing director ANZ Alexandra Sloane says that the social media giant has seen three big shifts in 2020 with the way that consumers are engaging with its platforms: video calling and remote presence, messaging and social commerce.
"In some of those markets where we saw were hit the hardest by the pandemic early on, like Italy, we saw video calling more than double on platforms like Messenger and Whatsapp," Sloane says.
"So at Facebook, the idea of remote presence became a big company focus. So, we launched new features that made video calling, group chats, live video features easier to help people feel like they were together, even though they were apart."
In a survey that Facebook did with Kantar, almost 20% of Australians said that they would be spending the summer connecting with friends and family virtually regardless of restrictions.
Sloane says conversational commerce has also begun to take off in Australia since the start of the pandemic with 56% of Australians who shopped through a messaging app like WhatsApp in the past month, doing so for the first time.
The third big shift she notes is social commerce and the convergence of shopping and entertainment.
"While we used to spend a lot of our leisure time, especially younger people, going to the mall, we're seeing Instagram is becoming the shopping mall in our pockets and helping brands drive traffic," Sloane says.
Social success
Authenticity, relevance and personalisation were named as some of the key ingredients to building a successful social media campaign during the webinar.
Smartly.io VP APAC Kevin Huang says getting these right will help brands connect with their audience in what can be a cluttered feed.
"Consumers are less engaged now compared to much earlier," Huang says.
"So that means that any ads that you're going to be putting out in the social media needs to be a lot more personalised and a lot more relevant so that you can break through and capture that attention."
While he doesn't believe there is necessarily a secret sauce to stopping people scrolling in their tracks, Conti does reiterate the importance of keeping a brand's ads and messages authentic to the brand.
This is especially true for during the pandemic, where many brands were sharing messages of help and hope but did little more than that.
Conti says ultimately brands need to create the best content for their audience in order to be effective and see results.
"At Country Road, we really leaned into the opportunity to respond to the moment, I guess, in a way that was truly authentic to us and the Country Road brand," Conti says.
"That is, leaning into our Australian heritage, our focus on protecting our land and supporting local communities, which has long been pillars of our brand."
The move towards authenticity has been largely influenced by younger audiences wanting to see more real people in ads and less models or paid actors.
Sloane says this has paved the way for a "new class" of influencers.
Uncle Toby's is one brand, she says, that got it right over the pandemic with its campaign #PimpMyOats in terms of being authentic, relevant and in the right context.
The campaign featured a celebrity chef with a nutritionist doing live cooking demos, as well as recipe content that drove consumers directly to the Uncle Toby's website.
"I think it is about keeping it real, playing around with these immersive shoppertainment experiences," Sloane says.
"And then when you can, closing the loop as well."
Social media is giving brands of all sizes boundless opportunities to build meaningful relationships with customers while simultaneously helping them achieve business goals.
One area of opportunity is the notion of what Huang calls 'Q5'.
"We all know that there is Q1 to four. Now, after Christmas, there is usually a dip in CPM for social ads," he says.
"And during this period where you have the dip in CPM, that is what we call the Q5 period, where consumers are starting to look at what they want to buy for themselves and what they want to do to get ready for the new year.
"So that Q5 period is something that our clients are looking at very, very intently to use that as a good chance to drive a higher return on ad spend to benefit their ad campaigns."
The do's and don'ts
With 2021 just around the corner, Conti, Sloane and Huang all had advice to offer fellow marketers.
Firstly, be prepared to be constantly evolving, testing and learning.
"Forgetting the pandemic for a moment, just the rate of change of what the digital landscape looks like means that we're constantly evolving," Conti says.
"Instagram Shopping came in and Stories was a thing, and now Reels is a thing. These all take consideration and thought, especially when you're an iconic Australian retailer like Country Road.
"Thinking about how you show up in these spaces is something that takes us a lot of thought and time. So we're constantly trying these new things. It's just a constant state of innovation and evolution, and that takes real collaboration between teams."
Huang agreed with this, noting the importance of bringing teams together instead of having them work in silos.
He also says brands shouldn't take a one size fits all approach. Instead, hyper-personalisation should be the focus.
"You need to have targeted, relevant messages for different split segments," Huang says.
"If brands are trying to do hyper-personalisation, they need to make sure that they will continuously test and try to automate the whole process so that they don't lose out on the competition."
Sloane advises brands to think about social as more than a performance-driving channel and less as an afterthought.
"I would challenge anyone in a marketing department or agency to start thinking about, well, how people are spending their time and the role that social is playing, not just from an advertising point of view, but if we think about subscription models or the interplay between online to offline," Sloane says.
"I think all the rules aren't really there anymore. So, ensuring that you're really thinking about what the modern building blocks of brand are, and so much of it is about seamless customer experience or other factors that didn't necessarily ring true when it was much more about broadcast to the masses."
Missed The Social Revolution presented by Smartly.io? Check it out here on demand.
Have something to say on this? Share your views in the comments section below. Or if you have a news story or tip-off, drop us a line at adnews@yaffa.com.au
Sign up to the AdNews newsletter, like us on Facebook or follow us on Twitter for breaking stories and campaigns throughout the day.