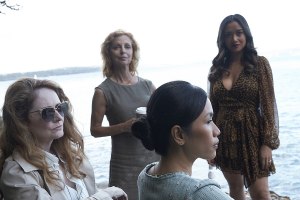 Media agencies praised the SBS Upfronts for distinctive content and the continuing strength of its on demand platform and its advertising options.
Investment analysts also called out SBS securing another 10 years of the Tour De France, its documentaries, international drama, impartial news and current affairs, and an unrivalled food offering.
Natasha Pelly, senior investment analyst, Publicis Media Exchange, says SBS's content slate for 2021 proved unequivocally its distinctive and unique positioning.
"Their program offering is a deft blend of topical and emotive documentaries, premium international drama, an unrivalled food offering, and an impressive range of content that both celebrates and promotes indigenous talent," she says.
"Highlighting the disparity between indigenous groups' share of population and the share of national advertising dollars that go to NITV, SBS announced its commitment to 'Beyond 3%'.
"SBS's commitment to expanding its multi-language offering has now been extended to encompass in-target advertising options within its On Demand platform, which will attract advertisers keen to embrace and appeal to a diverse Australian public. At a reported 26% of commercial digital share, SBS On Demand continues to go from strength to strength."
Octavio Martinez, director, investment & activation at Wavemaker, says this year was all about the Power of Purpose, and SBS leaned into it.
"SBS delivered a thought provoking Upfronts that heroed its commitment to Indigenous issues, domestic violence, literacy levels, life styles, mental health," says Martinez.
"SBS is courageous in bringing confronting topics to the foreground and its Investigative Journalism piece is both needed and commendable.
"As are its language services which help the multitude of non-English speaking households in Australia stay connected to their mother tongue through compelling content that acts as a bridge between cultural and generational gaps.
"SBS has a long-term ambition to get to above 3% and made a call to the industry to commit to progress when it comes to correcting the imbalance in representing Australia's indigenous population vs media attention.
"The network shows it is completely in tune with an emerging generation with a desire to be better informed and conscious of issues that impact their future.
"I was not expecting them to lead with Sport but congratulations to SBS for another ten years to come of TDF (Tour De France).
"I expect another year of inclusive content, and their emerging creative talent partnership and extending it for three years, is very relevant in a time when the Australian film/tv industry needs resource.
"SBS has a strong digital and data strategy, with one of the best On Demand platforms available, but I would have like to hear more about that area, and gain more understanding on the TEG and Adobe tie up.
"I was intrigued by the 'SBS Butterfly effect' of shifting more budget to SBS channels for the same reach objectives with cost reductions to reach the high proportion of SBS's audience that do not watch one of the big three commercial networks."
Craig Cooper, chief investment officer at Carat, says the SBS Upfronts are a refreshing reminder of the wonderful multicultural Australia we all work and live in.
"The breadth of CALD (culturally and linguistically diverse) content provides advertisers a platform to reach consumers not captured in any other environment," he says
"You can sometimes forget the breadth of quality international sport slate of SBS has secured, with the pinnacle being Tour De France - which will continue on the network for another decade.
"It was great to see SBS in full support of their independent and impartial approach to news and current affairs, which is in striking contrast to the introduction of the 'fake news' platform overseas."
However, the upfronts felt light from a data perspective given SBS's strong online community under the On Demand platform.
"Adam Sadler (director of media sales) touched briefly on the partnership with TEG/Adobe, and we would be keen to understand this area in more detail," says Cooper.
Sadler also highlighted the disparity between the First Nations population (3.3%) and ad spend targeted towards this audience (0.3%).
"Highlighting this imbalance is the first step to rectifying this and hope that SBS can continue to guide mainstream advertisers on how to engage this important audience in 2021 and beyond," says Cooper.
Cooper called out Adam Liaw's new 7pm weekday cooking show.
"This is a real opportunity for FMCG clients to integrate in a locally produced and prime time (and 200 episodes) format," he says
"It was great to see Eurovision get its airtime during the upfronts, and given the year we have been through, this well established and family friendly entertainment platform is exactly what we need to look forward to. From an advertiser POV, this feels like one of the most under-rated and could be a real opportunity for 2021."
Have something to say on this? Share your views in the comments section below. Or if you have a news story or tip-off, drop us a line at adnews@yaffa.com.au
Sign up to the AdNews newsletter, like us on Facebook or follow us on Twitter for breaking stories and campaigns throughout the day.