Qantas has launched its business-to-business-audience data and media buying platform based on its loyalty data. Qantas Loyalty partners will likely be first cabs off the rank in terms of customers for the venture, dubbed Red Planet.
Red Planet will overlay loyalty data – from frequent flyer data, to credit cards and employee rewards programmes – and buy media for clients that want both data and buying. It will sell marketers and advertisers, data-driven online targetting, analytics and research.
Qantas said its relationship with ZenithOptimedia will remain ongoing, although there are suggestions that the nature of that relationship in terms of digital media may change. Qantas would not disclose the technology platform provider.
The company is in effect acting like a data management platform as well as a trading desk, but stressed it was delivering actionable data as opposed to raw data.
The company would not be drawn on whether it was now a competitor to media agencies, nor what kind of revenue it expects to generate from its advertising business, but is aiming to drive continued double digit revenue growth for the Loyalty division.
Vaughan Chandler is heading up the Red Planet business.
In a statement, he said:
 "We're very mindful of protecting people's individual data and privacy, but at a macro level the data the program generates provides some very powerful insights about consumer trends and traits.
"In the online environment, there's the opportunity to serve up advertising that is particularly relevant to groups based on what they're doing online and offline. For instance, a Qantas Frequent Flyer who has just booked a flight to Perth is likely to be interested in premium accommodation in that city. If you have to see ads when you're browsing online, it may as well be for services that are actually relevant to you."
Chandler continued: "Making sure people aren't served up irrelevant communications is an important part of communicating in a targeted manner. We can help avoid the wrong ads being served to the wrong audience, which ultimately enhances the experience for our members online.
"The opportunity for our partners to utilise Red Planet's integrated market research, customer analytics and media placement capability creates significant efficiency for our clients and is unique in the market. From planning through the reporting, this coordination increases accuracy and reduces time and costs for our partners.
"Since the business commenced earlier this year, Red Planet has already been delivering positive results in terms of marketing effectiveness, both within the Qantas Group to assist with our own marketing spend and for a number of key partners. We have had growing interest in partnering with clients to redefine their marketing spend."
Qantas had flagged the launch last month. It is thought that banks and supermarkets are also eyeing similar moves.
Qantas also issued an FAQ around Red Planet. Click on the pdf below to download.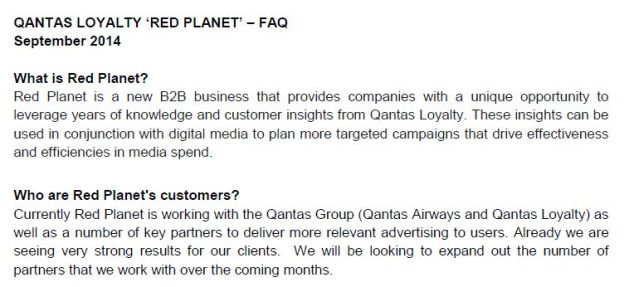 Sign up to the AdNews newsletter, like us on Facebook or follow us on Twitter for breaking stories and campaigns throughout the day.
Need a job? Visit adnewsjobs.com.au.
Have something to say? Send us your comments using the form below or contact the writer at brendancoyne@yaffa.com.au.
Have something to say on this? Share your views in the comments section below. Or if you have a news story or tip-off, drop us a line at adnews@yaffa.com.au
Sign up to the AdNews newsletter, like us on Facebook or follow us on Twitter for breaking stories and campaigns throughout the day.