Marketers need to wrest back control of their media plans and stamp out wastage by focusing more on one-to-one or 'precision marketing'.
That's the verdict of leading US marketers, including P&G's global marketing and brand officer Marc Pritchard, Johnson & Johnson senior director of brand Luke Kigel and a host of others.
However, leading Australian marketers from Unilever and Telstra don't agree that mass marketing is dead and would talked up the value of broadcast linear TV, out of home and other mass reach formats.
At the AANA's Media Challenge – One Year On event, presented by PwC, Pritchard revealed that P&G had made 90% progress on fixing up the company's "murky digital supply chain" that he announced he would do a year ago.
Pritchard now wants to shift the focus on mass disruption of current practices in advertising and marketing, moving away from mass reach and towards what he describes as "mass one-to-one marketing and brand building".
PwC CMO Advisory director Sunita Gloster explained that Pritchard's intentions are "not a swing towards short-term, response driven targeting that has been characterised mostly in digital media - P&G wants both".
"The gravity of Pritchard's 2018 pledge – to disrupt mass marketing as we know it – may take 12 to 18 months to be truly understood," Gloster explained.
"To get there... puts unprecedented pressure and responsibility on marketers to end the long era of mass marketing. Marketers must take control of the agenda and take control back over many of the activities and functions they have outsourced."
Stamping out waste
Pritchard's call to action, if realised on a market wide scale, will have a "seismic impact" on the entire media ecosystem, particular traditional mass reach media channels like linear TV, radio and out of home.
At this year's annual ANA conference in the US, he explained why P&G was taking this new approach.
"With transparent viewability data, we learnt that the average time spent looking at an ad on a mobile news feed is 1.7 seconds. Little more than a glance," he said.
"We discovered with objective audience data that we are annoying people with too much frequency. Serving ads to people who don't want to be reached and doing so too many times.
Pritchard said that transparent agency contracts uncovered an "astounding maze of complexity and touch points between our people and the consumers that we serve".
"And with brand safety we concluded that we can indeed find user generated content that is safe, but that doesn't mean it's high quality – unless you really love cat videos," he added.
'Blinded by shiny objects'
Pritchard said that marketers that chased the "holy grail of digital", including himself, relinquished too much control, "blinded by shiny objects, overwhelmed by big data and ceding power to algorithms".
After discovering that P&G had substantial wastage in its digital advertising spend, the FMCG giant reduced spending by between 20% to 50% with "big digital players". 
The savings were reinvested in "better performing vehicles" to drive sales growth. This included investing in TV, e-commerce and on brand influencers. The business also grew its performance analytics capabilities.
"We took more control [and] reduced media waste by 20% and we increased media reach by 10%," Prithard added. "While there is still more to do, we are actually growing market share and sales across more brands and countries.
"Together we are transforming the industry through mass disruption from wasteful mass marketing to mass one-to-one brand building, fuelled by data and digital technology."
Johnson & Johnson's Kigel, pictured right, also spoke about his business's shift from mass marketing to a "precision approach".
"This shift takes us from a broad reach, channel based approaches to a more customised consumer centric approach where one size most definitely does not fit all," he says.
This approaching means moving away from buying reach against a buying demo to reach against a high value audience.
"[Instead of] planning channel, we're moving to planning by consumer behaviour," Kigel added.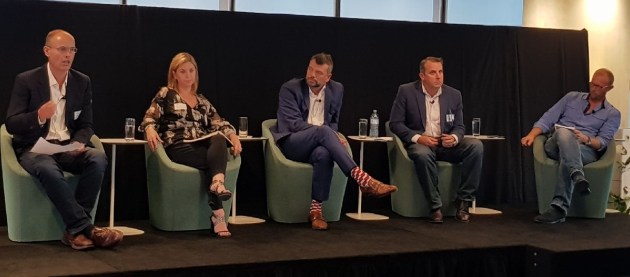 AANA panel (from left to right): John Broome, Anneliese Douglass, Jeremy Nicholas,
Mark Coad and Paul McIntyre.
Aussie marketers response
Later at the event, MCN editor-at-large and chair Paul McIntyre asked two senior Australian marketers about moving to a 'one-to-one' mass marketing approach.
Unilever head of media and PR Anneliese Douglass says that 'one-to-one' is a poorly used term.
"It's about audience segmentation and precision," she said. "When I was sitting there and watching it I was thinking about the brands that we have and the platforms that we use and I could list 10 or 12 of our brands that are already doing this from an audience segmentation perspective, targeting audiences across multiple platform and channels.
"But I think multiple advertisers are doing this and we're not giving enough credit to Australian marketers a lot of credit. Maybe we've been doing it quietly or it doesn't constitute the entire media plan because we are certainly doing mass marketing on TV, but certainly across digital and is some areas of cinema and some areas of out of home."
Telstra executive director of marketing Jeremy Nicholas said the telco is "greatly influenced" by one-to-one marketing.
"We are a huge one-to-one marketer and have one of the biggest customer databases in the country," he says. "It has a positive effect in how we do marketing. We understand we can't buy everything in that way, such as broadcast TV, but we do think about that tightly-targeted, highly segmented thoughtful work.
Although Telstra is a heavy adopter of one-to-one marketing, Nicholas said he did not believe that mass marketing is dead and that it still has huge value to drive awareness.
"[I'm not sure] whether we will ever go to complete one-to-one messaging. The concept that there's one person here and another person there, and everyone will view it, I have a real problem with.
"There's a time and place for lots of people to see something together. That is underestimated as you get more and more into this [targeting] world... I just don't believe [a one-to-one approach] is always the best way for people to consume good creative."
Nicholas wasn't the only person in the room sceptical about ditching mass marketing.
A media agency boss, speaking to AdNews on the sidelines, said it would be foolish to dismiss the top of the funnel brand building power of mass reach channels like linear TV. A healthier approach that nurtured brand saliency would balance precision marketing with mass reach.
Have something to say on this? Share your views in the comments section below. Or if you have a news story or tip-off, drop us a line at adnews@yaffa.com.au
Sign up to the AdNews newsletter, like us on Facebook or follow us on Twitter for breaking stories and campaigns throughout the day.