COVID-19 has accelerated Australia's appetite for streaming content, television news and digital entertainment. 
Australians see no substitute for live events but are still cautious about venturing out, according to Deloitte Australia's annual Media Consumer Survey.
The ninth survey focuses on consumer behaviours specific to COVID-19 lockdowns and restrictions in Australia between March and May.
The research identifies behavioural shifts in media consumption in the absence of live music, sport, cinema and performing arts.
Australians still dream of going out to be entertained. Half (53%) of the 2,000 surveyed expect to attend live events more frequently post restrictions, compared to pre-pandemic levels but there is likely to be a period of adjustment.
"There are still plenty of challenges ahead with social distancing, reduced capacities, and international border closures," says Leora Nevezie, Deloitte's media sector leader. 
"The good news is Australians love to be entertained and we want to go back to the same levels, if not greater, than post COVID restrictions."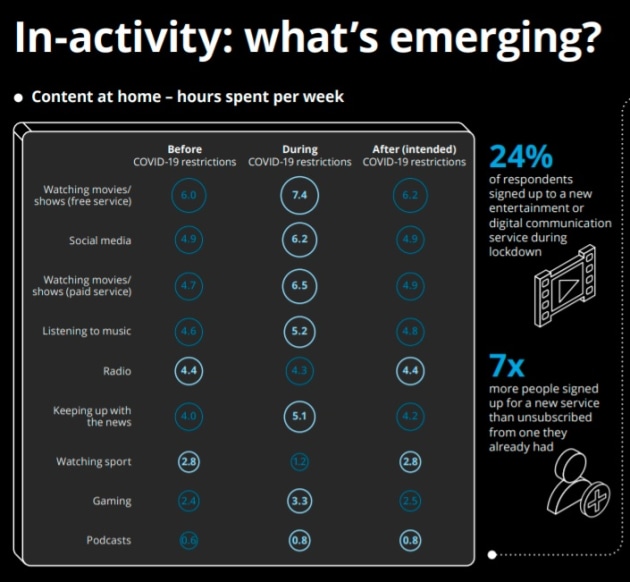 But 13% of respondents reported an intended drop in hours at the cinema after restrictions lift.
This likely indicates the challenges ahead in drawing audiences back to physical spaces in significant numbers.
"As the out-of-home entertainment industry begins to reopen and recover, future audience development will need to take into account factors like trust and perception to meet post COVID-19 expectations," says Nevezie.
"The physical experience of attending in-person events, not just the 'main act' itself, will be more important than ever."
Streaming
COVID-19 has brought opportunities to engage differently with audiences, including live streaming.
Out-of-home events had no choice but to shift to a screen within homes. Almost a quarter (23%) of those surveyed said they had live-streamed during lockdown, half of them for the first time.
Music was live streamed by 14%. But only 7% said they would be willing to pay for live-streamed music gigs and performances, while 18% said they might for the right one.
"The numbers are not discouraging and there is plenty of room for growth, but in the immediate future, it's important to realise just how essential the live element is for both audiences and the industry," says Nevezie.
"For most artists live-streaming revenues in the immediate future are unlikely to compare to live performances as a 'revenue headline act.' But as a support act, they could be an excellent tool for remaining connected with their fan base and even reaching a whole new virtual audience."
Cinema
Nearly 40% of those surveyed said they would prefer to watch a movie at the cinema compared to just 3% of people who want to watch a film at home at the same time as a cinema release for more than the cost of a ticket.
Waiting three to six months to watch it on a paid subscription service was the clear paid home viewing favourite, with 26% favouring this option. Trailing Millennials (34%) and Leading Millennials (42%) were fans of this.
This highlights the commercial challenges of premium video-on-demand in price points and consumer expectations, but also an enduring love of the cinema experience.
"The appetite for home viewing is certainly there, but Australian consumers now seem to associate home viewing with cheaper all-you-can-eat subscription services rather than paying premium prices," she says.
"A night out to see the latest blockbuster on the big screen continues to be worth the price of admission."
Sport
Australia is a nation of sporting fans, with 47% of survey respondents indicating prior to restrictions they actively followed sports on a weekly basis.
On average, sports fans spent nearly six hours watching sport a week.
And without live sport to watch, time spent watching sports halved to two-and-a-half hours a week, with the number of respondents actively following sport on a weekly basis dropping to 25% 46%.
"Respondents expected their in-home viewing habits to return to exactly the same levels as pre COVID-19 once all restrictions are lifted, and early indications suggest this is indeed beginning to play out as many sports begin to return in some form," she says.
Without live sport to watch, in attendance or through broadcasts, fans turned elsewhere.
Half instead spent time keeping up with breaking news, 33% spent extra time with family and friends, 32% exercised and 31% watched previously released shows and movies.
But few sports fans reported replacing in-home sport watching time with alternative sporting content -- 14% of fans indicated they turned to previously aired games or documentaries, 6% to eSports and 2% to virtual sporting events.
"While it would be easy to simply observe that non-live sporting content was unable to maintain the engagement of live sport during this period, it has also highlighted the opportunity for the Australian sports industry in broadening and maturing adjacent fan experiences," says Nevezie.
'With sport likely to feel the COVID-19 effects in the live context for some time, it's a challenge that will
remain relevant, and the right propositions could be critical in supporting clubs and leagues through this period."
Isoscriptions and polystreaming
Lockdown created an appetite for isoscriptions when 10% of respondents signed up to a new
streaming video service.
This was almost double among those who already had at least one service, where 17% of those added an additional one.
Almost half (46%) of video streamers now have at least two paid subscriptions, and 16% have three or more.
Nevezie says this hints future growth will come from the addition of new services by existing subscribers, and whether they maintain these "polystreaming relationships".
"Where there was once debate as to whether Australia could sustain more than one or two video streaming services, this leaves little doubt of the consumer demand for multiple services," she says.
But trading one service for another or cancelling a subscription altogether is a relatively easy prospect for households.
Depth (61%) and recency of content (55%) will be important.
Nevezie says it could be an ideal time to tap into local content to boost content libraries and retain subscriptions.
"In a time where impact has never felt more global, sentiment has turned local and sentiment for Australian screen content remains strong," she says.
A third (34%) of respondents said "it's at least very important to be able to access Australian movie content", a sentiment that holds true for Australian factual TV (40%) and TV drama (32%)."
News
Australians binged on news content updates on the small screen and social channels, reflected in an overall increase in all news sources across all demographics during lockdown.
"Press conferences became appointment viewing during lockdown and television was the biggest winner with 90% of respondents using it to get news," says Nevezie.
Two-thirds (66%) used television as a daily news source and more than a third used it multiple times a day.
Increased watching of television news was consistent across all demographics, with more than 41% reporting using television more as a source of news.
Have something to say on this? Share your views in the comments section below. Or if you have a news story or tip-off, drop us a line at adnews@yaffa.com.au
Sign up to the AdNews newsletter, like us on Facebook or follow us on Twitter for breaking stories and campaigns throughout the day.