Brands need to invest heavily in their people and partnerships to prepare for the end of third-party cookies, says Optus' acquisition and customer marketing director Angela Greenwood.
The telco inadvertently began its preparation for a cookie-less future four years ago when it started to partner with people across its organisation to make better use of its customer data and onboarded its CDP.
However, at the time Greenwood says the telco was simply looking at things such as how it could serve existing customers more relevant creative or suppress them from acquisition buys where relevant.
Its goals then evolved to look at how it could optimise more to return on ad spend, or how it could look at the characteristics of its most valuable customers and find more of them.
"In a happy coincidence, what's good for customer experience is also unsurprisingly good for setting yourselves up for success in a cookie-less future," Greenwood says.
"And we are lucky to now be far enough along our maturity curve to be able to build out really granular audiences in our CDP."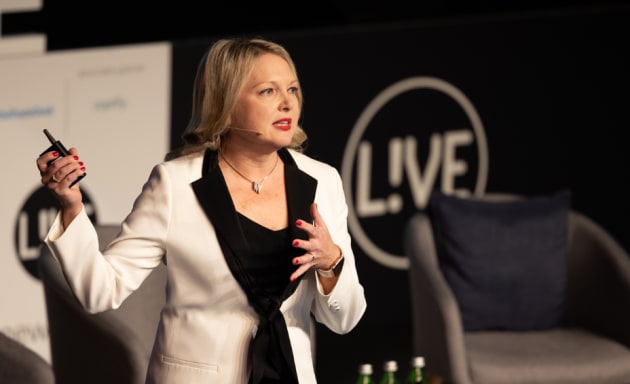 Angela Greenwood
Optus has collaborated with Google in an Australian-first initiative to build its own predictive modelling using cloud and machine learning technology to create its own genetically engineered 'baby audiences'.
The first model, which is now automated to rerun the data every morning, predicts whether a web user is going to convert on a post-paid mobile product within the next 14 days, looking at 700 features to see which are the greatest predictors.
Optus can then take the audiences into the Google marketing platform and find new customers.
However, Greenwood warns that the best data and the best targeting in the world won't compensate for "crap creative".
"Marketers have gotten a little lazy," she says. "We've relied too much on the precision of media buying to do the heavy lifting for us and we haven't done enough to actually focus on thumb-stopping creative that is really going to get attention.
"This is where creative test-and-learn becomes absolutely critical … And something else we really need to be much more focused on as marketers in this [cookie-less] future is how we really optimise our creative to the right digital channel."
For skippable videos, Optus breaks its creative storyboard into quarters and measures how many people make it through to each quadrant. The telco found that moving branding to the beginning of the spot, as opposed to leaving it at the end like in a traditional TVC, increases audience exposure from 41% to 94%.
"So, stop letting your creative agencies be lazy and put TVCs into YouTube," she says.
Greenwood adds that using a split screen approach to create a vertical video in Facebook led to a 29% uplift in 3" view rate and a 107% uplift in conversion rate.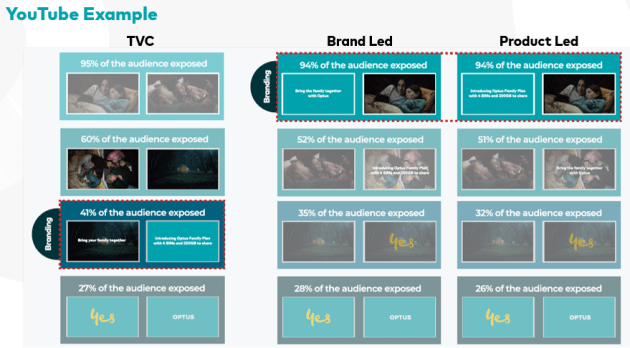 Exposure to skippable videos
Split screen vs full screen video on Facebook 
In another example of the importance of finding the right context for a campain, Greenwood said Optus partnered with publisher Mamamia to increase brand salience for its first family mobile plan over a year ago.
Using podcast integrations, editorial formats, and digital storytelling, the campaign increased brand consideration for Optus within the Mamamia audience by 13% and purchase intent by 18%.
"Contextual is obviously queen in this future but as marketers that really sits on our shoulders to be disciplined enough to continually brief our creative and media agencies together and expect a united response," she says.
"Again, something that we don't always hold ourselves to but when you do, it's really impactful."
Have something to say on this? Share your views in the comments section below. Or if you have a news story or tip-off, drop us a line at adnews@yaffa.com.au
Sign up to the AdNews newsletter, like us on Facebook or follow us on Twitter for breaking stories and campaigns throughout the day.