Nine is planning to extract more value out of publishing its content on social media platforms, including Facebook and Google as it looks for a larger slice of the $6 billion online video advertising pie.
As media consumption is becoming increasingly fragmented, Nine's strategy to try and lift the yield that it generates from premium revenue and by using data to help advertisers target consumers more effectively through audience segments rather than blunt demographics.
In the past year, Nine lifted premium revenue by 16%, including a massive 45% rise in entertainment premium revenue.
The plans were revealed at Nine's annual general meeting yesterday and furthers details were shared with AdNews after the event by Nine's boss Hugh Marks.
Although TV companies have been working on improving their digital offerings for several years, this represents a significant shift in some of the rhetoric that has pitched TV and digital media against each other in recent years. It's notable that rival Seven also referred to improving their partnerships with tech giants Facebook and Google at its recent upfronts event.
In a nutshell, Nine's social strategy is to extract far more value from its four verticals news, sport, entertainment and lifestyle on the impressions they make on social media.
"In a social context, news is much more of a potential Facebook audience. We already do 200 million video views a month on Facebook with our news content for which we make the grand sum of about $17,000," Marks tells AdNews.
"We don't monetise that in any way at the moment, so understanding that platform and how we turn our content to monetisation on that platform is a key thing."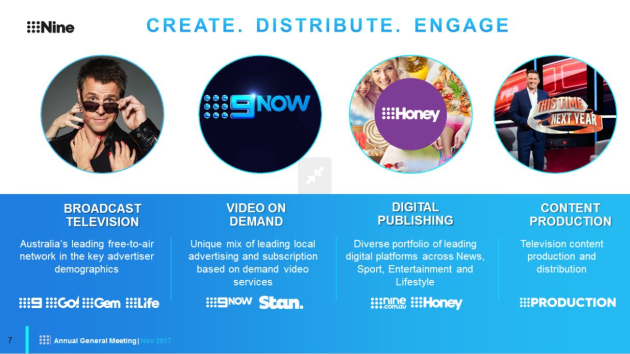 Nine's strategy has four key content pillars. 
Extracting value from social 
Media companies across the board have struggled to extract much value from social media platforms like Facebook and Twitter, where the promise of broadening reach hasn't returned the advertising dollars required to fund journalism.
Behind the scenes, digital tech giants, including Facebook and Google, have tried to entice media companies through negotiating better terms for how they can monetise content, but AdNews understands such talks have rarely borne fruit.
As YouTube and Facebook dominate the video advertising market and it's a rapidly growing advertising sector, traditional media companies are under pressure to get better at extracting value from these platforms if they want to grow market share, particularly as audiences in traditional channels fragment and the lines between television and digital blur into insignificance.
Marks says Nine has been in discussions with Facebook and YouTube on ways to do this, but adds that it is up to media companies to explore ways to monetise content on social "on our own volition as well".
"We'd like to work with all of the social media platforms if we believe there is an application for our content, but we can effectively do a lot of that on our back," Marks says. "We may also look to create more content specifically for those platforms."
Nine is also exploring ways it can publish and monetise content on Facebook Watch when it rolls out in Australia.
"It's of some interest to us but we're in the business of selling advertisers products and services in branding," Marks adds. "How we can utilise those platforms is what really interests in me."
The risk of cannibalisation
A major risk with this approach is that media companies cannibalise traditional revenue streams with lower yield new media revenue streams, which at the same time helps strengthen social media platforms with more premium content.
So how does Nine plan to extract more value from platforms that have offered slim pickings in the past?
"You don't do it with pre-roll advertising or traditional advertising in the sense that we would know it, although with our entertainment content we might do more of that on YouTube," Marks explains.
"For sport, we will look at YouTube for monetisation. The audience there is quite different from free to air television, so it is incremental revenue opportunities.
"For lifestyle and news, it's about working with sponsors around your content, telling stories in a way that works and is transparent to the audience.
"For example, Facebook represents an opportunity for a weather report or finance report or local traffic report. These are ways we can work with sponsors using Facebook to gather more impressions from them by using our premium content.
"All of those impressions that happen in video as opposed to in pre-roll is an impression for that advertiser that they have the benefit of and how we build our premium revenue in the future."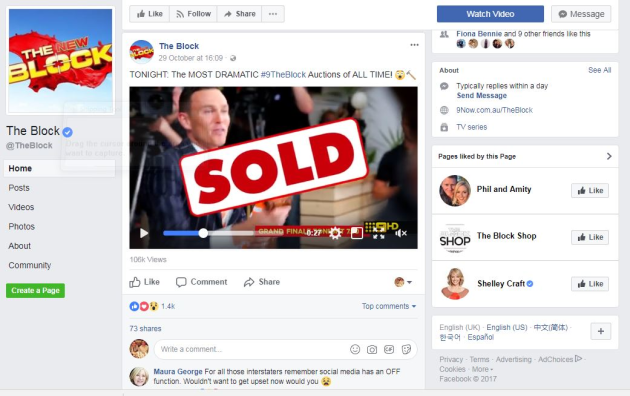 Marks says The Block is an example of the potential of social media to distribute content.
A Nine example
Marks says there are a few media businesses, including Pedestrian TV, that have been more successful at extracting value from content published on social media.
An example of how this could work in a Nine context is The Block. Nine's reno show has grown its impressions on television, catch-up, digital publishing and social media, and the sponsor's message can be aired on each of these impressions irrespective of platform.
"This is where advertisers are really starting to embrace us and say, 'here are the stories I'm telling, that's the program you're doing and where is the opportunity for us to do this together?'," Marks says.
"That's a really interesting discussion and why I came back into the business to really explore how far we can take that. I'm really passionate about the local content industry, I think it has a really vibrant future and I think we do it as well as any other country in the world. How we create opportunities for local content with advertisers in a way that we are writing more sales for them that works with the content."
One way the media companies could come unstuck is how to get advertisers to value impressions in the social media ecosystem when they have already been receiving social media activations as a value add on to broader sponsorship deals.
"To some degree they've got the benefit already but we're not really approaching it strategically," Marks points out.
"How do we do it over a year – what are the four product releases you are going to have this year, when are they and how does that fit into our content plans. We will do it in a bigger, more focused, more strategic way than we have in the past."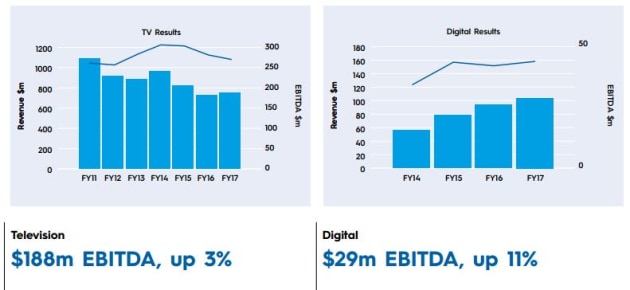 Nine's TV vs digital revenue and earnings growth.
Digital revenue growth
Nine's television business still contributes the lion's share of overall revenue (87.5%) but digital revenue gradually growing in prominence. In the past four fiscal years, digital's share of revenue has grown from 8.6% to 12.5% but it is growing at a rapid pace.
In the first quarter of FY18, Nine's AVOD 9Now registered users increased to 4.4 million, streams were up by 100% and revenue was up by more than 100% year-on-year. It still only represents 2% of total revenue but is growing at a rapid pace and provides Nine with valuable user data.
Nine also part owns local SVOD Stan, which has grown its active subscriber base to beyond 800,000, making it comfortably the largest domestic payer in an increasingly crowded space.
"We expect at some time in FY18 to be close to or above cash flow break even on a month to month basis," Marks adds. "That business is now in a really strong position to take the next strategic steps to cement that a real and viable business into the future," Marks says.
Nine's digital publishing business is also showing "significant growth", particularly around video.
"The media business of the future is about content and rights. Controlling the rights to premium television content will be the key to potential success in the media in the future," Marks adds.
"It's this that will drive our ability to utilise all of the platforms we control to extract maximum value for the content that we have."
Have something to say on this? Share your views in the comments section below. Or if you have a news story or tip-off, drop us a line at adnews@yaffa.com.au
Sign up to the AdNews newsletter, like us on Facebook or follow us on Twitter for breaking stories and campaigns throughout the day.