News Corp has launched its first ever national campaign as it aims to unify its messaging across all 30 of its titles.
The ads mark the launch of a new brand platform for News Corp and the move towards a more emotive approach in its advertising.
Speaking to AdNews, CMO Tony Phillips says News Corp doesn't have an awareness problem, but hasn't previously communicated its relevance to consumers.
"We've had a transactional relationship with our consumers, but we didn't have an emotional connection," he says.
"This campaign is no longer just an ad, it's a commitment to a new, unified approach."
To launch the campaign, each editor of News Corp's metro and regional mastheads penned a letter to their readers in a bid to convey the message on a more local level.
The Daily Telegraph editor Christopher Dore delved into the iconic moments the title has captured since it first launched in 1987.
Phillips admits it was a big task to get every individual team on board of News Corp's 30 titles and the process took nine months.
Previously, the Hobart team would have led the production of its own messaging, but Phillips believes there's more power in one unifying message.
"We're always telling companies you have to advertise to sell things so this campaign is us taking our own advice and showing our own commitment to advertising," Phillips says.
"We haven't done something on this scale in a long time, maybe even ever."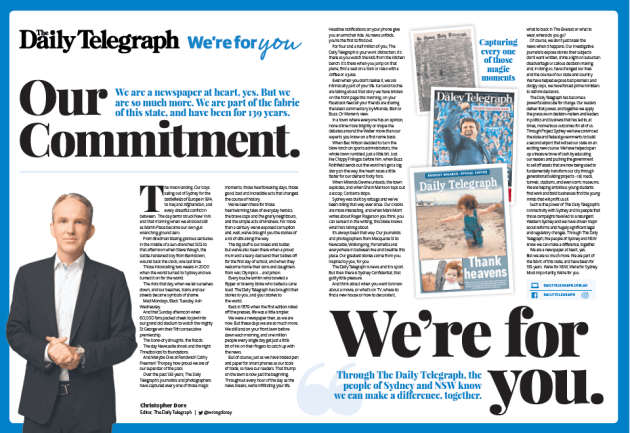 Each News Corp title is ran editorial piece today introducing the 'We're for you' proposition
The new TV ads are edited for each key Australian city to highlight its flagship title, such as the Herald Sun for Melbourne and The Daily Telegraph for Sydney.
By creative agency Big Red, the TV ads will run for the next three weeks and are set to the iconic Beatles track 'A Day in the Life'.
Phillips, who has been at News Corp for 18 months, reveals he has wanted to use the Beatles track since he joined the media company because it carries the line 'I reads the news today'.
Tony Phillips
Of his time at News Corp, Phillips says this campaign is the work he is most proud of.
"This campaign takes us to the next level. We've been on a journey and now we've got a clear focus around what we're doing and that's culminated in this latest work.
"This work is now the fabric for our future and will form part of our strategy for the next few years, I hope."
News Corp recently appointed The Works to its roster, but ad agency Big Red led the development of this campaign.
Big Red has worked with News Corp for several years and Phillips credits the agency for its collaborative approach.
"In traditional ad agencies you speak to the account director who transfers you to the executive director who transfers you to someone else. It can be disconnected and slow," Phillips says.
"But Big Red knows how to work collaboratively and quickly, and I can be on set offering feedback."
News Corp CEO Michael Miller describes the new work as an "exciting time" for the publisher and believes it will resonate with its readers, advertisers and internally.
There will be an outdoor advertising campaign across the transit network in Sydney, Melbourne and Brisbane as well as a radio, cinema and trade media campaign.
Credits
Client: News Corp Australia
Chief Marketing Officer: Tony Phillips
General Manager Metro & Regional Marketing: Bettina Brown
Head of Brand and Media Services: Louise Davis
Agency: Big Red
Print and Digital Production: News Corp Australia Creative Services
Have something to say on this? Share your views in the comments section below. Or if you have a news story or tip-off, drop us a line at adnews@yaffa.com.au
Sign up to the AdNews newsletter, like us on Facebook or follow us on Twitter for breaking stories and campaigns throughout the day.