My Kitchen Rules (MKR) has fired the opening salvo of this year's prime time ratings season. However, Married at First Sight has gained on Seven's cooking juggernaut and I'm A Celebrity shed viewers from a strong opening night on Sunday.
It was a busy night for TV.
Monday night saw Seven's cooking show attracted an average TV audience of 1.18 million metropolitan viewers to Married's 912,000 and I'm A Celebrity's 858,000.
Last year, MKR drew 1.31 million, I'm a Celebrity posted 959,000 on the same night and Married pulled 820,000 (see chart below).
MKR was down on its opening night figures from last year by 9.7% in total with its second-lowest launch to date, and 19.3% for 25-54s, while I'm A Celebrity was down 10.5% in total and 2.8% in 25-54s on its performance last year.
Given the momentum Married At First Sight built towards the back half of last season, Seven will still welcome MKR's opening night victory.
Not only that, but Seven's The Good Doctor posted an impressive 1.09 million viewers in the 9.30pm slot, while Seven News was the second-most watched show with 1.11 million viewers.
Seven - 'A good place to start'

Overall it was a strong prime time showing from Seven's primary channel, winning audience share honours with a 25.6% share to Nine's 20.8% and Ten's 13.6%.
"The four biggest shows of the night are still on Seven, so we're happy with that," Seven director of programming Angus Ross tells AdNews.
"MKR is still number one and also won in 25-54s and 18-49s and we also won those demos as a network for the night.
"It's a good place to start but with MKR we're also aware it's one of those shows where you build towards peak episodes and this Sunday's episode is no exception."
Last year, MKR started as the dominant tent pole but was soon overtaken by a resurgent Married At First Sight, which did well from a revamp and new content strategy in 2017.
Ross tells AdNews Seven "took note" of what happened last season and says there was a period where "Married out-noised us and we had to fight back".
"We've made certain adjustments to the format this year that means the chances of that happening are a lot less likely," he adds.
"There are more instant restaurants and we've made changes to the way the new groups are introduced. There are also a few promotional tricks we've got up our sleeves ... through our production and promotional approach, we think we've addressed those issues."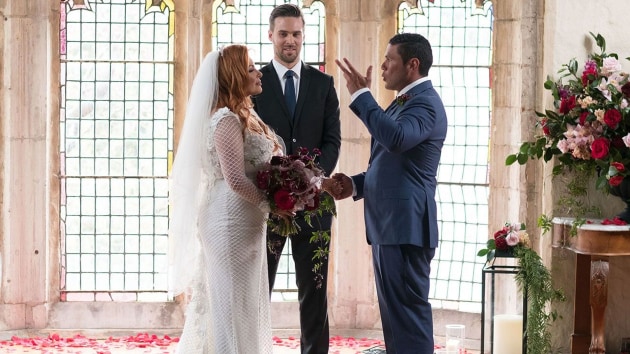 Nine - 'We've got great momentum'
Married's improvement on last year across total people and all key demos, while somewhat expected, pleased Nine's chief sales officer Michael Stephenson.
"I expected we would start this year a lot better than last year from an audience point of view and Married At First Sight didn't disappoint," Stephenson tells AdNews. "We grew our audience in every single buying demographic, which is an amazing result.
"Importantly, as we distribute all of our content across other platforms, the social conversation was fantastic and the engagement that we had through 9Honey and we expect the number of people consuming Married on demand on 9Now will increase and break records."
Stephenson expects the program to grow audience throughout the series as it did last season, albeit from a stronger starting point.
"What last night has given us, and I think Married will continue to give us, is another great start to the year and we've got real momentum," Stephenson says, adding that Travel Guides also grew its YoY audience.
Ten's I'm A Celebrity had a strong launch on Sunday, pulling in 1.21 million viewers, and has already stirred a bit of controversy with comments from outspoken boxer Anthony Mundine.
The casting of Bernard Tomic is also likely to pull viewers who love to hate the fallen tennis star.
"We are very pleased with the response of viewers to the first night of I'm A Celebrity...Get Me Out Of Here! and we can't wait to bring the rest of this fantastic show to Australia," Ten's chief content officer Beverley McGarvey says.
"The celebrities are amazing, the challenges and tucker trials are incredible, and we are set for the show's biggest and most exciting season ever." 
What will be interesting is to monitor is how these shows trend in the coming weeks. Last year, Married ended the season on top, knocking the previously impenetrable MKR off its perch building a huge amount of momentum for Nine for the rest of the ratings season. Will this year be different?
Irrespective, last night was a strong endorsement of free to air television. Between 7.30pm and 9pm an average of 6.61 million people (26.6% of Australia's population) watched free to air TV and huge numbers discussed TV shows on social media with large audiences predicted to watch episodes on catch up.
Doom and gloom merchants predicting FTA TV's demise should take note.
Have something to say on this? Share your views in the comments section below. Or if you have a news story or tip-off, drop us a line at adnews@yaffa.com.au
Sign up to the AdNews newsletter, like us on Facebook or follow us on Twitter for breaking stories and campaigns throughout the day.