This first appeared in the AdNews February edition. Subscribe here for your copy.
Karen Lawson is clear on what Spotify's purpose is; unlocking creativity. It's something she'll remain focused on as she leads the local transition of the business to an audio platform. The Swedish-founded company has been striving to become the "world's largest audio network" in pursuit of podcasting's growing revenue stream.
Lawson, who stepped into Spotify's top role in Australia and New Zealand last May, has a background in both the corporate and startup world. She previously worked as CEO of Slingshot Accelerator and CareerOne, and currently sits on the advisory board for the Sydney Startup Hub.
Spotify's attraction for her was the power it held, not only in the music landscape but also the impact it can have on the wider community.
"For me, purpose is so important," says Lawson. "Working for a business that really does have purpose and impact in a positive way was key. We want to help unlock the power of human creativity and, in particular, help more than a million artists earn income from their art. It's certainly a very creative focus."
Lawson has been bringing in the right people for the task, with the local Spotify team at 55. Most recently, she brought in former Bauer Media executive Peter Manten as head of sales. She's also building a new podcast team.
"Our focus is around the transition from a music business to an audio-first business," she says. "We want to be the number one destination for music, podcasts and related audio experiences by growing our podcast offering and expanding and diversifying our base of users. We've had a loyal following of millennials, but new audio experiences give us an opportunity to offer content experiences to different age groups and demographics who may not have experienced it before."
Podcasts have been growing rapidly in recent years. According to a Roy Morgan report, in 2019, more than 1.6 million Australians download audio or video podcasts in an average four weeks. While it represents just 8.1% of the population aged over 14, it's up from nearly 700,000 since 2015. During the same period, the market has grown by 70%.
At a global level, Spotify has been ramping up its efforts to dominate this emerging space and provide itself with new revenue streams. In February 2019, it acquired podcast networks Gimlet and Anchor in a US$340 million deal.
With its new local team, Lawson says it'll start working on locally produced shows.
"What we're really excited about is how we start to work with the creative community around Spotify originals," she says. "We've seen incredible success all around the world following that strategy.
"Our team has been busy talking to the creative community around great ideas and also getting to know what has been working
around the world, and the different types of format which have been really interesting.
"We are working on what our original strategy will be and the content, so you'll be hearing more from us about that in 2020. More exciting stuff to come."
Despite the popularity of podcasts, including publishers and brands jumping on board, Lawson says the medium is still "coming of age" in Australia. "People are starting to have those watercooler moments talking about their favourite podcasts. Years back, that conversation was about a recently watched TV show or a movie. Times are really changing.
"We're starting to see some really playful, innovative and creative ways that audio content is being delivered. We're really excited about that. I think it's an industry which has so much potential that we're only just starting to unlock right now."
While an increasing number of brands are becoming interested in podcasts, Lawson says there's still more education needed to get brands' play into podcasting right.
"From the advertising side of our business, there is certainly real curiosity and hunger for brands to start to work with us in these new podcasting formats," she says. "Part of that is around the education of what that could be, and what kind of content they want to be associated with.
"Brands themselves have been playing with creating their own podcast, working with the right influencers and creating the kind of dialogue that really sparks brand engagement. The holy grail is getting supporters to be really engaged and talking about it long after you've listened to a podcast."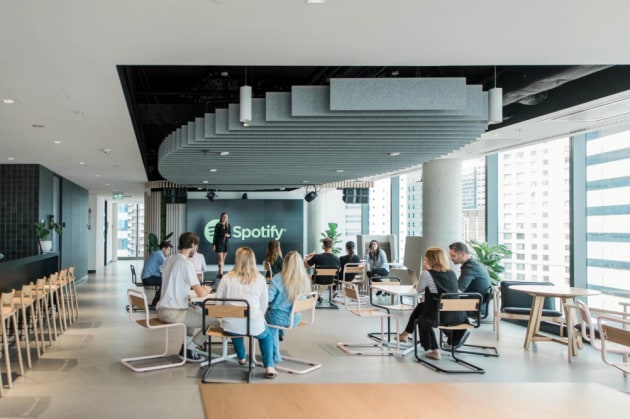 Spotify's Sydney office
The release of Australia's Podcast Ranker last year signalled how far the space has developed, with major publishers from News Corp Australia, Nova Entertainment and Nine Entertainment Co all pushing deeper into the space. Lawson says working closely with the different players in an increasingly crowded market will be another focus for her in 2020.
"We have an incredible platform that other publishers around the world have used," she says. "Whether that's the BBC or other radio stations around the world, they actually recognise we have such a tremendous audience that are very loyal to Spotify. So I think it's for the publishers across Australia to recognise this is a platform they can use."
With less than a year in the role, Lawson says she's already seen positive collaboration across the industry.
"We've had such a wonderful reception from so many publishers," she says. "I think they recognise the opportunity we bring to the industry and we're really open to those collaborations. We're really welcoming of having their content on our platform. We've had lots of conversations.
"A good example of how we've seen publishers collaborate over in the US is with new formats around Daily Drive, where we've been working with news broadcasters to deliver a format of news, music and podcasting.
"That's a great example of how we actually collaborate and work together to create a new experience." 
Peter Manten, head of sales
Why were you interested in joining Spotify?
Spotify is a brand people, me included, just love. It's a brand in hyper growth stage, continually innovating, with great content, smart people, a superb tech infrastructure, and continued growth potential. To enter at this stage of its life cycle and to work for such a truly progressive company, rounded out with the opportunity to forge, create, and shape, not only a winning, highly engaged, and already successful sales team, but also define and establish that of the Spotify sales DNA and product footprint in the ANZ region – is a hugely appealing and rare opportunity.
You've previously worked at a publisher and TV network. How is working at a streaming giant different?
There are a raft of similarities but a few fundamental differences; the rate of change and innovation, product research and development and advancements, and being at the absolute pinnacle of digital audio streaming at scale, and all that can deliver for advertisers, is a very unique and exciting one.
Being connected to a global giant in the digital audio space and having a direct reporting line into our global head of advertising truly allows us to surface, table, and catapult this progressive market, and all its great clients, brands, agencies directly into Spotify HQ.
What are your 2020 goals?
Achieving sustained but accelerated long-term growth and partnership success for Spotify and its advertising customers across Australia and New Zealand.
Allana Selden, director of sales
How has your background supported you in this role?
Nothing can quite prepare you for the wild ride which is Spotify. Being able to think on your feet and be agile in a business like ours is essential, as things move at such a rapid pace. For a role like this, it is so important to surround yourself with great people, and hire exceptional talent, to ensure your team can move as fast as the business demands. This is something that my previous roles have taught me as imperative: it doesn't matter what industry you work in or how successful your platform is: if you don't have the right people, the business would not be the success it is.
What are the benefits of working at a global business?
The amazing thing about working for a global business is being part of a global community. Having the opportunity to look and learn from global counterparts, and bring those learnings back to Australia, means that we are often able to be at the forefront of success in this market. To bring learnings - whether they are positive, or perhaps mistakes made by other teams - back locally, gives us a huge advantage to get things right the first time around.
We also have the privilege of being considered a Spotify top five ad market - which means we get access to global tests. This gives us the unique position of being able to work with clients and brands on global-first opportunities.
What do you think the challenge for Spotify will be for 2020?
Going into 2020, there are a few things I believe will be top of mind for Spotify and myself; 
1. How do we keep at pace in 2020? As a company in hyper growth, how do we continue to maintain the same speed at which we work, remain agile and flexible, and identify opportunities to grow and scale as we head into the next decade? We have already seen this in our move from a music platform to an audio destination, and as a sales team, we are super excited to work with our clients to make the most of this in the next year.
2. How do we keep identifying key opportunities for innovation? Working in this industry isn't just about knowing when an opportunity is right, it's also about innovating before others do. On top of this, we need to make sure it's a good fit for our people, our brands, our listeners and the creators - which is a fine balance and something we are always conscientious of.
3. How do we keep our culture strong, when our business is in hyper growth? When I joined Spotify in 2016, I joined a sales team of 12. We are now 35 strong. As a senior sales lead, making sure that our team feels like part of the Spotify culture, that they feel supported, and that they feel equipped to do their job is my number one priority. If we can get that right, then the rest just comes.
Tamati Sweetman, group sales manager
What attracted you to Spotify?
I love music and the streaming industry. Spotify's digitally-led approach, focus on providing an amazing service with smart creative executions which is all backed by our users 1st party data at scale. These attributes are very attractive assets to have from an employer. This, in my opinion is what sets Spotify apart from other players in the market.
I was excited about the challenge of setting up the Melbourne office, building a team, and having local service and coverage for our Melbourne client base; we know Melbourne is an important market and are investing as such.
What are your goals for 2020?
To continue to grow and support our Melbourne team, we want to ensure we continue to build on the local coverage and our visibility in the market. My goal for 2020 is to ensure our team is servicing and supporting the Melbourne market to the level they deserve, and for that to become something our team is well known for.
Any unexpected learnings at Spotify?
Scannables! Using our unique shareable scan codes to share not only your favourite track or play list but using this technology/product to tie into on-pack and out-of-home campaigns and executions.
Mitch Duff, director of sales
How would you describe the culture at Spotify?
Exciting, dynamic, and supportive. One day is never the same as the next.
What's the biggest challenge in your role?
We are constantly testing the platform to provide better experiences for our users and our partners so we have both a challenge, but also a huge opportunity to take our clients on this journey.
Being part of a global business in Australia also has its challenges. Utilising all of the amazing resources and talent within our global organisation will be a priority for me and my team in 2020. 
Other priorities for 2020?
Working at a company like Spotify means we are never short of something super interesting and innovative to discuss with our partners, but for 2020 there will be a few priorities that will outshine others:
Our audience: Is growing at a rapid pace. How can we know them better, how can we target them better, and how can we speak to them in more engaging, personal ways than ever before?
Our team: we have the most intelligent group of talent and leaders at all levels within the Spotify team. Ensuring that I can support, coach, and continually provide opportunities for development is my number one priority.
Have something to say on this? Share your views in the comments section below. Or if you have a news story or tip-off, drop us a line at adnews@yaffa.com.au
Sign up to the AdNews newsletter, like us on Facebook or follow us on Twitter for breaking stories and campaigns throughout the day.