Raja Rajamannar, the global CMO of Mastercard, wants to restore glory and glamour to marketing. 
In his role as the newly-minted president of the World Federation of Advertisers (whose members have a collective budget of $1 trillion), he also wants to help marketers do better marketing.
He wants to ensure a safe environment for brands and to give advertisers the right measures and metrics to ensure they know what their spend is doing for them.
"It's not always transparent to the marketer whether the dollar they're spending is actually going to the publisher and how much is it actually going to intermediaries," he told AdNews in an interview.
The problem, he says, is that over the last few years marketing has not been able to demonstrate the value that it brings to the table for the investment made.
"If we look at the apparent environment particularly after the digital revolution over the last eight to ten years, marketing has been really put on its head, and consumer behaviour has changed.
"I think marketers have been a little slow to catch up and technologies started overtaking them, data started overtaking them."
Deer caught in the headlights
And the hard questions are being asked: What exactly is the ROI (return on investment) and how do you prove it to me?
"They (marketers) appear a little bit like a deer caught in the headlights," he says.
"And CEOs and CFOs, who are now facing an unprecedented level of competition, with the democratisation of marketing to digital and social media channels, are under pressure.
"They need a clear cut line of connection between and the marketing activities and business outcomes."
And data is key. Rajamannar recommends first to behave like a consumer, think like a consumer, and feel like a consumer.
"How do you want your data to be used by any big company or small company?" he says.
"Then switch your hat. Put on your marketing hat. Given that this is how I want to be treated as a consumer, now let me go and respect other consumers accordingly and make sure whatever we are creating, whatever analysis that we are doing, upholds the principles that we have laid out on behalf of those consumers."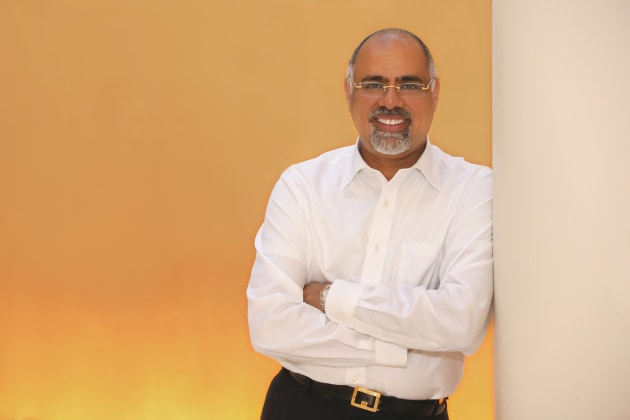 Bigger budgets than the CTO
He says data analytics can now be done quickly.
"You don't have to take weeks and weeks to analyse this anonymised, aggregated data," he says. "You can decide how you want to serve the ad, and what kind of medium are the people you really want to focus on using?
"Many of the CMOs in fact have got bigger technology budgets than the corresponding CTOs in those companies."
He says the field of marketing is more exciting now than it ever was.
"As a marketer, you have to be a general manager, you need to understand technology, to understand data, and of course you need to understand marketing," he says.
"You need to understand the business model of your company and how the company makes money so that you are able to connect your dots and your marketing actions in the company.
"It's also important that you understand PR, some companies call PR, communications. Some people call it public relations. Whatever name you give it, marketers need to really understand because the distinction and the difference between PR and marketing is dissolving, as social media becomes so predominant."
Who wants to be a marketer?
However, In MBA programs, the best students all want jobs in Silicon Valley or they want to become entrepreneurs themselves or join an investment bank. Marketing isn't their first choice.
"When I started my career 35 years back, and when I graduated from my MBA class, marketing was seen to be a very desirable, sought after field," he says.
"It was seen to be cool, it was well paying, it had a lot of excitement. You could exercise the left side and the right side of your brain as well as your people skills.
"It was a wonderful career opportunity that the best students would naturally get attracted to and take up. Today, a lot of that is not there. 
"Marketing has lost a lot of the glory, glamour and gravitas, I would say."
He gives guest lecture at universities where he finds the syllabus and case studies outdated.
"They're not contemporary and modern, and that's also one of the things where what they're learning is a little different than market reality," he says.
Making a difference
He is now working on getting the World Federation of Advertisers involved, to ensure universities have the latest case studies and they get access to executives in the profession.
"I have asked some professors to come and shadow me in real life," he says.
"Let them come and spend a week with me and be a 'fly-on-the-wall' to observe what is it to be a CMO today."
Rajamannar has spent roughly half his career managing the business-side and the other half in marketing.
"Right now, I am back in marketing and I'm passionate about the field and it's one of those fields which really brings to bear all your faculties, your left way of thinking, your right way of thinking, your interpersonal people skills," he says.
"It's a phenomenal field and it is required today more than ever because of the intensity of the competition.
"If we understand technology, data, and you understand other functions that go with it in terms of marketing, I think you can really make a profound difference, not just to your business, but your community, and to the social agenda."
Have something to say on this? Share your views in the comments section below. Or if you have a news story or tip-off, drop us a line at adnews@yaffa.com.au
Sign up to the AdNews newsletter, like us on Facebook or follow us on Twitter for breaking stories and campaigns throughout the day.