This first appeared in the AdNews September edition. Subscribe here for your copy.
By day two of Instagram hiding likes in Australia, Jules Lund had already felt compelled to post a "rant" smacking down the media for deriding influencers. After the news from Instagram broke, it naturally led to a wave of commentary, both from new and old media, on how it impacts creators, many gleeful the move would be the end of influencers.
The theory was that Instagram had taken away their source of power – likes – rendering them valueless to brands. Now, there would be no need for creators to post outrageously flawless gym shots or vapid brunch snaps every day.
These predictions were not only untrue, but also unfair, says Lund, the founder of influencer provider Tribe, and the result of a few bad actors in the influencer category who are picked up and amplified, tarnishing the image of all influencers.
"Influencers aren't much different to any group [that] people enjoy bashing for their own enjoyment," Lund says.
"There's certain behaviour that frustrates anyone, and a lot of those influencers leave themselves open to that criticism. At times it's constructive and reasonable, and I too would agree with it."
Ridiculing influencers has been a trend not just in the public, but also within the marketing industry. For example, asking creatives and social media experts to review influencers' Instagram posts for brands, led to comments labelling them as "embarrassing". One creative turned down the opportunity to review them, saying they had nothing positive to say, while Glenn Dalton, ECD at Hardhat, boldly said he "hates most influencer marketing" for its inauthenticity.
Marketers too have downplayed the rise of influencers, or predicted their demise, none more prominent than the former Unilever CMO Keith Weed who said the industry needed to "take urgent action now to rebuild trust before it's gone forever".
Detractors' view is that the meteoric rise of influencers has taken away the very thing that made them valuable – authenticity – or has been built on empty metrics, with transparency around reporting and measurement the biggest concern.
In addition to these challenges, influencers also take on the issues of social media, the environment in which they still live, which has big brand safety complications.
Following the Christchurch terrorist attack in March, both Facebook and YouTube were criticised globally for failing to promptly remove the livestream of the attack which left 51 people dead.
In another case in the US, a young man posted images of his murdered victim across social media.
While platforms can work to take such content down, the reality is that they can't keep up with the volume of content being uploaded online every day, and brands that choose to advertise on social media risk appearing near "violent, abhorrent" material – nothing any marketer wants to associate their brand with.
BBC StoryWorks Australia boss Jelena Li warned that many marketers who rely on social media are stuck in short-term thinking. "Quality of content is one thing but if you're not pushing out that content on the right platform then it can't really shine, it can't really unleash its full potential," Li says.
This string of criticisms has driven the skepticism around influencer marketing, but the opposing, more positive view of influencers, which Lund subscribes to, is that they're creative geniuses who used a free platform to turn themselves into advertising powerhouses and are only going to grow from here.
Taryn Williams, The Right Fit CEO, points out that while influencers are paid less than creative agencies, and often given less credit, they're also often producing the same work.
"All the things that the brands would pay for, such as hiring a studio, a model, photographer and stylist, are included in an output an influencer delivers," Williams says. "An influencer is really a creative director, a stylist, a producer, and an editor all in one."
Taryn Williams
Still, the common perception of influencers is that they are lazy and entitled people who make their way off free products for reviews on YouTube or a selfie on Instagram. Hardly difficult work from the outside looking in.
But the reality is that influencers are also immensely popular personalities, joining the ranks of big name celebrities. And for those "micro-influencers", with 5,000 to 50,000 followers, they can still have an incredible pull for local businesses. Notice the correlation between your local cafes with waiting lines to the number of Instagram Stories they're receiving from people in the community.
Multinational brands that once used US celebrities now also opt for influencers because they are both less expensive and more personalised.
One example of an "influencer celebrity" is Sydney-based Sammy Robinson, who has more than 600,000 followers on Instagram and roughly 720,000 on YouTube. Robinson has been tapped by make-up brand M.A.C, Swarovski, which also pulls in heavy-weights such as US model Karlie Kloss, and GHD Hair. Her attraction isn't limited to Australia, with her attending an event in New York with US model Gigi Hadid as part of partnership with another make-up giant, Maybelline.
Influencers have also created big brands from scratch, such as Iraqi-American beauty mogul Huda Kattan who started by filming YouTube make-up tutorials and now runs a billion-dollar business, Huda Beauty. Then there's Australia's fitness influencer Kayla Itsines who co-founded the Bikini Body Guide and the SWEAT app off the back of her followers, which has now grown to 11.6 million. She, along with her partner Tobi Pearce, is estimated to have a wealth of $486 million.
The value of influencer marketing is hard to pin down, largely due to uncertainties around metrics, but it certainly shows no signs of slowing down. A 2018 study by the World Federation of Advertisers showed that 65% of multinational brands planned to spend more of their advertising budgets on influencers. Another PwC report estimates that "personality-driven marketing" will reach $240 million this year in Australia alone and up to $10 billion across the world by 2020.
The most popular platforms for influencers are still Instagram and YouTube, as suggested by a study of 3,000 kids aged between 8-12 years which found being a YouTube star was more sought-after than being an astronaut.
The arrival of new platforms and their influencers is already upon us. In August, fashion label Superdry used three Australian TikTok influencers, or TikTokers, to launch its newest store. Between the three TikTokers, they had 7.5 million followers with 20% of that audience in Australia.
"We had 300 people line up just to meet the TikTokers, which is definitely higher than we've had for store openings but in saying that we had no expectations," Superdry's Marketing Manager Matthew Iozzi says.
"We had people leave school early. One lady I spoke to had pulled her daughter out of school at 11am so that she could drive three hours to meet the TikTokers at 3.30 pm."
Iozzi says Superdry opted for TikTokers because it was more innovative than Instagram. "TikTok allows users to inject a little bit more personality than Instagram given that it's primarily video-based," Iozzi says.
"It encourages both users and viewers to engage in an honest conversation, rather than just a static image and post. There's a very strong and unique flavour that comes with TikTok in terms of a social platform and we'll be utilising this as a more organic way of presenting information to our audience."
The Chinese-owned platform, which has an estimated 500 million daily users, hasn't yet figured out how to monetise the platform, although it has started to roll out advertising. TikTokers aren't making a significant sum from brand partnerships either, with payment per post floating around $500 mark. However, Born Bred Founder Clare Winterbourn says this is starting to change.
"Brand partnerships have risen hugely," Winterbourn says.
"Now we're doing a lot of product placement, organic partnerships and clothing hauls.
"So I see brand partnerships amping up to be very similar to what we're processing through with Instagram."
Currently, TikTokers are making their money from TikTok Live, where that can be "gifted" money, usually in exchange for a shout out. There are also other entries from new categories, with Twitch, owned by Amazon, leading the gaming influencer space with a reported 15 million daily active users. Microsoft's Mixer is on its heels after poaching one of its top gamers, Ninja, who had close to 15 million followers and has already climbed to one million on Mixer.
The emergence of influencers across different categories doesn't surprise some, with Yash Murthy, Social Media and Creative Director at Switched On, saying influencers are no different to brand advocates, product spokespeople and celebrity endorsements.
"The innate human need to seek reassurance and ascribe aspirational value to the consumption choices they make hasn't changed. It's just the delivery mechanism that has," Murthy says.
"In our current media environment, the value of influencer marketing lies at the intersection of accessibility and authenticity. Viewed as such, as online communities continue to scale and diversify, the opportunities for growth are massive.
"Influencers' aren't just YouTube beauty vloggers and Instagram fitness models any more. It will be interesting to see where TikTok goes from an audience growth and monetisation standpoint, while the continued sophistication of esports and other rapidly emerging sub-communities only serve to create more opportunities for brands and platforms alike."
When Ninja departed from Twitch he made the announcement through a video posted to YouTube. The minute and a half clip included a product placement for Red Bull and received 3.5 million views within a week of being uploaded. The energy drink brand also plastered his face on its cans.
Big tech is also recognising the value of influencers and making moves to pull in more revenue from them. In Australia, industry bodies such as the Audited Media Association of Australia (AMAA) are also snapping into action to implement best practices.
These updates from big tech and local bodies are about to inject even more authority and legitimacy into the space, ensuring it continues its steady rise. As it does, "influencer celebrities" will simply become the celebrities of the future, morphing into something more akin to creative agencies with their own audiences to reach consumers.
Lingering issues around reporting
Instagram wasn't built with influencers in mind, so from the start it was ill-equipped to deliver creators the right reporting tools to communicate with brands.
Influencers overcame this by screenshotting their metrics, giving social media managers "read access" to their personal account to view their insights, or by simply self-reporting. All of these methods are less than optimal and some of them are still used today.
However, reporting has improved immensely within Instagram and YouTube. Outside of the platform there's also a long list of third-party tools – – Tribe, Vamp, Hyetap, The Right Fit and Fluency – – which provide their own reporting.
Cal Guyll who heads up the recently-launched MSL Fluency, which is run by Publicis' PR arm MSL, says new technology, such as AI, has played a big role in improving reporting.
Like most third-party tools, Fluency is end-to-end. It helps match brands with influencers and provides marketers with real-time campaign reporting. Fluency has more than 165,000 influencers in Australia and New Zealand.
"Marketers are used to having large-scale media spend with data available to them in real-time," Guyll says.
"They can make really smart, fast-paced decisions. But influencer marketing it's not as simple. Marketers are relying on data that comes from a third-party source, i.e. the influencer, and there can be all sorts of reasons why that data is unavailable at the time. They could be away, unresponsive, busy, etc."
These third-party tools also help to detect fraudulent activities, such as fake engagement and bots which inflate a person's follower count and diminishes trust in social media. According to AMAA's 2018 Media Trust Study, social media has now eclipsed even programmatic trading as the channel that needs the most oversight, with 63% of the industry saying it needs more. This is compared to 56% for programmatic trading and 45% for online video. The study spoke to 407 marketers and media agency professionals, with an even mix between client-side marketers and media agency professionals – 41% were C-level/senior level and 59% middle/junior levels.
But while the study showed a greater need for oversight for social media compared to last year, media buyers are pleased with the improvements from third-party tools, saying it will help strengthen influencer marketing spend in the long-term.
"As people become more au fait with the process of evaluating them effectively and there are more trusted third-parties like The Right Fit or Tribe, I'd expect solid and consistent growth in spend on influencers," Ogilvy's Head of Social Alex Watts says.
"Not the explosion of the past couple years, but more constant growth year on year."
Watts also says the space has reached a level of growth that means he expects consolidation. "While growing, the market is cluttered, and there's only so much space for differentiation," he says.
But while transparency around reporting has come a long way due to these third-party entrants, we can expect to see the issue continue to rear its head while the sector continues to develop.
Understanding metrics
The noise created after Instagram revealed Australia is one of seven countries trialing the removal of the likes count showed the level of misunderstanding around what brands actually look for when they look at influencers' metric.
Likes has already fallen away as a significant measuring tools, both because it doesn't necessarily mean business results, and because people are simply engaging less on social media.
"Previously you would have said getting a million likes on a post is great but realistically, what does the business want to drive?" says Guyll of MSL Fluency.
"Now brands have to consider if it wants likes on a post, to drive people to the brand's website to make purchases, or make people fall in love with the brand."
Speaking with The Right Fit's Taryn Williams, Bernice Averion, growth marketer at Koala.com says she doesn't look at engagement rate when searching for influencers to partner with to grow the mattress business.
"Engagement rate doesn't really matter to me, it's really about what their true audience is," Averion says. "So if they have 100,000 followers but only 50% of that audience is within Australia I will only really want to pay for that 50%."
Reach is looking to have its return to the spotlight, with foodie influencer Sally O'Neil, who has more than 90,000 followers on Instagram, agreeing engagement has lost its sheen after noticing a decline in her engagement rate since joining the platform in 2012, largely due to the change in Instagram's algorithm.
"My content has improved vastly and I now work as a commercial photographer off the back of what I've learnt from shooting for Instagram. So when I shoot for clients they're actually receiving commercial-quality grade photography that could go on a billboard," O'Neil says.
"So it's interesting that my engagement rate has gone down. But what hasn't gone done is my reach."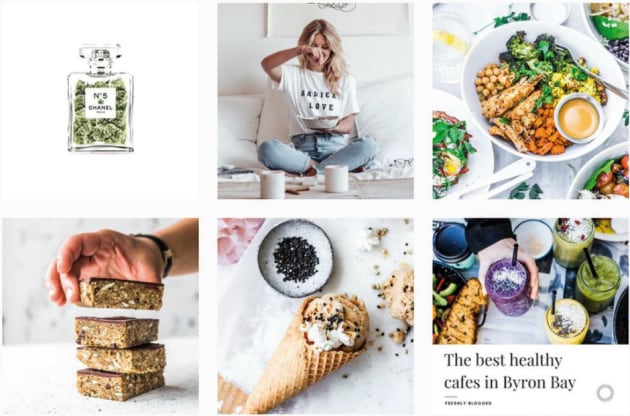 Credit: Sally O'Neil
Research backs the trend of declining engagement on social media. One by data science consulting firm Trust Insights looks at fashion influencer data from January to June this year. It shows a decline of 18% in average engagement (mostly likes), which accelerates in May.
Another by influencer marketing cloud InfluencerDB shows the engagement rate for every industry category of influencer has declined in the past year, including in travel, which typically has the highest engagement rates, experiencing a drop to 4.5% this year from 8% last year.
This decline could also be the result of social media fatigue – having the novelty of "engaging" with others online wear off – although we still enjoy the content. It could also be a sign of a cluttered platform which is pushing less relevant content, i.e. more ads, on feeds.
But Hypetap co-CEO Detch Singh says declining engagement won't shake influencers it works with. "We've always been fastidiously objective-driven when we think about metrics and data," he says.
"If we were looking at awareness, then yes, reach has been the key metric. If we were looking to change sentiment, then we would look at engagement and the quality/context of that engagement.
"Lastly, if we wanted the audience to act in some way, we'd try to measure the action. We still like to be holistic about how we are thinking about each campaign and measure the whole funnel."
Media agencies agree there's a more sophisticated understanding of what social media metrics they should be looking for.
"While we still have a long way to go in terms of measuring brand value delivered beyond the standard media and platform engagement metrics, I feel the 'wild west' moniker historically applied to the field has certainly been worn down," Switched On's Yash Murthy says.
"Both platforms and creators/influencers have to be given a lot of credit in terms of moving beyond meaningless vanity metrics to enable this growth in trust and sophistication.
"While it would be disingenuous to suggest that there aren't sketchy operators out there, but both agencies and brands have, for the most part, also become a lot smarter in evaluating the opportunities."
Filip Sarna, Social Media Director at Publicis Media, says the hiding of likes "rocked" the industry and forced it to look at more valuable measurements.
"It's exactly what we've needed for the next maturity leap – continuing to shift our focus away from engagement as a measure of success and forcing marketers to begin to align social media activity with core business-related metrics and objectives," Sarna says.
"To continue maturing, engagement metrics need to shift toward contextual insight for brands; understanding brand-impact metrics, such as recall/salience, shifts in brand perception, sentiment, favourability, purchase intent, and genuine advocacy."
The evolving value of influencers
Earlier this year US-based influencer Arii, with more than 2.2 million followers on Instagram at the time, failed to sell more than 252 items of her own clothing line – a conversation rate of 0.01%.
This prompted a conversation around the effectiveness of influencers for brands, with some saying the influencer bubble had "burst".
But, the fixation on reach, likes and engagement has confused people over what the value of influencers really is.
The likes-focused culture of social media has driven the small, but loud, influencers who have 'tarnished' the category by overestimating how much "influence" they actually have.
"Many influencers that flash a lot of flesh or look gaudy might have a lot of followers, but many of these followers could be voyeurs. As opposed to trusting the influencers opinion, they could be watching a train wreck," Lund says.
"I think those are the people that are featured often in articles. So, if they look similar to a Kardashian and they have highly enhanced physical features, I don't necessarily think that means that they're valuable to a brand.
"They feel if they hold a product up to their face that it is actually marketing and I don't think that's marketing. I don't even think that's effective product placement."
Rather than Arii's story foreshadowing the demise influencers – her follower count has continued to climb to 2.6 million – it more likely proves that influencers are valuable for their creative talents which attract audiences, and it's for brands to leverage that.
Influencers have been able to spot or anticipate trends and produce content to push it onto the rest of us – essentially they're the creative agencies of today. From face masks, multivitamins, fashion and protein drinks, influencers have wriggled their way into every aspect of our lives to make us desire more; far more than brands ever could through traditional advertising.
"There is clear strategic value to influencer marketing when done well, and I'm confident in its ability to deliver as a strategic pillar to any brief response that needs it," Murthy says.
"In an ideal world, perhaps this all manifests in a movement of socially-led auteurs bringing about a commercially-creative renaissance in our newsfeeds, with brands as modern-day 'patrons' of art. The pragmatist in me probably says otherwise, but we can all dream."
Lund takes this vision for influencer marketing even further, and sees everyday consumers as brands' best advertisers.
Tribe recently raised $10.5 million as it expanded into the US. It also recently launched its new Content Campaign platform which allows creators to produce content in response to brands' briefs, which are then used on the brands' channels rather than the influencers.
Lund says he launched Content Campaign following strong demand from brands for more content from Tribe's creators.
"Many marketers are yet to recognise that the biggest value proposition of influencer marketing is actually the branded-content," Lund says.
"There is no one more equipped to craft thumb-stopping content for your digital advertising than an influencer who's amassed tens of thousands of followers from their own social content. The fact that they are actually your customer makes it even more compelling.
"Combine that authenticity with the brand's ability to source this content at speed, volume and low cost means it has the potential to change the face of digital advertising."
Bacardi has already used content from the platform for its outdoor advertising campaign, proving that influencers' potential is beyond social media. Elsewhere, LandRover has approved 98 pieces of content from 98 different content creators on Tribe.
Tribe has paid out more than $14.5 million to its content creators, with the top earner making more than $170,000. The agency's model rests on the idea that creators make content for products they already own, rather than requesting free samples from brands or recommending products they don't use, ensuring authenticity is "baked" in.
Weed, possibly the industry's biggest, or at least loudest, critic of influencers surprised many when he revealed Tribe to be his first investment after leaving his post as Unilever's top marketer. This move injected some credibility in the space and, like Lund, Weed thinks influencers are the answer to marketers' increasing demand for content, driven by social media.
"When it comes to content, there are three key aspects for marketers. Quality, speed and cost," Weed says.
"Usually, you can find a way to check two of those boxes, but it is very hard to check all three when it comes to content-heavy campaigns. Tribe changes that for marketers by providing a cost-effective marketplace to curate high-quality organic content at scale.
"Everyone now has a high-quality phone that takes great photos right in their pocket, and if you can get consumers to take photos of products against a brief, it unlocks a whole new era of content."
L-R: Tribe CEO Anthony Svirskis, Keith Weed, Tribe founder Jules Lund
Lund echoes this, saying the arrival of high-quality technology to people's mobiles means anyone can create content that matches creative agencies.
"With personalisation, marketers have never needed digital content more in their lives," Lund says.
"Existing creative solutions fall short, yet it's the first time in history that a brand's own customers have the tech and the talent to generate the variety and the volume required.
"Who better to craft content your customers love, than your customers themselves."
Sharyn Smith, Social Soup CEO, has also recognised further potential for influencers.
"Influencers are not just content creators but often the early adopters in a category and have access to live feedback from their audiences," Smith says.
"Influencers can be an incredible bridge for brands to understand what the market wants from new products and how to communicate a message to market about their category of influence."
To help close this gap Social Soup recently launched 'Influential Insights', a way to connect influencers and brands to co-create new products and services.
We've already seen brands recognise influencers' insights and deciding to partner with them for brand collaborations. For example, Sammy Robinson joined a list of influencers in collaborating with fashion brands to produce their own clothing collection, with her Princess Polly x Sammy Robinson collection selling out.
The value of influencers for big tech
For years Facebook has been watching as brands bypass it to work directly with influencers, meaning it misses out on extra advertising revenue.
After years of letting influencer marketing grow, it swooped in and tweaked its algorithm to encourage brands to pay for greater reach, after so many become reliant on social media.
Instagram is free to swoop in once again and make the platform pay-for-play as it did with Facebook.
The signs for this happening are already here. In June Instagram revealed it would be making it easier for advertisers to promote organic branded content posts, which it says has been one of the biggest requests from brands.
Natalie Giddings, Managing Director at The Remarkables Group, says these new features will give influencer marketing a significant boost from brands, propelling it even further.
Giddings says brands want to reach more people and influencers' content attracts more favourable results than when brands amplify their own content.
To Giddings it shows that Facebook and Instagram now see influencer content not just "effectively organically", but as "advertising content".
"Our data repeatedly shows audiences respond up to three times better to influencers' content, outperforming the brands own content almost always," Giddings says.
"This effect is also replicated when amplifying those posts too. Giving brands a compelling reason to re-route more advertising dollars to Facebook or Instagram."
While some have cautioned further changes to Instagram's algorithm could wound influencers, Aaron Brooks, co-founder of influencer provider Vamp, isn't concerned, saying influencers have proved their resilience.
"There's always been a lot of talk about the Instagram and Facebook algorithm, and how to get around it, what are the benefits of it, and what are some of the sticking points," Brooks says.
"But for us, based on our partnership, we're told that quality content is always key.
"So, as long as influencers are pushing out great content and have an engaged audience base, then of course that content is going to surface up as a higher priority in the algorithm."
Agencies are realising any work they engage with around influencer content needs to be more "authentic", with Publicis' Sarna saying he expects a "gradual progression" in how it works with influencers.
"To be honest, this is as much brand-led as it is by us. With the honeymoon period over, and what at times feels like a saturation of brand-sponsored activity on some influencer accounts, brands are beginning to desire a return to a more authentic relationship where they work with influencers who genuinely love and use their products, rather than the superficial financial transaction for content and audience reach," Sarna says.
"This begins to delve back into the realms of ambassadorship through a longer-term relationship between brand and influencer, and even exploration of mutual activity beyond only online content.
"The increases over time will therefore be more within the realms of authenticity, honest appraisal and recommendation, and ongoing partnerships with fewer (but more relevant) influencers."
Filip Sarna
So while there are still influencer marketing skeptics, the evolution of the space will give brands and agencies greater confidence in spending in the sector.
The arrival of new technology has meant people spend more of their hours on social media, but it's also given marketers tools to meet the increased demand for content it created.
"Comms briefings need to brief with social media in mind, and collectively we all need to break with entrenched analogue beliefs of answering with a 'TV-first' mentality (maybe adopted for social later)," Sarna says.
"It's high time we recognise that social media needs to be treated and used as the mainstream medium that it is today.
"And the sooner that all happens, the sooner social media may genuinely be integrated as part of true omnichannel strategies.
"Yet this all only speaks to social media catching up to be treated on an equal playing field with other channels. Looking to the future, we are on the cusp of a hyper-service, hyper-personalisation era.
"What's most exciting there, is that this data-reliant era of marketing will play to the strengths of what social media can offer brands. I feel like this will be the next major point of maturity; brands and marketers will finally be forced to recognise the power of what social media can do on a consumer-by-consumer level."
Have something to say on this? Share your views in the comments section below. Or if you have a news story or tip-off, drop us a line at adnews@yaffa.com.au
Sign up to the AdNews newsletter, like us on Facebook or follow us on Twitter for breaking stories and campaigns throughout the day.