The purchasing behaviours of consumers, despite overwhelming support for ESG (Environmental, Social, and Governance) initiatives, tend to be led by other drivers, according to a study into campaigns by Coles and Woolworths.
Research from Forethought has found that a strong corporate brand reputation for ESG does not in fact motivate consumers to purchase more from such brands.
The study in the week immediately following the Tokyo Olympics looked at what drove choice for consumers between supermarkets.
The project was a national market study of main grocery buyers with a quota for Gen Z's (18-25 year olds). The hypothesis was that if sustainability was going to be a driver of choice, it would be so for Gen Z respondents.
Results showed that having environmentally sustainable practices is not a driver in the overall market model.
But freshness of products and fruit and vegetables – the main message of the Woolworths campaign – was a far more significant driver of choice for this group.
Coles reaffirms ambitious targets to reduce CO2 emissions and "to become Australia's most sustainable supermarket" in Together to Zero campaign.
Forethought Global CEO Darren Stein: "No matter how terrific the Coles creative was, if attitudinal change leading to sales, or driving sales itself was a desired outcome, the impact of the campaign would be limited in that regard.
"Even for Gen Z Australians – an especially environmentally-conscious cohort – pledges to sustainable practices don't translate into driving purchase behaviour."
Forethought then surveyed 800 Australians to find out what they thought companies should do.
Australians were asked to choose, from a list of five alternatives, which was the most important output a company should undertake.
The aspect of corporate behaviour that was rated as the least important was businesses using advertising to project community standards such as sustainability.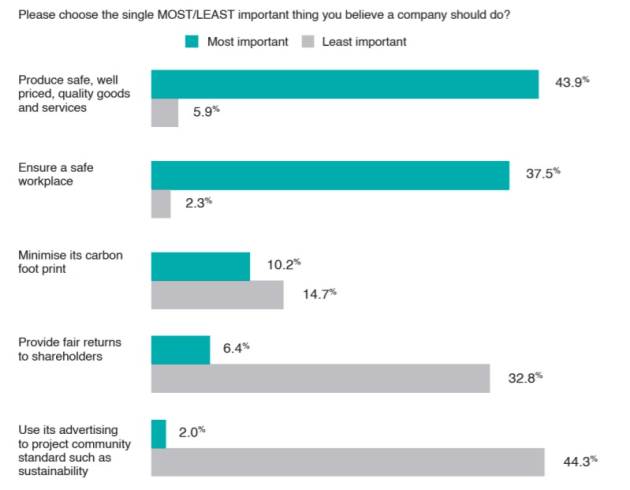 Stein says it was clear from this data that Australian consumers favour businesses that prioritise delivering good quality (and fairly priced) products, rather than those that aim to project norms of Corporate Social Responsibility.
The idea that this may come as something of a surprise to many Marketers is symptomatic of an unfortunate contradiction facing the industry as a whole, according to Stein
"The broader question is whether it is fair to task CMOs with the dual agenda of driving sales and market share growth, as well as position the brand on non-sales driving purpose motives such as environmental sustainability, all within a finite budget?" he says.
"This research would suggest that in many cases, Marketers could find themselves being caught between a rock and a hard place – working (and spending) on important, meaningful and essential programs and messages that don't drive sales, despite being measured ultimately on sales growth."
"The rigid marketing science outlined above informs us that even for Gen Z shoppers, sustainability is a weak driver of choice of supermarkets and remains a lofty goal, well beyond the primary consumer concerns relating to competitively priced, quality groceries."
Marketer Mark Ritson: "For most working men and women, they don't have those (purpose led) broad dreams. Their purpose is to stay in employment, afford health insurance, to pay their rent or mortgage and to feed the kids. We (marketers) are, I am afraid, above the industry that we serve."
Have something to say on this? Share your views in the comments section below. Or if you have a news story or tip-off, drop us a line at adnews@yaffa.com.au
Sign up to the AdNews newsletter, like us on Facebook or follow us on Twitter for breaking stories and campaigns throughout the day.