International digital bank ING has been focusing on "meaningful" marketing activity throughout the COVID-19 crisis.
ING head of retail banking Melanie Evans says instead of releasing a statement or an ad that said the bank was "here to help", the bank took an "actions speak louder than words" approach.
"Instead of shifting our marketing strategy and our brand spend directly on advertising and more traditional forms of marketing, we wanted to make sure that we really understood what customers wanted from us," Evans told AdNews.
"When you sit down and speak to a customer, very few people say, 'I want to see an ad'."
As a digital-first bank, ING didn't need to focus its efforts on teaching customers how to bank online or over the phone.
Instead, it began with making more traditional brand acts such as offering customers repayment holidays and bonus savings products.
As the nation got settled into working from home though, Evans says it became clear that people's behaviours were also changing.
This prompted the launch of a month-long partnership with Uber Eats where ING paid the delivery fee on all orders paid for with an ING card.
ING head of marketing Danielle Hamilton says the results were a marketer's dream come true.
"In terms of amplifying this offer, we sent one email to our active customer case and that was it," Hamilton says.
"There was no traditional spend. That organic goodwill and share of voice led us to having over 100,000 customers apply for the promo code."
Spun together in 10 days from concept to delivery, Hamilton says it was the right time and right proposition that helped make the offer so successful.
For ING, partnerships only make up a small part of its marketing mix.
"I don't want to sponsor the cricket, but if I can actually add value to a customer [like with Uber Eats] that is a really compelling partnership proposition," she says.
Likewise, Evans says the partnership was the perfect alignment with ING's brand promise and focus on providing real utility and financial value.
Following the partnership and some of the traditional brand acts it had executed, the next phase of ING's marketing strategy was to launch a content series, Real Talk, with the help of one of its agencies CHE Proximity.
"It's all about helping Australians navigate uncertainty - whether that's about employment, saving, renovation," Evans says.
"Instead of using typical banking types, we're partnering with more reputable financial advisors and lifestyle influencers to try and break through the jargon and actually give people some meaningful tips."
Among those to feature in the series are Glen James from podcast My Millennial Money; DJ, TV host and social media influencer Flex Mami; Australian cook and Masterchef winner Larissa Takchi; and financial planner and founder of Sugar Mumma TV, Canna Campbell.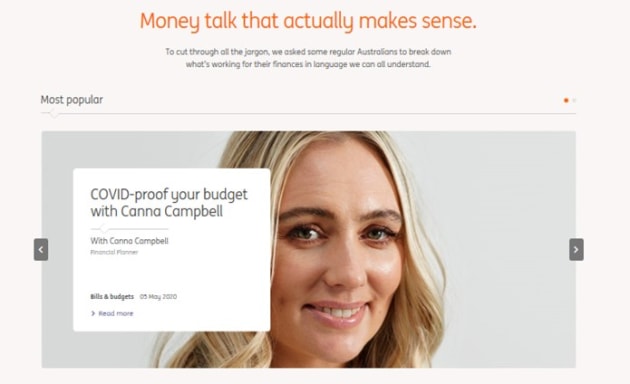 Building upon Real Talk, the bank is soon to launch Real Support which will see it offer customers free one-on-one financial counselling for customers under significant financial strain.
Evans says the bank recognised that many of its customers are going through financial hardships at the moment that wouldn't have been if it wasn't for the pandemic.
"We can help them put together a budget with a money coach or a financial counsellor and give them practical help in getting themselves out of the pick that they might find themselves in," she says.
"Now, would anyone have ever thought that a marketing budget would go towards offering customers one-to-one money counselling and coaching sessions?"
While the idea for Real Support was born initially from the pandemic, she says it is something the bank will continue to offer customers for the long-term as part of its ongoing brand promise.
With the foundations of its meaningful brand acts now fully laid, Hamilton says the bank finally felt it was the right time to release an ad.
"We felt like we had demonstrated enough tangible brand acts and gestures," Hamilton says.
"And it was a really nice moment to remind our customers that we're by their sides, sitting in a similar spot to them."
Throughout the pandemic, ING has been conducting human-centred research to inform its decisions on all marketing activity including for Real Talk and Real Support.
One thing the research revealed was an increasing desire for customers to talk to a real life human during these periods of self-isolation.
This was backed up by feedback from its call centre that noted customers were spending more time on the phone just to "have a chat".
The bank used these insights as the basis to launch a TVC, created by Ogilvy, to put a face to its digital business.
Evans says all the people featured in the commercial are staff members who are based out of ING's call centre on the central coast of New South Wales.
"We have a wonderful group of humans on the central coast of New South Wales who were not only going COVID as people themselves, but they had the added complication of having to do their job from their living room or kitchen table," Evans says.
"We just thought it was a really great opportunity to put a human face to our very digital bank."
Behind the scenes shooting the ING TVC.
From sisters who live together to babies bouncing on laps and furry friends, the ad takes viewers inside the homes of those people they are actually speaking to on the phone, alongside the ING contact centre where another team member is still working.
The campaign has rolled out across digital and social channels as well television with media handled by UM.
It will also be featured across ING's owned channels and will be used to support the bank's other activity like Real Talk, Real Support and some of the other brand acts it has made during this period.
As it continues to make brand acts, Evans says the bank has been well-placed to stand out among competitors as it had been prior to the pandemic.
While other banks have been focused on regaining trust, she says ING has been able to continue living up to its promise of being customer led.
"Our brand promise is different. Our culture is different. Obviously we're a smaller, more agile organisation and essentially we're Australia's first fintech," she says.
"So, I would say those points of differentiation are exactly what they were before COVID. COVID has just amplified them to some extent."
Have something to say on this? Share your views in the comments section below. Or if you have a news story or tip-off, drop us a line at adnews@yaffa.com.au
Sign up to the AdNews newsletter, like us on Facebook or follow us on Twitter for breaking stories and campaigns throughout the day.