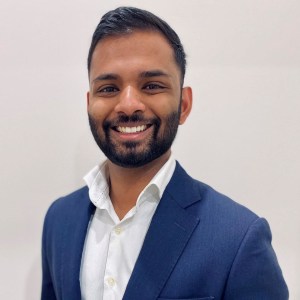 Our Industry Profile takes a look at some of the professionals working across the advertising, adtech, marketing and media sector in Australia. It aims to shed light on the varying roles and companies across the buzzing industry.
This week we speak to Amobee director of solutions Dillen Alahendra.
Time in current role/time at the company:
Two years in role, three years at Amobee.
How would you describe what the company does?
Building advertising technology for a converging world of TV and digital media.
What do you do day-to-day?
Figure out how to deliver business objectives with our clients, work with our teams to build out new products for the future and manage an awesome group of pre-sales, analytics and advanced operations team members in Australia.
Define your job in one word:
Everchanging!
I got into adtech because:
The industry moves at a lightning pace in developing technology and using data - especially right now. I saw this as a great opportunity to learn and develop my skill sets while meeting and working with some truly visionary and fun people.
What's the biggest challenge you face in your role?
Finding a way to say yes to open ended questions from clients! In the tech space, a lot of solutions are built to spec and so you have to be quite creative in the way you think about what's possible. In most cases it's about listening and understanding the real questions so you can say yes, but suggest an approach that you know you can deliver.
What's the biggest industry-wide challenge you'd like to see tackled?
Knowledge sharing. I feel that our industry moves so quickly that the sharing of information and upskilling becomes a challenge - it can easily fall by the wayside if you don't make it a priority. It would be great to see more community based knowledge sharing forums!
Previous industry related companies you have worked at:
None, this is my first industry related company. I moved to Amobee from Telstra.
Who has been a great mentor to you and why?
My previous managers Wynand Strydom and Derrick Buckley have been exceptional mentors to me. Both of these individuals helped me understand that people drive change through technology, not the other way round.
Words of advice for someone wanting a job like yours?
Be inquisitive, listen and most importantly don't get bogged down in planning to plan - make sure you actually get things done.
If I wasn't doing this for a living, I'd be:
Working in the tech consulting world, deploying cloud solutions.
My mantra is:
Listen, set the direction and just start.
My favourite advert is:
The Cadbury Gorilla Phill Collins Ad. It was a brilliant ad with a great soundtrack that had nothing to do with chocolate but makes me think of Cadbury everytime I hear it now.
Music and TV streaming habits. What do you subscribe to?
All of them unfortunately! Netflix, Spotify, Stan, Amazon Prime and Audible. There's a lot of good content out there.
Tell us one thing people at work don't know about you?
I love spending my weekends DIY-ing at home, from building furniture to fixing my own car.
In five years' time I'll be:
Hopefully still working at the forefront of technology-driven solutions for businesses - if I can keep up with technology in the next five years I'll consider that a win!
Have something to say on this? Share your views in the comments section below. Or if you have a news story or tip-off, drop us a line at adnews@yaffa.com.au
Sign up to the AdNews newsletter, like us on Facebook or follow us on Twitter for breaking stories and campaigns throughout the day.