Climate change is the number one concern of Australian Millennials and Gen Z.
And they have lost trust in government and their view of the economy is at its lowest in six years, according to Deloitte's latest Millennial Survey.
The top aspiration for millennials is travel, but Gen Z want to buy a home.
Two thirds (67%) of Australian millennials think government leaders have no ambition beyond wanting to retain or increase their power.
More than half (53%) believe politicians have a negative impact on the world. And 42% have absolutely no trust in political leaders as sources of reliable or accurate information.
Deloitte's eighth annual Global Millennial Survey tracks the hopes and aspirations of the world's future leaders.
This year Deloitte interviewed more than 16,000 millennials around the world,  those born between January 1983 and December 1994 and aged 25 to 36 today, and Gen Zs, those born between Jan 1995 and Dec 2002, aged 17 to 24.
The survey included 500 Australian millennials and 301 Australian Gen Zs.
Millennials and Gen Z are no longer the future workforce. They are the present, making up more than 40% of Australia's working population. 
"Organisations that fail to change their leadership, business, people strategies and practices do so at their peril," says David Brown, Deloitte's Global Workforce Transformation Lead Partner.
"This year's survey found both generations were disappointed with traditional institutions like government, sceptical of business's motives, and pessimistic about economic and social progress.
"Despite Australia's strong economy, younger generations have become wary about the world and their place within it. The millennials and Gen Z, collectively 'MillZ', are a generation disrupted, perpetually caught in a crossfire of social, political, and economic commotion."
Climate change and protecting the environment was the number one concern among both generations globally, at 29%. Australians were even more worried, with 31% of millennials and 37% of Gen Z noting their personal concern.
The economic view of the world is bleak. The economic sentiment among millennials is at its lowest in six years. Only 26% of global respondents expect the economic situation in their countries to improve in the coming year. That figure has never been lower than 40% since Deloitte started the survey.
Economic optimism is worse at home. Only 19% of Australian millennials and 20% of Gen Zs think the economic outlook will improve.
This is down from 2018, when 34% of Australian millennials believed the economic situation would improve.
Both generations' outlook on leadership is also pessimistic. Political and religious leaders are among the least trusted sources of reliable and accurate information within Australia (11% and 13% respectively). Leaders of NGOs and not-for-profit organisations are among the most trusted sources (25%).
Stark contrasts between the generations emerge when asked about aspirations.
For Australian millennials, the number one priority is to travel. Gen Zs would prefer to buy a home first, as these charts show: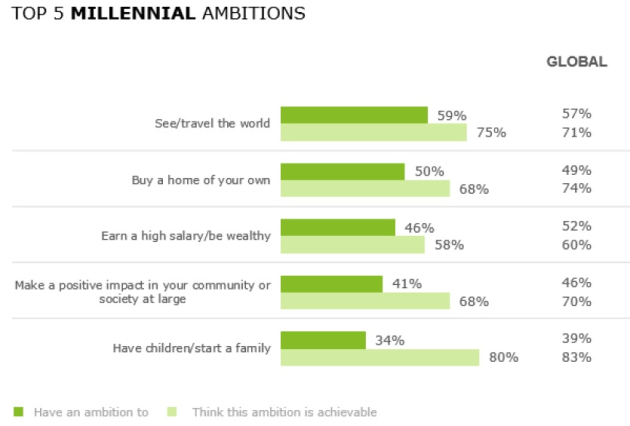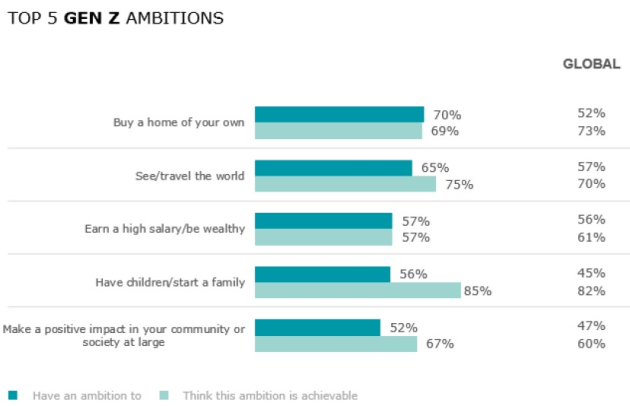 Travel is still important for Gen Zs but when it comes to having families, their ambitions outstrip millennials; 56% for Gen Z, and just 34% for millennials. 
"Most Gen Zs would still be living with their parents or have only recently moved out, so it's understandable that a home and a family are important parts of their lives," says Brown.
"On the other hand, millennials have more exposure to the reality of house prices and wages, so they recognise travel is a more achievable ambition." 
Have something to say on this? Share your views in the comments section below. Or if you have a news story or tip-off, drop us a line at adnews@yaffa.com.au
Sign up to the AdNews newsletter, like us on Facebook or follow us on Twitter for breaking stories and campaigns throughout the day.