Advertising campaigns are more effective when they target a broad audience and run for some time, according to a study of the winners of the Australian Effie Awards run by the Communciations Council. 
Marketing consultant Rob Brittain has used the Effies database in Australia to dig out more insights into why some campaigns work better than others.
This follows the first study, Australian Advertising Effectiveness Rules, launched last year. Brittain was a co-author with Peter Field of that report.
The results of this latest study, supported by ThinkTV, are being released at the Future of TV conference in Sydney today.
Brittain's study found that It is more effective to run longer campaigns than a series of short ones.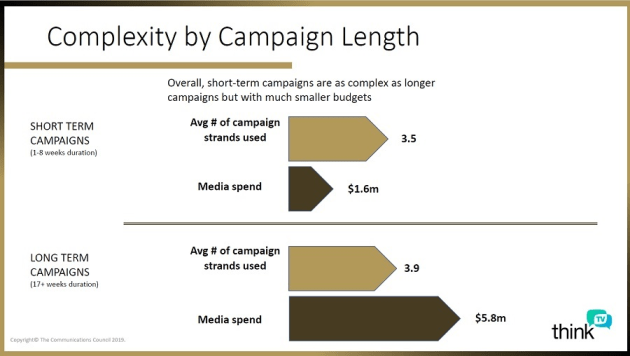 "Go as broad and as long as you possibly can," Brittain told AdNews.
"Rather than trying to shift metrics by making a big clamour in a small amount of time and do something that you feel would be really visible, you're much better trying to broaden the impact and lengthen the impact as much as you possibly can.
"And regardless of whether you've got a big or small budget, a lot of it is how far, how long, can you actually stretch it for."
What you're trying to do, with a campaign, is to get people to buy something, he says.
And not everyone is ready to buy at a particular point of time. If the campaign runs for a while, then there's more chance of someone being ready to make a buy decision.
"Longevity really works because you scoop more of those people," he says.
"You've kind of been subtly working on them in the background.
"Advertising is about winning and memory, and memory shifts and changes quite quickly because there's lots of stuff that competes for it.
"And if you're going broader and longer, then you are more effectively managing your brand in the memory of people that are potentially going to buy it, so you're more likely to win."
He looked at the strands, the different approaches, that make a complex campaign.
"If you want to have a highly complex campaign, then you need to have a bigger budget to support it," he says.
"With both high-complexity and low-complexity campaigns, the ones that were more effective did spend more money. But it's not as simple as just saying, you've got to chuck more money at it. It's about how you spend it.
"When we looked broadly at spends, it showed that the more successful campaigns invested those extra dollars they had into a broader media channel mix and into increased campaign durations.
Some of the findings of the study -- Brand growth versus short term impact: does complexity help campaign effectiveness? -- include that highly effective campaigns have:
TV. 60% of the most effective campaigns used TV as the lead channel.
More media channels. On average, 6.4 media channels compared to less effective campaigns with the same number of strands which used 4.8 channels.
Aim to (and do) achieve more. An average number of 4.7 objectives compared to less effective campaigns with the same number of strands which had an average of 3.7.
More cash. Absolute spend is higher amongst highly effective campaigns, but weekly spend is similar to lower effectiveness campaigns. The additional media dollars are invested into a longer campaign and a broader channel mix.
Moving pictures. Usage of video, both offline and online, is critical for campaign effectiveness.
Emotion works over the longer term, building brand memory structures
Have something to say on this? Share your views in the comments section below. Or if you have a news story or tip-off, drop us a line at adnews@yaffa.com.au
Sign up to the AdNews newsletter, like us on Facebook or follow us on Twitter for breaking stories and campaigns throughout the day.