With three huge Australian sporting events taking place over the weekend, it means advertisers have more than just one hot ticket to clip.
As well as the Rugby World Cup featuring Australia vs England, looking closer to home, in our own backyard, on Saturday we have Australian Football League's (AFL) Hawthorn vs West Coast Eagles and on Sunday the National Rugby League's (NRL) Brisbane Broncos vs North Queensland Cowboys kicks off.
As the NRL enters new territory with a two Queensland team grand final to be played this weekend, it isn't surprising there is speculation regarding the impact on audiences numbers in one of the biggest events of the TV year.
Toyota, AAMI, Virgin Australia and Harvey Norman are key partners for the AFL, along with NAB, Bunnings, Woolworths, Telstra and CrownBet.
NRL has the likes of Telstra, Harvey Norman and AAMI too, as well as Victoria Bitter, Holden, Coca-Cola, KFC and more.
So how much would advertisers fork out for these spots?
In terms of prices for AFL sponsors and partners AdNews understands advertisers would expect to pay circa $125,000 to buy a 30 second spot in all metro markets – but some sponsors will pay $150k. These often have to be accompanied by a larger season package and that's where the networks really tend to make the money.
For NRL Grand Final, costs are about $129k per 30 second spot and access is largely scale packages only. An NRL Finals package, including metro five cap, all games – quarters, semis, prelims and Grand Final is about $1.1m per year.
AdNews also understands ad spots in these matches are higher than any other event TV on a per spot basis. The only other event with a similar per spot cost would be the Men's Final of the Australia Open Tennis or the Olympics.
Looking at historical OzTam TV ratings data and comparing grand finals that have had two NSW teams vs one NSW/one interstate vs two interstate teams, media agency ZenithOptimedia observed there was no correlation between origin of team and ratings levels.
Still curious? For AdNews, the agency polled 1000 Australians on September 29 to gauge their NRL grand final viewing intentions.  It found that 76% of people watched last year and intend to watch again this year, a further 18% intend to watch this year (but didn't watch last year), while only 6% watched last year but do not intend to watch this year.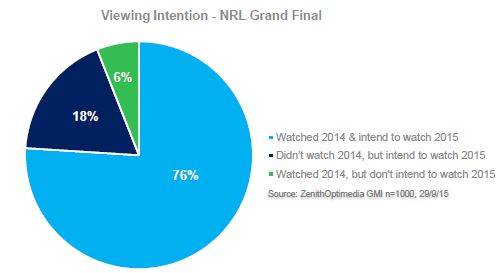 Overall this suggests the potential for a slight ratings uplift – and surely one of the hottest tickets for advertisers this year?
ZenithOptimedia's insights director, Luisa Howard, said for some advertisers, spots in the footy grand final are "priceless", simply because they can deliver on objectives that have become increasingly hard to meet in such a fragmented and "ad avoiding" ecosystem.
She said as grand final spots can reach the elusive Aussie male, build reach fast and establish the right brand associations at scale, and because of the uniqueness of what these spots can offer, value is heightened.
"As TV networks become increasingly reliant on event programming to prop up audience and therefore revenue, their resolve to extract the most revenue they can from footy grand finals is greater than ever - that said, there is always room for negotiation," Howard said.
"The NRL Grand Final this year is two Queensland teams and therefore the ratings by state would differ to last year which was two Sydney teams. As NRL viewers are fickle it would be lucky to hold the same audience year-on-year. AFL supporters are dedicated viewers and holding audience could be easier for them."
However, she said viewers dedicating both Saturday and Sunday to watch these games, plus the Rugby World Cup game of Australia v England on Sunday morning, means there is a lot of competition this weekend.
Carat Sydney's head of investment, Ashley Earnshaw, said sport is without doubt still the key driver of audience on free-to-air (FTA) TV - with the top four ratings events having all been sport in 2015 - the hotly contested rights costs reflect that.
"Overall we anticipate audiences will be back this year (8-12%), due to the teams involved (content) and not the platform (TV)," Earnshaw said.
"The real ratings results to watch will be the NRL with two Queensland teams involved, it's not good for Nine's viewing potential. Event TV such as live sport finals doesn't get any bigger and is still the strength of the linear TV set.

"People won't be watching this on their phones and iPads – so its power back to the TV set. The audiences will be back due to a Sydney team not being a part of either of the crunch games (year-on -ear) and given it's the most populous state, it will impact total viewing. It's worth putting these events in context – the Superbowl draws nearly a third of the US population and these finals won't come close."
He said the majority of advertisers across AFL and NRL will be returning advertisers who have partnerships across the year with these valuable sporting properties and that other advertisers will "tough it out" for the pre and post game ad slots.
"To a degree these are the most sought after TV breaks but outside of sponsors and partners, if you are purely spot buying you pay an enormous premium to gain access, but will more than likely not even fall in the game, but in either the pre- or post-match coverage, or if you're really unlucky, into the game day coverage, he said.
"The in-game breaks are so premium they're generally reserved for sponsors/partners only and even they are booked in across a four-hour window. You can also only gain access to the Grand Final if you buy a package across the season. They aren't usually sold on a spot basis and fill rates for the grand final shouldn't be a problem for either Network. Any event programming that draws audience live is a sought after ad break and sport is more consistent than any other content."
He added that overall both networks (Nine ands Seven) are being pragmatic and predicting audiences will be back year on year:
AFL
Total People, metro five cap
AFL Grand Final – the game itself, exc. Pre and post
2012: Hawthorn vs Sydney: 2.962m
2013: Hawthorn vs Fremantle: 2.718m
2014: Hawthorn vs Sydney: 2.828m
2015: Seven estimate this year, c. 2.4m with West Coast Eagles playing Hawthorn
"So Seven are predicting a minimum 15% decline year on year but we wouldn't anticipate that it will be that deep," Earnshaw said. Carat thinks closer to back -8% at 2.59m.
NRL:
Total People, metro five cap
NRL Grand Final – the game itself, exc. Pre and post
2012: Bulldogs vs Melbourne Storm 2.568m
2013: Roosters vs Manly Sea Eagles 2.246m
2014: Rabbitohs vs Bulldogs 2.621m – the highest rating NRL Grand Final ever.
2015: Broncos vs Cowboys Nine estimate around 2.4M- 2.45M given the teams.
"Carat predicts closer to the 2.3m but still back -12%," he added. "I would imagine there will definitely be less appeal in the NSW heavy league ratings due to the Queensland teams playing in the final. It's not very good for Nine to have two Queensland teams that's for sure, they really need at least one NSW team in there to hold interest. On the positive, the Cowboys are high profile and NSW does like watching NRL when there is all to play for."
National head of trading OMD Australia, Melissa Hey, agreed that due to the teams in the final audiences will be down year-on-year
She said while the audiences will be lower year-on-year these events will still be in the top rating programs for the year,, and that the games remain at a premium because they are live sport, which guarantees a highly engaged audience due to the demand.
 "These events deliver high volume audiences, which means they will attract Australia's major brands and advertisers, as we have seen throughout the series," Hey said.
"Networks tend to keep the prime real estate within these events for consistent advertisers versus one off supporters. Access  to integration and premium placement is prioritised for  returning advertisers,  however they will look to ensure that for a new sponsor/partner they accommodate benefits that deliver on the advertisers brief."
Earnshaw added that event premiums keep out a lot of new or smaller advertisers, so predominantly the large corporate advertisers will be dominating.
Have something to say on this? Share your views in the comments section below. Or if you have a news story or tip-off, drop us a line at adnews@yaffa.com.au
Sign up to the AdNews newsletter, like us on Facebook or follow us on Twitter for breaking stories and campaigns throughout the day.