Gumtree has ramped up its advertising offering by launching a new "programmatic-first" marketplace, known as Gumtree Media.
The decade old firm is trying to encourage brands to its community marketplace which claims to deliver exposure to 7.1 million unique visitors per month. It says its data will give advertisers the ability to create custom audiences – from those interested in furniture and electronics to clothing, sports equipment and more.
Given it sits on such a rich bed hotbed of first-party data, with its two most popular verticals being cars and jobs, it says the data it has is set to provide better targeting for brands, which therefore drives better return on investment.
Speaking to AdNews, head of advertising and partnerships for Gumtree Australia, Laura Hill, says the brand has always been an early adopter of programmatic and began playing in this space two years ago.
"We are committed to a programmatic first approach and we have always wanted to be ahead – just as quickly as the landscape has evolved," Hill says.
She adds that the focus is on trading with real-time models, working closely with all agency partners, as well as with supply-side platforms; the tech partners that allow publishers to sell advertising in an automated way.
Wider brand refresh
"This was a natural evolution for Gumtree and helps to complement the site's refreshed design, which goes live today," Hill says,
The firm focus on pushing its first party data into the programmatic pipelines coincides with a light brand revamp, which largely focuses on improving the usability of the site and ensuring a smoother transition when flicking through the site on mobile.
She added that as Gumtree Media combines "comprehensive data with leading ad technology", this only serves to help connect advertisers to a range of active buyers on a programmatic basis. 
On the topic of transparent viewability concerns, Gumtree has partnered with Google active view and Integral Ad Science to ensure its standards are up to scratch.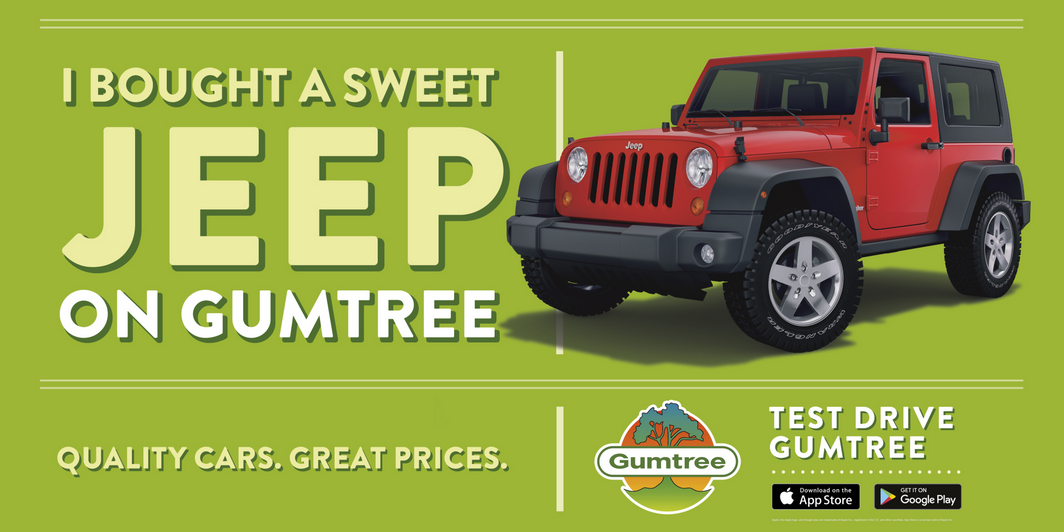 Mixing up the mobile formats 
Gumtree Media has also bolstered its mobile offering by teaming up with creative ad tech company Playground XYZ. The business was launched by ex-Big Mobile employees late last year and just this week announced it has seen seen such "rapid" business growth, fuelled by demand for new mobile ad formats, that it has today added Fairfax as publishing partner - alongside MCN, Nine, SBS, Ticketek, Gumtree, Daily Mail, Mamamia, Bauer and more.
As well as offering various rich media options, allowing all advertising campaigns to be brought to life programmatically, Hill says programmatic guarantee is also a key offering -providing premium reserved inventory to programmatic buyers
"Gumtree Media has been designed to connect brands with customers who are ready to buy, shifting the site's offering to solutions that are rich in data, consumer insights and closely linked to buying intent," Hill says

She adds that Gumtree has more than 2.5 million live ads across a range of categories from cars, furniture and clothes to jobs, electronics and sporting equipment and that more than 80,000 ads are posted daily or an average of one new ad posted every second.
Gumtree, whose "I bought a Jeep … on Gumtree" can be currently spotted on the side of busses across Sydney, as it takes aim at the premium car market, launched in Australia 10 years ago.
Hot on the heels of others
According to The Drum, this week Mail Brands UK, which owns the MailOnline, has struck a deal with programmatic agency Infectious Media to also build out its audience extension capabilities. It will now allow advertisers to take its consumers' online activity and use that data to understand and reach relevant audiences elsewhere online.
In November 2014 real estate advertising business the REA Group revealed it would be selling off its valuable first party data – allowing advertisers and their digital trading desks to more accurately target consumers in campaigns. The ASX-listed Melbourne-headquartered firm, which owns property site realestate.com.au and is majority owned by News corp, partnered up with programmatic video provider TubeMogul to help use its audience data to present more relevant video advertising.

The value of first party data
"By taking control of existing first-party data, publishers and marketers take greater control of their reader and customer relationships" Krux country manager Australia and New Zealand, Jo Gaines, said in a previous AdNews opinion piece.
Gaines added that owning and activating that data is the key and that instead of selling off data or handing it over to an ad network, organisations can use it to develop new products and services, increase the value of existing offerings, use targeted content to increase engagement and target commerce offerings to improve conversions and sales.
"Unlocking the power of first-party data allows marketers to understand beyond the surface level demographics of who their customers are, and enables them to know more about what they do when they're interacting with the brand," she said.
Have something to say on this? Share your views in the comments section below. Or if you have a news story or tip-off, drop us a line at adnews@yaffa.com.au
Sign up to the AdNews newsletter, like us on Facebook or follow us on Twitter for breaking stories and campaigns throughout the day.