Foxtel has placed Australian scripted drama as a core part of its content strategy as subscribers continue to flock to locally-produced shows.
Foxtel's executive director of television Brian Walsh tells AdNews the pay TV company invests more than $900 million in local production. Of its entertainment production budget, a significant amount (around 25%) is invested in high production value local drama each year.
The reason for this is to prevent churn, an important part of the subscription TV model, and the success of local drams are clearly illustrated in the ratings figures for Foxtel's top shows.
Aside from the HBO blockbuster Game of Thrones and Big Little Lies, Foxtel's top 10 most watched TV shows are Aussie dramas, including Wentworth, The Kettering Incident and A Place to Call Home.
"I think we've seen the demise of Australian drama on the commercial networks and I think that's a shame," says Walsh, a programming veteran that has been with Foxtel since it was formed in 1995.
"I think Australians enjoy stories about their own country and their own people and they resonate with performances in their own accent – I think that's an important part of storytelling. It's certainly, for Foxtel, one of our principal investment areas."
The cast of A Place to Call Home.
Walsh says local dramas are often cited by viewers as among the leading reasons to subscribe and stick with Foxtel.
"It's important that the customer we attract, we retain. We know with some of our dramas that are very popular, like A Place to call Home, it gives people a reason to subscribe and we can justify the cost of investment in that show."
This investment in local drama also gives Foxtel a point of difference with commercial FTA networks, which invest more in Australian reality formats, as well as what Walsh describes as "relationship dramas" and short biopics. It is also a point of difference with international streaming giants like Netflix and Amazon.
"We tend to think competition reality is over-saturated by free-to-air so we don't tend to invest heavily in that genre," Walsh adds.
"In the United States last year there were 420 scripted series on US television, which is an enormous amount of production when you think of it. I think people have so much choice now that they are particular about what they will watch.
"The biggest change that has happened is that people are now really wanting to only commit to 10 to 12 hours. The days of 22-episode series, particularly in Australia, have finished. It's just not sustainable to produce shows that run for that many episodes."
A contemporary reboot of Picnic at Hanging Rock has been sold to Amazon in the US.
Another benefit of high production dramas is that Foxtel is able to export them to other markets, a growing revenue stream that Walsh describes as the "icing on the cake".
"We've just recently concluded a deal with Amazon which sees the sale of Picnic at Hanging Rock into North America for the largest license fee ever paid for a prime time Australian drama in the history of our industry, which is terrific," he says.
"The show has subsequently gone on to be sold to the BBC in the UK. A Place to call Home has sold in over a hundred and twenty-three countries. Wentworth is sold into over eighty territories."
Foxtel is also in talks with a global streaming service about collaborating on a couple of co-productions.
"As far as the Australian industry is concerned, the world is their oyster," he adds.
Another genre Foxtel is investing in is factual series, such as Lawless a new Mike Munro-hosted show Lawless, which takes a historical look at bushrangers and The Archibald, a look at the artists behind the Archibald competition this year.
In drama, Foxtel will launch The Fighting Season, a series that tracks Australian soldiers' life-changing experiences at war in Afghanistan as well as a contemporary reboot of Joan Lindsay's Picnic at Hanging Rock, set in rural Victoria at the turn of the century.
There will also be new series of Wentworth and A Place to Call Home. Foxtel's is currently airing the latst installment of Jane Campion's award-winning series Top of the Lake: China Girl.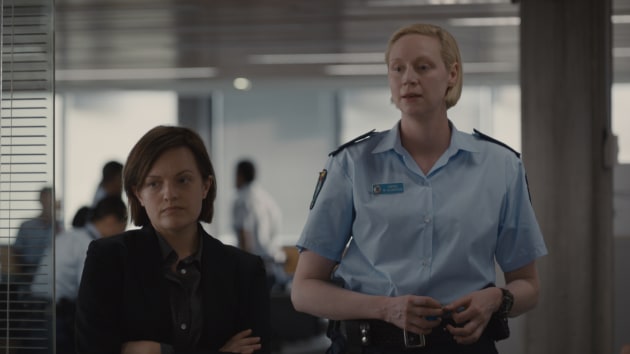 Elisabeth Moss and Gwendoline Christie in Jane Campion's Top of the Lake: China Girl.
Have something to say on this? Share your views in the comments section below. Or if you have a news story or tip-off, drop us a line at adnews@yaffa.com.au
Sign up to the AdNews newsletter, like us on Facebook or follow us on Twitter for breaking stories and campaigns throughout the day.