The Australian Government is inviting media agencies to provide feedback on its master media agency (MMA) services contract - the first step in a tender process. The $175 million media planning and buying account (break down below) is the largest in Australia.
Dentsu Mitchell has held the campaign portion of Federal Government's MMA, a $100 million-plus account, for the past three years, winning the business from UM. Last September, it took over non-campaign work from Adcorp in a dispute that is currently before the NSW Supreme Court.
The news follows this morning's AdNews exclusive, that MediaCom had won the $90m Victorian Government master media contract from Dentsu Mitchell. For Dentsu Mitchell, holding onto the Federal Government contract will be vital after such a loss.
The scope of the MMA services arrangement includes:
secure optimal media discounts on Commonwealth-wide media rates by consolidating government advertising expenditure and buying power;
incorporate media planning and placement, and media industry knowledge and expertise to government advertising activities through the MMA Arrangement;
reduce MMA participants' procurement costs by having one MMA Services deed and avoiding the need for entities to set up and manage their own media procurement processes;
drive efficiencies through the implementation of evidence based campaign and non-campaign policies, by using advertising data to inform government's decisions; and,
provide advice to government in relation to information and advertising campaigns and the arrangement's performance.
The government has also stressed the master media partnership should establish a "dynamic, innovative and flexible arrangement" that provides effective value for money advertisng through a variety of media, such as emerging technologies.
Transparency provisions
One of the objectives highlighted is "full transparency and visibility of remuneration and pricing, including any commissions, discounts and rebates received by the contractor as part of the Australian Government's advertising arrangement".
The draft deed document has provisions that media agencies must disclose if a media supplier or vendor belongs to the same holding group before procuring the services.
There's also transparency provisions around payment terms and inventory mark-ups that may be obtained through holding group DSPs.
"The contractor and customer will meet in good faith to discuss and agree in writing to the maximum Principal or Inventory Mark-Up amount for any agreed upon principal or inventory sale," the drat deed states.
"The contractor will provide the customer with proof and certification that any advertising services through a principal or inventory sale were legitimately sourced and the favourable terms received on the media in a principal or inventory sale by the contractor or the applicable third party (which may be a holding company member), directly or indirectly, were not in whole or in part on account of the Customer's spending with the applicable Media Supplier or other vendor."
The deed also has a provision that allows the government's finance department to enter into "direct arrangements with third-party suppliers for the delivery of certain advertising services".
This includes technology platforms (demand-side platforms, supply-side platforms, trading desks, ad exchanges, re-targeting companies, advertising networks) and technical service providers (providers of ad serving/delivery, ad tracking, listening and community management tools and other technology/technical services). 
Brand safety provisions
The government has included provisions that agencies mitigate the risk of advertising appearing alongside inappropriate content in any medium. This follows the Federal Government pausing advertising on YouTube when brand safety concerns were raised earlier this year.
This includes: content featuring or promoting smoking, the use of alcohol or illegal drugs, gambling, hate speech, illegal downloading, offensive language, pornography, violence, or any illegal activities not specified. It states that party political content must also be avoided.
Programmatic traded digital inventory must adhere to frequently updated whitelists and blacklists. 
Tight turnaround times
Advertising services include campaign work and non-campaign recruitment notices, tender notices and public notices.
The turn around times being proposed are tight. For a campaign, costing of media must be delivered within three days after receiving a media instruction. Media strategy and media plans can have 10-day turnarounds unless otherwise agreed by the government customer. 
It also wants media agencies to assess the proposed remuneration model, including the effectiveness of performance based payments in driving effective advertising campaigns as well as any other remuneration models that could work.
Additional advertising services
The draft deeds states the contractor may be called upon to provide additional advertising services but should not rely on revenue from these services to augment core advertising and management services.
These include translation and subtitling services; creative content development and production services; media extensions such as events, sponsorships and integration; search engine optimisation; econometric modelling; social media insights; social media moderation; and third party supplier services.
If required, econometric modelling and analysis may be applied to campaign ad tracking and media channel effectiveness and optimisation.
Social media services could include tracking of sentiment and conversations as well as moderation.
Remuneration model
The government's agency remuneration model proposal is based on a retainer to cover staff and technology costs with additional performance-based payments if profit targets are met. The retainer covers all costs of digital media procured through programmatic trading desks and technologies. 

The performance component is broken up into two parts that will be assessed by Finance every six months. This includes a customer satisfaction component that requires customer satisfaction rates of at least 75% for a performance payment.
The second part is a government assessment of service levels and media planning/buying effectiveness against set objectives.
Government customers are required to pay contractor within 30 days from receipt of an invoice. Media agencies are required to pay media suppliers within 45 days.
Agency groups have until 29 September 2017 to provide feedback and can find out more details at the AusTender site.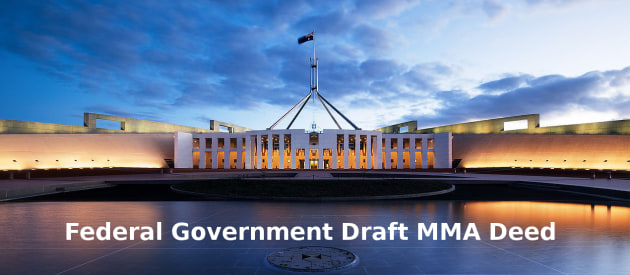 Federal government spending
Last financial year, the Australian Government spent a near-record $174.7 million on advertising led by huge campaigns for the Federal Election, Defence Force recruitment and the government's innovation drive. This is marginally less than the $185.3 million on advertising spent in the 2007-08 budget, but well above the $107.1 million spent in the 2014-15 budget.
The government and its agencies are easily Australia's largest advertiser, well above Harvey Norman ($135.7 million) Reckitt Benckiser ($108.9 million) and Woolworths ($87.2 million). 
A major shift in government spend this fiscal year has been the rise in digital advertising. In the past year the government spent $57.4 million on digital, which was 33% of overall spend, compared to $28 million in 2014-15, which was 26% of the ad pie in 2014-15.
TV is still the dominant channel with $66.6 million in spend, while press ($18.7 million) and radio ($15.5 million) had healthy rises on last year and out of home spend more than doubled to $10.1 million.
Major government campaigns over the FY16 include the Australian Electoral Commission's campaign to inform voters about changes to the Senate voting system and Defence Force recruitment. Check out AdNews' full analysis.
The Federal Government contract is likely to attract interest from all of the major media holding groups, but exactly which agencies bid for the business depends on outcomes in the two largest states. MediaCom has picked up Victoria while NSW is nearing a decision with UM the master media agency incumbent.
Have something to say on this? Share your views in the comments section below. Or if you have a news story or tip-off, drop us a line at adnews@yaffa.com.au
Sign up to the AdNews newsletter, like us on Facebook or follow us on Twitter for breaking stories and campaigns throughout the day.