From "advertising puffery" to simply "misleading ads", the Fairfax vs News Corp property battle has today ended in Federal Court – with both sides claiming certain victories.
The saga commenced a year ago when publicly listed REA Group, which is majority owned by News Corp, alleged that its property listings rival, Fairfax-owned Domain, had breached Australian Consumer Law by publishing adverts that were misleading or deceptive.
There were initially a total of seven ads that REA was seeking relief to, but one was dropped.
REA's complaints related to claims that the Domain app has the number one property app in Australia; the most property listings in Sydney; the best property listings in Melbourne, and to claims the Domain app is Australia's highest rated property app.
In broad summary of two of the ads Federal Court Justice Bernard Murphy said evidence shows the Domain app and website did not have more property listings overall in Sydney than the REA app and website at the relevant time.
"I consider that in publishing the second and fifth advertisements, Domain made false or misleading representations and it engaged in misleading or deceptive conduct or conduct which was likely to mislead or deceive," he said.
He said one of these ads, a front page wrap-around on The Sydney Morning Herald, falsely implied Domain had the most listings in Sydney and the caveats on newspaper ads were too small for readers to easily find. He added the caveat was not apparent in the image "and in my view barely perceptible on the advertisement itself".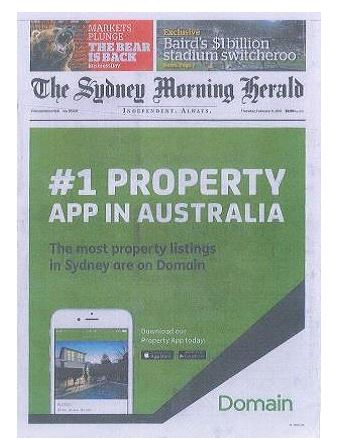 Domain's wrap-around which was deemed misleading
"Advertising puffery"
Despite two of the six breaching rules, he said the remainder of the claims were not misleading or deceptive, broadly because they amounted to "advertising puffery".
In relation to the claim that the Domain app is "Australia's highest rated property app", Justice Bernard Murphy said: "Contrary to REA's contentions, in my view those representations were not limited to just the most recent update of the app. On that basis the representations had a legitimate basis. 
"The evidence shows that at the relevant time the Domain app was the highest rated property app of its kind by reference to consumer ratings of all versions of the app on the Apple App Store and the Google Play Store. I do not consider this claim conveyed the representation that it had been so rated by an independent, objective and reliable source."
REA CEO Tracey Fellows says she is happy with the court decision.
"We believe that today's judgement is a good outcome and justifies the reason we took action in the first place. Our aim in taking this action was to ensure customers and consumers are able to make informed decisions based on reliable facts," she says.
"We are one step closer to keeping our competitor honest and accountable to provide reliable and fact based information.
"Our focus continues to be delivering on our purpose to change the way the world experiences property. We'll do this by offering the best digital property experiences, and providing data and information which delivers value for our customers and consumers."
"They lost the majority of these claims"
Despite Domain also calling out REA for some of its claims, Domain did not file a cross claim alleging that REA made false or misleading representations or that its conduct in publishing these claims was misleading or deceptive. As a result there was no requirement for REA to fully engage with Domain's contentions in this regard.
CEO of Domain Group Antony Catalano, who late last year came out swinging at rival realestate.com.au for its 'copycat' tactics, said: "Our team have built our app into a world class product. Our audience gains are real. Our people are passionate and focused. I'm very proud of this business and there is much more to come."
"A year ago, REA began litigation proceedings against Domain in the Federal Court. 7 claims were lodged. One was dropped throughout the proceedings. 4 were lost, 2 were won.
"I'll have more to say on the detail in a few weeks. It's incredibly amusing to see the PR machine REA has swung into place to justify their action.
"I have said before, REA's strategy is 'litigate and imitate'. For a business that spends an extraordinary amount of time telling the media how much bigger they are than Domain, they spend a lot of time and money watching us.
"I'm so very proud of the people in our business, our products and the passion we have. Much more to come."
Both News Corp and Fairfax reported on the court case differently, with each sides claiming they had come out on top. On Twitter, Domain chief editorial and commercial Melina Cruickshank called out News Corp CEO Michael Miller for how the media company was reporting the case:
It's not the first time a couple of well-known major media owners have taken each other to court. In October last year Seven and Nine continued their war of words over who dominates breakfast television. The television rivals were contesting Nine's claim Today was the country's number one breakfast show after winning 21 of the 40 official ratings weeks in metropolitan centres.
Have something to say on this? Share your views in the comments section below. Or if you have a news story or tip-off, drop us a line at adnews@yaffa.com.au
Sign up to the AdNews newsletter, like us on Facebook or follow us on Twitter for breaking stories and campaigns throughout the day.