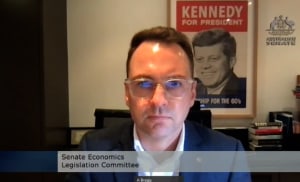 Facebook sees little or no value in credible news on its platform.
Simon Milner, Facebook's vice president, public policy, based in Singapore, and Josh Machin, head of public policy in Australia, fronted a Senate inquiry into the big social media platforms.
The draft news bargaining code, designed to force Google and Facebook to pay eligible news publishers for their content, is the subject of a Senate committee inquiry before it is voted on in parliament.
Liberal Senator Andrew Bragg today asked the social media platform representatives a series of questions about the value of news to Facebook.
Bragg: "I'm just trying to understand .. does good news from a credible source, like the Australian or the ABC ... add value to Facebook?"
Simon Milner: "Clearly there's a range of ways in which people find out about what's going on in the world and some of that is by what they consume on Facebook. And some of that will be from what we might think of as kind of mainstream news sources.
"We've estimated that less than 5% of Facebook's newsfeed actually involves that kind of content.
"And there are all kinds of different ways that people find things including, of course, directly from government."
Bragg: "I'm just trying to get a yes or no answer. So there's news on your platform produced by the ABC or the Australian or The Guardian, for example, does that add value to Facebook?" 
Milner: "It certainly helps to enrich the community but it is not bring commercial value to Facebook."
Bragg: "It brings no commercial value?" 
Milner: "Correct. Almost no commercial value to Facebook."
Senator Bragg later tried again to tie down the Facebook representatives to admitting that news may have some form of value.
Bragg: "You think there's no value to Facebook having used credible news on your platform .. I find that peculiar I have to say."
The senator spoke about misinformation on Facebook and asked whether paying to have credible news could be a counter balance.
Milner: "When it comes to dealing with misinformation ... our commercial relationships with news organisations is not a key part of the work we do to address misinformation."
However, commercial relationships was a key to the Facebook news product which Facebook would like to bring to Australia.
Milner: "We believe that there is mutual value to be gained for publishers and for Facebook and for consumers. But it's a different product. It is not Facebook news." 
However, that product, about to be released in the UK, was delayed for Australia because of the news bargaining code. 
Campbell Reid, a senior News Corp executive, later told the hearing that the platforms are either choosing to not understand the value or news because they're technology companies or maybe they genuinely don't understand.
"There's a great phrase in newspaper publishing of the value of words unread, which is the presence of credible news," says Reid.
"Even within a newspaper environment, a lot of consumers don't actually read it, but they're very reassured that Joe Biden's full transcript of his first speech as the US president is contained there.
"The presence of credible news, we would all contend I think, is of immense value to the platforms."
Have something to say on this? Share your views in the comments section below. Or if you have a news story or tip-off, drop us a line at adnews@yaffa.com.au
Sign up to the AdNews newsletter, like us on Facebook or follow us on Twitter for breaking stories and campaigns throughout the day.