This first appeared in the AdNews October edition. Subscribe here for your copy.
For many Sydney-siders and Melbournians, perceptions around Brisbane are categorised around sunshine, low-cost living and a smaller market with little opportunity to grow. What doesn't spring to mind, is Brisbane's innate ability to innovate and produce world-class creative minus the stress of all the hustle and bustle. This bright city proves the lifestyle helps creativity flourish.
The Brisbane Advertising and Design Club (BADC) – formerly known as the Brisbane Art Directors Club – has known this since 1974 though. The club was founded by Kevin Fielding, who was Creative Director at Masius at the time, freelance illustrator Ted Poulter, freelance designer Stewart Powell and David Laidley who was Creative Director of Peter Rodger Advertising.
Initially a social club for local creatives, the BADC focuses on encouraging and rewarding creativity across the state. The club is supported by 250 regular financial members but works with more than 2000 members of Queensland's broader advertising and design community.
The BADC's mission is to present the message: "you can live in Brisbane and produce work of a world-class level."
Opening its doors in 1961, Clemenger BBDO Brisbane is the state's oldest agency. For Cristian Staal, Managing Partner Creative at Clemenger Brisbane, the biggest differentiator between Queensland's capital and its southern partners is the comradery and respect the creative community has for one another.
"The respect we have for each other, across all creative genres, is immense," he says. "In my opinion, this is because we all work bloody hard to make an effective creative product with much lower budgets. People believe that coming to Brisbane will be a sea change, or a step towards retirement. You quickly find out the hard way that it is exactly the opposite."
Another legacy within the community, independent full-service agency BCM was founded in 1978. Managing Partner Phil McDonald believes the agency's longevity comes down to its integrated approach.
"We can flex and change our business depending on what our clients need, and have some fun along the way," he says.
BCM's work extends beyond Queensland-centric campaigns, creating national work for clients such as Ladbrokes, and has recently welcomed globally-recognised and award-winning talent like Executive Creative Director Christy Peacock and creative team Shaun Egan and Sam Boyd to the agency.
While the industry might be smaller than Sydney or Melbourne, McDonald says Brisbane is a "fast-moving" market producing some of the best work.
"It doesn't take itself too seriously, but over the years has produced some seriously good, globally-recognised campaigns, despite being smaller than its two southern cousins."
Breaking perceptions
Flying under the radar, Brisbane's creative agencies are a little quieter about what they're up to compared to the other east coast capitals. That doesn't mean creativity is non-existent though. Nor does it mean they are creating subpar work.
Simone Waugh, Managing Director of Publicis Worldwide, says that Sydney and Melbourne's perceptions that they are better, simply aren't true. She describes the Brisbane creative scene as entrepreneurial.
"[It's] a place that is left of centre, so it creates the environment for greater creativity. It's a mix of global brands and indies, [and] creatively it's less traditional," she explains.
Publicis Worldwide is behind the recent global 'scUber' campaign for Tourism and Events Queensland, which saw them partner with Uber to launch a rideshare submarine to take tourists down into the depths of the Great Barrier Reef.
The world-first experience was bookable through the Uber app and took tourists up to 30 metres deep with 180-degree views and a competition, with more than 150,000 entrants, was held for one lucky person to win a trip. The campaign generated a potential reach of 2.9 billion people.
This is just one sample of the kind of "world-class" work Waugh believes will help the state attract new talent and clients.
"[Brisbane] has the ability to become the most creative city in Australia with a strong start-up, entrepreneurial community," she says.
A proud Queenslander herself, Ogilvy Brisbane Managing Director Michelle Holland began her career in the state's capital city close to 30 years ago. She has been managing Ogilvy's Sydney office since 2017 but added the Brisbane office to her remit last November.
"I have been looking forward to getting back to Brisbane. There is so much opportunity here with a range of clients and such amazing talent," she says.
While retaining talent in an already smaller pool of creatives has been challenging for Brisbane over the years, she doesn't believe it will remain this way. In addition to creatives coming home, Holland says people from other cities are starting to make the move to capitalise on a more balanced lifestyle.
"Brisbane to many within the local industry is home. And while we often lose talent interstate and overseas the trend has been that experienced talent eventually make their way back to Brisbane agencies," she explains.
"As busy professionals try to focus on wellness, it's never been a better time to find balance in Brisbane. Something Brisbane locals have known and appreciated before the trend emerged."
For Benjamin Davis, Executive Creative Director at McCann Queensland and head of AWARD School Queensland, optimism is one of Brisbane's biggest differentiators. Having worked most of his career in Melbourne, Davis made the move north three years ago and noticed the distinct difference between the two cities.
"Brisbane has a boundless sense of optimism and buoyancy and a willingness to give something a go," Davis explains. "It's this sense of blue-sky possibility that I feel differentiates the city's creative culture. That and the collegial relationship between the creative leaders."
Off the back of this optimism, Davis also sees a culture among Brisbane creative agencies where all involved have ambition and an "anything is possible" mentality.
"Because of the city's size there are less layers of obfuscation between decision-making CMOs and the leadership of creative agencies."
Relocating to Brisbane two years ago as well, VMLY&R Managing Director Adam Kennedy admits he was surprised by the creative scene.
"The diversity and talent here runs much deeper than outsiders could ever imagine – you just have to scratch below the surface to find the unexpected," he says.
"We were lucky enough to welcome artist CJ Hendry, who was raised in Brisbane, into the agency to talk to the team. She struck me as the perfect embodiment of the Brisbane creative scene's DNA.
"Meticulous and exacting, yet informal and unpretentious. Imaginative, yet entrepreneurial and even gritty. Ultimately, happy to challenge convention in the pursuit of what's interesting, fresh or impactful."
VMLY&R Brisbane's Lotto campaign
Innovation
Fast-becoming a hub for start-ups and innovative business models, Brisbane's entrepreneurial foundations are setting the city up for a future of world-class work and game-changing creative.
Indie studio Josephmark has been at the forefront of this since 2004. Referring to themselves as a "venture studio" – a hybrid between a venture capital firm and design studio – Josephmark has helped create and launch a number of successful companies and digital products.
"We actually partner with our clients and have a stake in what we're creating," says Colleen Morgan, Product Director at Josephmark.
"I think a lot of agencies are eager to do what we've done and not just meet the bottom line but be part of it."
Some of the studio's work includes but is not limited to social music platform We Are Hunted which was acquired by Twitter, motion design company Breeder and Indigenous creative agency Gilimbaa.
Shooting to international fame for its redesign of the original social network Myspace which helped make the site profitable again, Josephmark was then able to expand its team to Los Angeles and Stockholm. But even though the studio works across three continents now, Morgan says Brisbane will always remain home.
"We're lucky to call Brissie our home base whilst we continue to work on a global scale," Morgan explains.
"Brisbane is a very supportive environment to grow up in – the community nurtures creative thinking, which has, in turn, produced a super-talented design and tech network. People in the industry are here because they want to be."
Opening up opportunities for brands to connect with content creators all over the world, Brisbane-based marketplace Creatively Squared is another success story from the city.
Founded by husband and wife duo Scott and Ruth Thomas in 2017, the business now has a team of six around the world plus an ever-increasing list of content creators on their books. What began as an Instagram page created by Ruth to form an inclusive, non-location-specific community for content creators grew quickly, attracting global talent.
"We saw there was an opportunity to help connect these socially-savvy creators with brands that would want to work with them. I quit my job in September 2017 to focus solely on the business," Scott explains.
Now Creatively Squared has clients ranging from small up and coming ecommerce stores to large multinationals like Heineken, Unilever and Johnson & Johnson.
"Having access to remote creatives enables you to work with the best talent for your brand as you're no longer restricted to people in your local city," he says.
"We've matched customers in Sydney with talent in London because they had the right aesthetic and a Singaporean customer with a creative in Guatemala as they shared the same values. Technology makes it so easy to remove any geographical boundaries."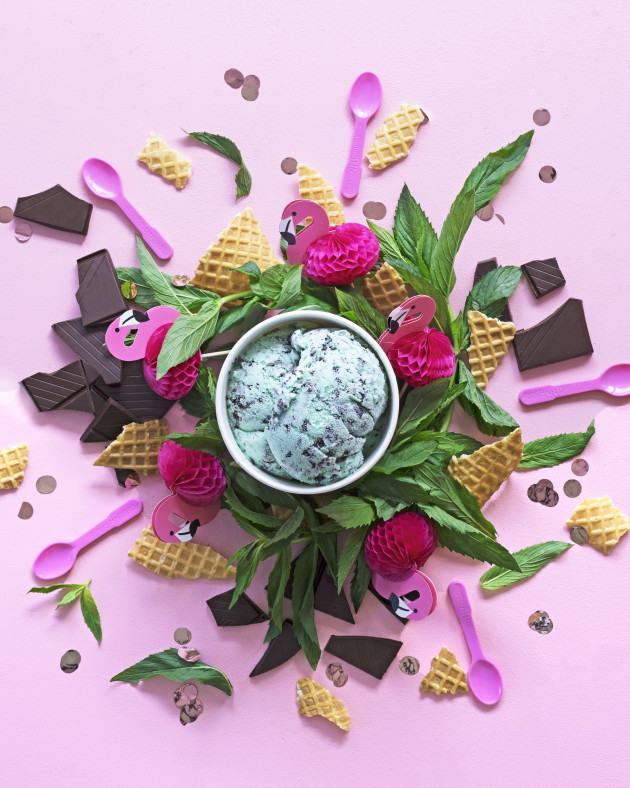 Creatively Squared content for Baskin Robbins
Next stop: Brisbane
The local industry's combination of creativity, innovation, agility and lifestyle balance is a drawcard for talent and clients. Adding to that, a new runway to open in Brisbane next year will position the city as an international hub, creating further opportunities for new clients and work.
"Massive companies like GE and Boeing are seeing the benefits of the Brisbane lifestyle and choosing to set up HQ here with more businesses interested," Staal says. "The future is looking awesome."
Other industry leaders hold a similar optimistic outlook. Kennedy believes the city's "unique melting pot of creativity, technology and culture" sets the industry up for success.
"Today, Brisbane has a thriving creative, cultural and tech scene. It's the connection of these three forces that we see as driving the next evolution in this market," he says.
But before the industry can get there, McDonald has one piece of advice. Much like the success of Creatively Squared's non-location specific approach, he believes the industry needs to see itself beyond its own border.
"The future for Brisbane's media and creative industry is dependent on one thing, and that's to stop thinking we are a 'Brisbane' industry. We have to measure ourselves against the region's best offerings and draw inspiration from all over the world." 
Have something to say on this? Share your views in the comments section below. Or if you have a news story or tip-off, drop us a line at adnews@yaffa.com.au
Sign up to the AdNews newsletter, like us on Facebook or follow us on Twitter for breaking stories and campaigns throughout the day.