Australian marketing company Inlink is proving that office-based media advertising is more than fleeting posters and static office block TV screens.
Inlink, which has been in the office-based media ad space for more than 14 years, is headed up by MD Oliver Roydhouse. Sydney-based Roydhouse, who is on a quest to break down any stigmas associated with the sector – such as lacklustre screens and poor targeting opportunities, spoke to AdNews about a three-pronged trend that has been emerging across the digital-out-of-home media landscape down under.
"Clients have moved from beyond the office-block (lifts and lobbies) screen only. While they very much still want this, they now also want to link this into online and into interactive pop-up campaigns in surrounding spaces. This creates a far more integrated and interactive offering.
"Advertisers are putting more thought into office-based media campaigns and are wanting to engage with target audiences on a much deeper level. This is a trend that we see continuing in 2015 and is something we also want to help develop even further."
As well as this trio of channels tied into office-based media advertising, Roydhouse said there has also been an increase in brands becoming savvier with geo-targeting and the exploration of 'weighted' campaigns.
Inlink has more than 2500 digital screens in more than 800 locations with an audience of nearly three million people nationally.
Roydhouse said revenue split-wise it has about 60% of in-office ad screens (office media) across the major cities in Australia, and rival firm the Executive Channel has the other 40%.
To understand the company's scale and growth, Inlink's office-based media revenue grew by 26% in the past financial year and its total revenue in the sector is more than $20 million a year, Roydhouse said.
He said where Inlink differs from other outdoor advertisers, is that it doesn't have to rely on attracting eyeballs in fleeting moments, for example, as audiences zoom past a billboard on the highway, but instead, advertisers can capture audiences for far longer – such as in lifts, or on screens in the gym, or in cafes.
Roydhouse, who said there has been a 100% increase in experiential revenue complementing office media revenue, said the weather, and adapting content in real-time to this, still continues to be a big trend among brands.
A recent example includes fashion brand The Iconic taking over screens in office blocks offering the weather forecast tied into a sales pitch. Its content showed the days of that week that rain was forecast, juxtapositioned next to pictures and product details of gumboots – which can then be bought online.
While they can't be purchased there and then via a direct cross device screen to mobile link, Roydhouse is more than confident that after viewing such advertisements in these spaces people are content with later hopping online to follow-up on what they have seen that day.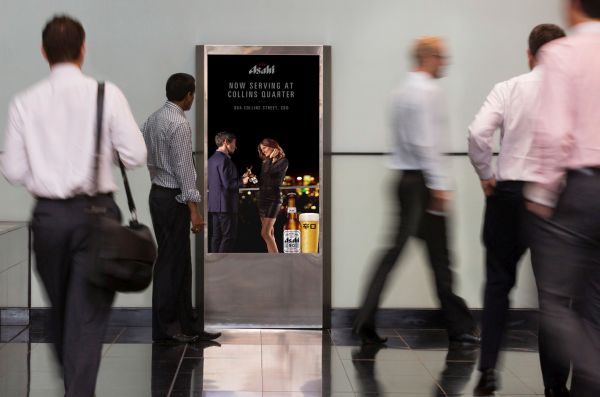 Inlink clients have the option to distribute content flexibly to one, some or all of the screens Inlink connects to, at varying or all locations – depending on who the advertiser is targeting, where and when. Many of its clients also have direct access to their own campaigns, allowing them to update their own campaigns in real time.
Roydhouse said a good example of the flexibility of out of home office media is its current campaign with Asahi Super Dry, which is using geo-targeting and a weighted strategy on its audience.
The premium imported beer brand has launched its "highly targeted" marketing campaign to attract city executives to bars that serve the tipple.
The new campaign is targeting men aged 25 to 39 and is running on Inlink, in partnership with full service agency Cummins & Partners – which after being appointed as Vodafone's new creative agency last month, has just launched a Sydney office to sit alongside its Melbourne, Adelaide and New York offices.
Inlink is using geo-targeting in Melbourne, Brisbane, Adelaide and Perth to select digital screens at office complexes which are in close proximity to bars and venues that pour Asahi Super Dry.
Roydhouse said to further increase local relevance, many of the screens will carry customised content that reflects immediate surroundings.
As an example, Sydney will get customised creative that alerts people to The Asahi Super Dry Extra Cold Bar, which is a pop-up bar in Bligh Street in the city's CBD.
The campaign is running in the lead up to Christmas and is weighted to Thursday and Friday afternoons – in order to maximise messaging at the more social end of the working week.
Looking ahead to 2015 and the office-based media space, Roydhouse said deeper campaign integrations and higher audience engagement, alongside improving and growing its access to data, are a couple of the key things on his agenda.
For more news:
Woolmark shakes up digital spend and goes global
Twitter ad revenue growth fails to calm investor nerves
FMCG's feed online video growth as advertising hits $4.4 billion
Have something to say on this? Share your views in the comments section below. Or if you have a news story or tip-off, drop us a line at pippachambers@yaffa.com.aupippachambers@yaffa.com.au
Sign up to the AdNews newsletter, like us on Facebook or follow us on Twitter for breaking stories and campaigns throughout the day. Need a job? Visit adnewsjobs.com.au.
Have something to say on this? Share your views in the comments section below. Or if you have a news story or tip-off, drop us a line at adnews@yaffa.com.au
Sign up to the AdNews newsletter, like us on Facebook or follow us on Twitter for breaking stories and campaigns throughout the day.