Today's IAB ad spend figures are on the up, with increases across mobile and classified ads. Despite the good news Mnet CEO Travis Johnson says it's important not to get too caught up in the flashy figures and to remember that plenty of work still needs to be done.
The results from today's Interactive Advertising Bureau (IAB) Online Advertising Expenditure Report for the quarter ending 30 September show that total online advertising expenditure for the latest quarter was $1.2 billion, representing a 16% year-on-year growth.
The report is compiled by PricewaterhouseCoopers (PwC) and is based on submissions from publishers and estimates of Google and Facebook. Strong growth was recorded across all segments compared to the same quarter in 2013, with search up 10% and general display recording a 22% increase.
Highlights include the growth of classified advertising expenditure – which saw an increase of 4.4% on the prior quarter and 22.8% year-on-year – to $238 million.
In comparison to other markets, 20% of the total Australian digital expenditure went toward classifieds during the quarter, as opposed to 14% in the UK and 6% in the US.
IAB Australia CEO Alice Manners said product development and a focus on yield growth has seen classified advertising emerge as the highest growth category.
"The growth of classified advertising is a great story for Australia, with our share of digital expenditure for classifieds far exceeding other markets," she said.
"Australia is certainly reaping the benefits from industry innovations in this sector and strong market players including REA and Carsales are delivering world leading results in their verticals. It's clear that marketers continue to have great confidence in the online advertising market."
The report said mobile advertising yet again saw "dramatic growth", reaching $205 million for the quarter – up 85% year-on-year to reach 17.4% of the total online advertising market and 26% of general display, up from 22.5% last quarter.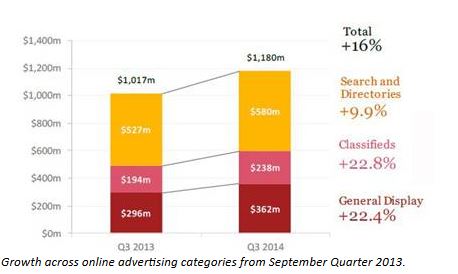 Be wary of false impressions
Speaking to AdNews this morning, Sydney-based CEO of mobile and technology development company Mnet, Travis Johnson, said while the headline around mobile growth is a positive one, the numbers don't really represent the effort (or lack thereof) that Australian brands spend to build mobile media campaigns.
"The thing is that the IAB mobile numbers are largely dependent on estimates for Google and Facebook – which are the largest contributors, yet also have the least verifiable numbers," Johnson said.
"You see, if you break down the mobile figures – of the $205 million spent on mobile for the quarter, $113m is attributed to (Google) search. Then, of the remaining $92m estimated for display, Facebook would be a very strong contributor, having around 13 million active monthly users and 80% usage through mobile devices and, therefore, viewing a lot of display ads.
"Google's YouTube would also be a strong component. So, after removing these contributors, the amount spent on intended mobile advertising may be closer to $40m/qtr, which equals a few percent of total media spend."
Johnson said while the report successfully draws attention to mobile, the marketing industry needs to take advantage of rapidly changing consumer behaviour and put more concerted effort and budget into engaging audiences on mobile devices.
"Unless you think that people only use mobile to search, check Facebook or watch YouTube, you're just not doing enough," he added.
"The reality is many clients and agencies seeing a headline proclaiming such mobile growth may rest on their laurels and have the false impression that they are doing enough to impact customers on mobile devices – and, quite simply, they're not.
He said that aside from search results, Facebook and YouTube ads, there is still "minuscule investment" into well thought out mobile advertising – whether rich media executions, video, sponsorship, streaming music, sophisticated targeting or other means of reaching mobile audiences.
A total of 55% of total mobile advertising expenditure was attributed to search, with 45% spent on general display. Device category shares for general display were 56% for smartphones and 44% for tablets, representing an increase in smart phones' share of mobile advertising over time.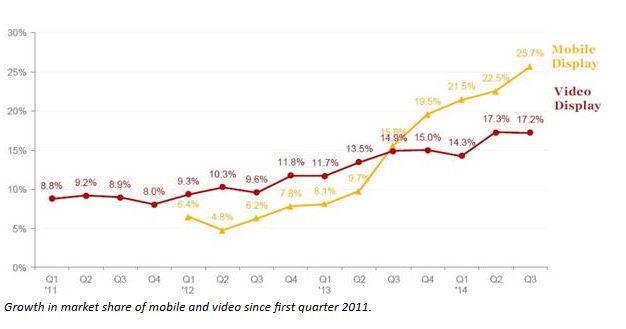 Video continues to grow
Video advertising for the September quarter 2014 reached $62.3 million, which is an increase of 1.4% on the prior quarter and a year-on-year increase of 41.8%.
It now accounts for more than 17% of general display advertising expenditure during the quarter.
The report found that FMCG advertisers were again the single biggest investors in online video advertising, with 15% of total video revenue coming from this sector. Auto advertisers also increased their video spend to 12.7%, making them the second-largest advertiser category for video.
Search and directories expenditure was $580m during the quarter, representing 49% of online advertising expenditure, while general display generated $362 million in the quarter and now represents 31% of the digital advertising market, its highest market share since 2006. Retail advertisers made up 10% of the general display spend, signalling a willingness to continue their investment in digital.
For more news:
Online video advertising to rocket to $780 million in 2019
Online video to rise 37% as digital takes spend from TV and print
Have something to say on this? Share your views in the comments section below. Or if you have a news story or tip-off, drop me a line at pippachambers@yaffa.com.au
Sign up to the AdNews newsletter, like us on Facebook or follow us on Twitter for breaking stories and campaigns throughout the day. Need a job? Visit adnewsjobs.com.au.
Have something to say on this? Share your views in the comments section below. Or if you have a news story or tip-off, drop us a line at adnews@yaffa.com.au
Sign up to the AdNews newsletter, like us on Facebook or follow us on Twitter for breaking stories and campaigns throughout the day.