The AdNews August edition has landed. Subscribe here to make sure you get your copy.
Mental health, long hours and short tenures are just some of the issues synonymous with the advertising industry. In Better Workplaces, AdNews takes a look at the ways agencies are changing this through company culture, HR initiatives and office design.
Growing from 180 to 260 people in a two-year period, DDB New Zealand had outgrown the offices it had known and loved since the late 1990s. In May this year, the agency farewelled its Google-esque offices – complete with an obligatory ping-pong table, green walls and a swing – to welcome a more "grown up" space.
The new offices were designed in keeping with a modern industrial theme featuring polished concrete and filled with natural light. They overlook the Upper Harbour in West Auckland, with views all the way to the Waitakere Ranges, and sit above a Lamborghini dealership, of all things.
While the aesthetic was important to CEO Justin Mowday, the functionality was the biggest priority with the redesign.
"The overriding thought was that we needed a space that would foster collaboration. As we were going through the design process, more and more was coming out about open-plan offices not being as amazing as what people once thought. We decided the offices need to have different options available for staff to choose how they want to work."
From comfy nooks with soft furnishings that fit two people to a 30-person boardroom, the office is fitted with dozens of colourful breakout spaces for different teams to come together or for staff that need a quiet moment. There is also a large social space with a six-metre TV screen that can be used for client events, when it isn't playing MTV hits or streaming the latest Ted Talk.
The architect who worked on the redesign, GHD Woodhead Creative Spaces, sees these hybrid offices as the future of modern working spaces, taking the best elements of open-plan, but also allowing for employees to have privacy.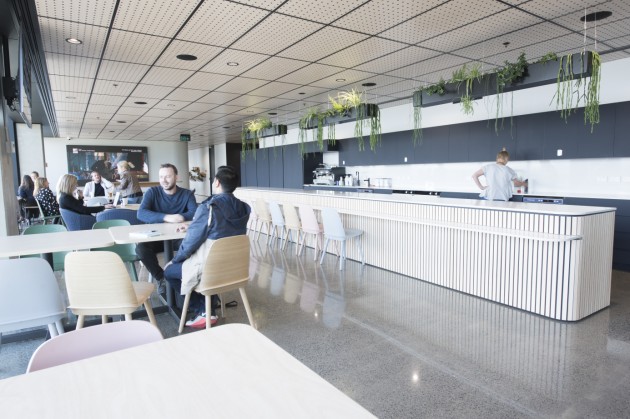 With collaboration in mind, Mowday and Chief Creative Officer Damon Stapleton, who also played a large role in the process, wanted to move away from having staff across multiple floors. The new building enabled DDB New Zealand to consolidate teams from five floors to two. This design has fuelled better collaboration across teams, including creative, planning and account management, as well as its other Group businesses, Mango, Interbrand and Track.
With DDB and Mango staff residing on level one, level two has been devised to facilitate a future-focused production hub covering video, TV, print, digital and social media, with Track also located on level two.
"The new offices have created an extra energy and a sense of pride for staff. They are a physical representation of the progress we've made and our way of giving back to our employees," says Mowday.
"From a purely financial position we would've been better off staying in our old offices. But, as a leadership team, we knew our role was to provide a space that our people could be proud of and that would positively impact their well-being."
The building is accredited with a five-star environment rating, meaning everything from aircon to lighting has been created with efficiency in mind. With the millennial generation more focused on being sustainable than ever before, Mowday says being green was a big priority for the agency when locating new offices.
"Future generations were at the forefront of this design. We know that people are looking for more meaning in their lives, and are more socially and environmentally conscious than ever before. It was important to us as a business to consider our impact on the environment and the community, and play a positive role in years to come," he says.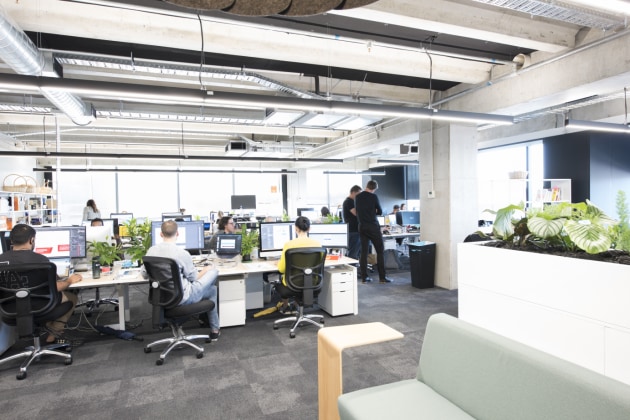 Culture
The ambition of the space is to foster creativity and collaboration, and continue DDB New Zealand's strong culture. Out of 209 DDB offices, New Zealand ranks number one in the world for employee engagement, motivation and satisfaction.
Mowday puts this down to an investment in wellness initiatives, including summer working hours where staff finish at 1pm on Fridays, duvet/mental health days – extra days of leave that can be taken when you need a break – and a revamp of their EAP, which allows staff to access free counselling sessions. Despite recent accolades, including being named the most Effective Agency of the Year at the 2018 Effies, it's this ranking that Mowday is most proud of.
"What we are trying to do is have a high-performance culture that is still family friendly. That appears to be an oxymoron in other companies; people are worked to the bone and driven to take stress leave to be the best," he says.
"We are trying to rally against that, encouraging staff to work hard during the day but go home by 5-6pm. We want people to feel like they have a family life, but also be part of a world class agency."
Growing without compromising the agency's culture has been a priority for the leadership team. This has led DDB New Zealand to explore ways of giving back to their staff, such as flexible working policies.
"If you want to be great at advertising, you have to be living in the real world, not an advertising bubble. If you are going home at 11pm at night, you are less likely to know what real life is about. I want people to have families and lives that enrich their mind. If that means working in the real world, outside of our office, we support staff to do so."
Upon moving in, the office was blessed by local Māori hapū Ngāti Whātua Ōrākei who encouraged staff to walk around and place their hopes and dreams into the building.
They explained that the grey pillars (pou) that support the structure of the building are a source of strength for staff. Hearing this, Mowday has decided to decorate the pillars with traditional and modern Māori designs from up and coming Māori artists; in recognition of their deep connection to the land the building stands on.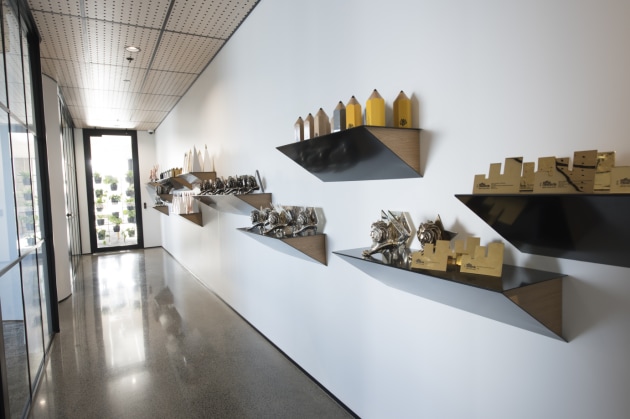 Growing up
Having picked up eight pieces of new business in 2018, the offices are a physical representation of the evolution of DDB New Zealand.
"In the past few years, we have really grown up. As we got surer of the value we offer to clients, to drive tangible business growth for them, we have been more confident in the proposition of the agency. Our old offices were fashionable and funky, but the new offices feel more quality," Mowday says.
Walking around the offices, they could be easily mistaken for the offices of a management consultant. Mowday says this was the intention; he wanted to break away from the tradition of agencies having "funky" offices, and create a professional, high-end environment. That being said, the next step for the agency is to add some of its creative flair and recognition of DDB's 70-year history.
To do so, DDB New Zealand has invited the local art college to create colourful murals for their walls. Paired with quotes from DDB founder Bill Bernbach, Mowday says the agency will pay homage to the network's history, but also exploring new ideas via aspiring art students.
"DDB New Zealand has come a long way in the past two years, and our new offices reflect this journey. We've matured as a modern advertising agency that knows its worth and has ambitions to grow, but also cares about its people even at a cost to the business. The impact office design can have on culture is often underestimated, but our agency is living proof of the benefits it can have on staff wellbeing and collaboration." 
Have something to say on this? Share your views in the comments section below. Or if you have a news story or tip-off, drop us a line at adnews@yaffa.com.au
Sign up to the AdNews newsletter, like us on Facebook or follow us on Twitter for breaking stories and campaigns throughout the day.