This first appeared in the May/June edition of AdNews. Subscribe here to make sure you get your copy.
Bec Brown is known to move people to tears.
Every year she bakes commercial quantities of brownies, slightly crunchy on the outside and soft when you bite through. These are Bec's Brownies and they are addictive. The tears come when someone thinks (probably wrongly) they may miss out on a brownie delivery.
She sends these to her media contacts and key people on her client list, either as a thank you or after a big win together.
Brown has her own communications company. Many also know her for her work with Australian Radio Network, Amazon Prime Video, or hayu but she has several other companies on her list.
She also has a creative side. One of her brownie deliveries heralded the launch of her first book, You've Got This, with Penguin Random House. It's described as the ultimate hack for anyone wanting to build their dream career in a creative industry.
"I'm 40 years old and live near the beach in Sydney with my husband, Dom," says Brown. "For the past nine years I've run my company, The Comms Department, a public relations, corporate communications and crisis management company. We work with some of the biggest names and brands in the media, entertainment, travel and lifestyle industries."
However, life was not always so straightforward. As a teenager and into her early 20s, Brown often felt life was out of control. "While trying to carve out a successful career, I battled eating disorders, anxiety and depression," she says.
Her first career was as a performer. She grew up on a farm outside of a small country town in South Australia and on Sundays the family went to church. That's when they discovered Brown has a good voice. She dreamed of being a musical theatre star on Broadway or London's West End.
She went on to study at the Conservatorium of Music at Adelaide University, then performed in musicals, operas, jazz and pop bands, working all over Australia, New Zealand, Fiji, the UK and Europe.
But in her mid-20s, Brown had a quarter-life crisis. In a time before social media and smartphones were as prevalent as today, she was disconnected from family and friends, and also realised her career as performer wasn't fulfilling her or making her happy. So she returned to Australia and decided to retrain. She'd always loved writing, storytelling and problem solving so she went back to university to study media and communications, majoring in public relations.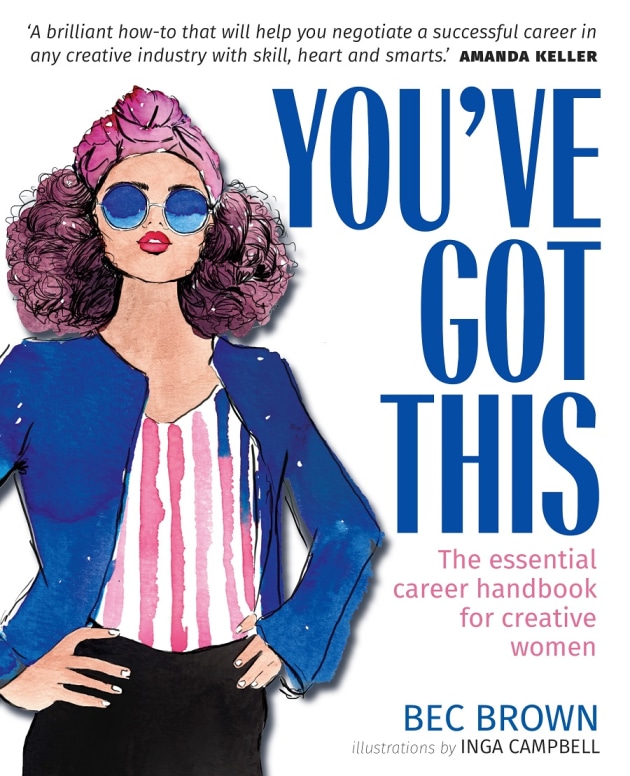 She worked her way up to what she describes as a dream role as the national publicity and promotions manager for Universal Music, where she stayed for five years. "It was an incredible company to work with, managing PR campaigns for some of the world's best-known artists — Dolly Parton, the Rolling Stones, Paul McCartney, Sting, Andrea Bocelli, and many, many more," she says. 
"But at 31 I started to get restless again — I was yearning to try to run my own business and be able to have more control over who and what I was promoting and, as my world view broadened, I realised I also wanted to work within other industries that weren't just music."
Brown started The Comms Department. "I now work with a team of 10 brilliant people spread across Australia and New Zealand, servicing household-name clients all over the world," she says. "And because I'm also really interested in understanding people and the way our brains work and how we as humans can work together to achieve incredible things, I recently completed a certificate in social psychology, something that's come in very useful, particularly when managing crisis comms."
Now, life looks — as Brown describes it — awesome. "That anxious 25-year-old would have been wide-eyed at the thought of it," she says. "And it is awesome. I'm incredibly grateful for it. But it wasn't an easy ride, and it came with a lot of lessons that were crying out to be shared."
She always had people asking for advice: graduates wanting to intern with her; young professionals seeking to advance careers; those in corporate jobs who'd rather be doing something creative; and those who wanted to start their own business or side hustle.
"Plus, plenty of people who don't quite 'get' PR, but want to understand it as they know it could advance their career or business," she says. "So that all led to me writing You've Got This."
Brown gives examples of women who've approached her for advice (and were happy to be named).
There's Sasha, a bright 28-year-old marketing executive who is introverted and struggles in her boisterous workplace.
Jasmine, a 19-year-old design graduate who compares her life to others on Instagram and thinks she's not doing well. In the workplace for the first time, she doesn't know how to communicate effectively with her Gen X or Boomer bosses.
Then there's Emma, a 26-year-old journalist who was made redundant. She's looking for new work but needs to find ways to make herself stand out.
"The solutions to each of these things are learnable skills," says Brown. "They're things I had to learn the hard way, over many years through tons of research — in books, online, and podcasts — and learning from mentors who I found along the way.
"I'm also determined to help creatives be both creative and commercial. Because those in creative pursuits usually feel it's a calling — it's a passion they must do. But often, mapping out a financial path that goes along with a creative passion isn't something that's naturally ingrained.
"So You've Got This explains how to do that because we all deserve to have a wonderful, fulfilling career and make great money that we can use to support ourselves, our families and the wider community.
"This book's aim is to help others to create a fulfilling career that they love, and earn great money doing it, minus the anxiety and burnout."
You've Got This is available as a book, ebook or audio book. Part-proceeds go to charities supporting disadvantaged women: Fitted For Work, and Life Changing Experiences' SISTER2Sister program.
"While trying to carve out a successful career, I battled eating disorders, anxiety and depression." 
Have something to say on this? Share your views in the comments section below. Or if you have a news story or tip-off, drop us a line at adnews@yaffa.com.au
Sign up to the AdNews newsletter, like us on Facebook or follow us on Twitter for breaking stories and campaigns throughout the day.