Australian consumers' concerns have changed drastically over the last week as the government continues to enforce stricter social distancing.
Bottle shops and purchasing gym equipment online were among the top concerns for the nation, according to Amobee's Brand Intelligence Tool.
Bottle shops have become the new panic-buying destination with interest in them spiking more than 800% over the weekend of March 21 and 22 compared to the beginning of the month.
Bottle shop engagement surpassed interest seen around Christmas, matched only by behaviour seen around Australia Day.
This interest coincided with the government's announcement that it would be closing 'non-essential' services including pubs and bars. Bottle shops have been allowed to remain open so far.
Amobee Brand Intelligence platform showing consumption trend of Animal Crossing (video game), fitness, puppy, and bottle shop from the last two weeks among Australians 25-34 years old.
On the flipside, interest in gym gear leapt above 400% over the weekend, compared to the beginning of March.
This coincided with rumours that were later confirmed true of gyms being forced to close.
Alongside this, gyms have started offering virtual courses.
Interest in recipes has also doubled in the four days to March 24, with takeaway only up 43% in comparison.
Mediterranean cuisine is proving to be particularly popular, with interest up 78% for basil, 126% for parmesan and 90% for chickpea across the online food category.
Among male audiences, the must-have foods are salad, pancetta, hummus and lemon juice.
For female audiences, bay leaf is trending as an essential ingredient, as well as turmeric and fried rice.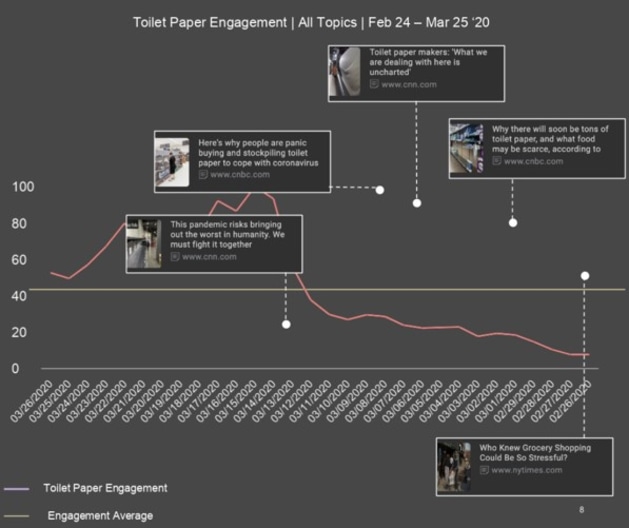 People aren't just splashing out on luxuries though, with interest in instant coffee is up 800% as people prepare for the long haul.
This presents an opportunity for brands offering health supplements, workout gear, healthy goods and online fitness tools to ramp up online and eDM activity to reach audiences wanting to look after themselves.
In the last few days, interest around video games has also spiked and overtaken health supplements, gyms and bottle shops.
But it is not only teens engaging in gaming content, with game content consumption spread across several age brackets.
At the same time remote learning and distance learning is already trending among busy parents.
Home schooling is up 900% as a general trend in the family lifestyle category according to this week's data.
Unsurprisingly, this coincides with media reports that - when home schooling is coupled with working from home - mobile and fixed broadband networks are likely to feel the pressure.
Interest in puppies is also up 40% in the last week, with males engaging more than females following RSPCA's news on cutting adoption fees.
Who is (or isn't) consuming COVID-19 content?
In the last four weeks, an additional 2.5 million Australians have been consuming content around COVID-19.
However, there are still more than eight million people who have not read any online information about it.
Audience profile over the last four weeks: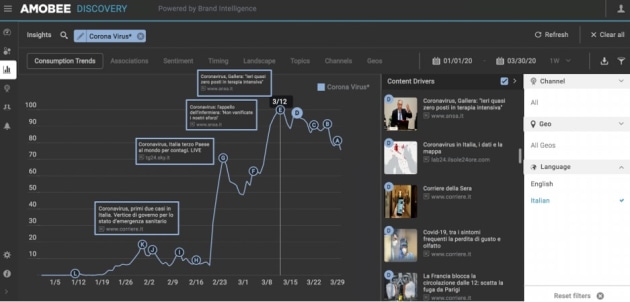 Age demographics by skew:

Australians 13 to 17 years old are 1.3 times less likely than the broad population to be consuming content related to COVID-19, while about 2.2 million people aged 65-plus are also not searching for it.
The latest data shows pre-teen and teenage Australians are gaming online, using Twitch and YouTube.
They are twice as likely to be on Reddit and TikTok than other social networks.
Unemployment concerns
As the government continues to shutdown businesses, concerns over unemployment have continued to rise with consumption around potential job losses rising over 150% since the beginning of March.
At the same time, online activity around Scott Morrison have more than doubled.
Australians are looking to the Prime Minister for clear direction and advice on assistance while they come to grips with what their job future might hold.
Sole traders were also expressing concerns about their future with many looking for ways to get government assistance.
Interest in anything associated with 'sole trader' also spiked over 600% on the weekend.
This week's trending topics
Across the nation, these are the key news topics that have been trending online as Monday March 22:
Australian Legislation: stimulus packs, Youth Allowance, unemployment benefit, Queensland to close border, Centrelink and myGov issues
Madonna's naked bathtub social media post
International politics: Trump, Merkel
Lifestyle & Employment: Working from home and voluntary isolation
Sports: Suspension of the NRL and AFL seasons, plus the Olympics debate
Most engaged brands: Lysol; Clorox; Telstra; McDonald's; JB HiFi; Wollie
Negative business news: Tigerlily stores closing due to virus crisis
Products: hand sanitiser; masks; microfibre cloth, vacuum cleaner, Office 365, touchpad
These insights were taken from Amobee's Brand Intelligence Tool.
Have something to say on this? Share your views in the comments section below. Or if you have a news story or tip-off, drop us a line at adnews@yaffa.com.au
Sign up to the AdNews newsletter, like us on Facebook or follow us on Twitter for breaking stories and campaigns throughout the day.