Australians' online behaviour has begun to shift radically as the coronavirus continues to spread.
Over the last month, there have been some interesting trends surrounding the content being consumed by Australians and changes in what they were searching for.
AdNews asked Amobee to use its Brand Intelligence Tool, to find out what exactly Australians are most interested in during these challenging times.
Here is what is trending:
COVID-19 and Bushfires
Online interest around COVID-19 overtook bushfires on January 24 and now is ten times higher than bushfire interest was when it was at its peak – the week of January 12.
Work from home
With the situation evolving daily in Australia, interest in work from home is huge. It is up over 1,200% from the yearly average, as employees and companies gear up for home-based productivity. 
Office equipment
Naturally, as work from home looks to become the norm and people look to set themselves up with the right tools, interest in office equipment has spiked, up 250% from March 1. This increase directly coincided with the initial recommendations from Australian businesses to work from home late last week.
Food delivery comes to the rescue
Sick of the current battle for supplies to stock pantries, people are turning to food delivery services. UBER Eats mentions and engagements have jumped 770% since last week, driven by panic and new supermarkets restrictions. Food delivery brands are meeting this head on, and will need to continue to do so, with initiatives such as contact-free delivery as the current situation plays out.
Supermarkets
As media continue to focus on people flocking to supermarkets and stocking up on all things from toilet paper to non-perishables, online interest in Coles and Woolworths has risen by 189%. Alongside this, "panic buying" now has a 20% stronger association with the two supermarket giants over the term "shopping", showing just how viral this news has become.
The first spike in supermarket interest online occurred earlier this month alongside the toilet paper frenzy. Interest reached unprecedented levels when media reported on the news that supermarkets will open early to allow elderly and vulnerable people to stock up before the hoards descend during usual trading hours.
The focus on supermarkets, along with self-isolation, shows that brands will need to focus more on meeting what may become an increasing demand for online retail by bolstering websites and service capabilities - a tough ask in this challenging environment.
Freezers are the new fridges
Online interest in freezers is up more than 50% compared to the yearly average, with freezers overtaking fridges for the first time on March 15 following media reports on stockpiling. Stock will have to be closely monitored and customer expectations managed to avoid freezers and similar items becoming toilet paper part two,
Overseas travel
While travel restrictions dominate media, online activity associated with travel is low on the list compared with "self-quarantine" and other health concerns, showing that Australians are now encouragingly prioritising personal and public health over their travel disruptions.
Most trending content online since the beginning of COVID outbreak in Australia:
1. Confirmed cases and vaccine
2. Stimulus package
3. Social distancing and self-isolation
4. Rita Wilson and Tom Hanks
5. Minister Scott Morrison
6. The World Health Organization
7. NBA
8. Australian Grand Prix
With news of COVID-19 driving interest daily, the ten most commonly-consumed terms as at March 17 are:
1. Self-quarantine
2. Underlying health concerns
3. Daegu
4. New death
5. Mild symptom
6. Epidemiological
7. Surgical mask
8. Virus spread
9. Tested positive
10. Travel restriction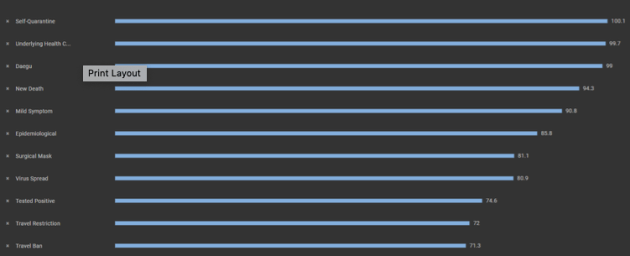 Audience Insights:
In the first three weeks of March, Australians 13 to 24 years old were 1.33 less likely to be consuming COVID content, showing less concerns around this world pandemic.
This shows that there may be an awareness and education campaign needed targeting younger Australians regarding the risk not only to them, but to those around them, to cut through the current clutter of misinformation.
Category Insight:
Most of COVID-19 online content consumption is highly associated with government and politics news, more so than health, science and travel. 
Amobee's proprietary Brand Intelligence tool analyzes digital content engagement and consumer sentiment historically and in real time.
Brands can instantly discover content, sentiment, and trends that their target audience is interested in, and activate media leveraging these insights in real time, delivering powerful results.
Have something to say on this? Share your views in the comments section below. Or if you have a news story or tip-off, drop us a line at adnews@yaffa.com.au
Sign up to the AdNews newsletter, like us on Facebook or follow us on Twitter for breaking stories and campaigns throughout the day.