This first appeared in-print, under AdNews' 1928 branded content offering
The past 12 months has been a period of innovation and development for the out-of-home industry. Country head Mike Watkins explains how this has played out for APN Outdoor New Zealand.
Innovation and change is constant for APN Outdoor and a real driving force of our ongoing success.
We were the first company in New Zealand to launch digital large format and today APN Outdoor continues to lead this space, with 30 sites in play by the end of this year.
In October 2017, we launched Calibre, in the absence of an industry standard for measurement, and the feedback has been phenomenal. Calibre combines location-based cell data, mobile data, banking spend data, DTVs, census data and mosaic data to create in-depth audience insights that allow clients to accurately target and measure their investment in out-of-home. We now have a number of competitors using the platform, which is a fantastic validation of the system.
At the start of the year we held advertising rights for both Auckland and Christchurch airports. Mid-year, Christchurch was put up for pitch, as was Queenstown. We retained Christchurch and secured Queenstown, delivering an unparalleled audience reach across three major airports for local and global clients.
Securing local support
The three airports are the gateways to New Zealand and on an annual basis reach an audience of over 28 million people – 13 million of whom are on domestic flights. The airport environment not only delivers huge audience numbers, but it is supported by high-dwell times for message exposure, heightened receptivity by the audience, and there is a propensity for impulse purchases.
For local clients this allows them to capture a massive audience of both local and international travelers, and to contact them at multiple points throughout their journey in New Zealand. 
Australians are New Zealand's number one international visitor, so for clients in Australia using our airport formats creates a unique opportunity to reach these travelers in an environment where engagement is high.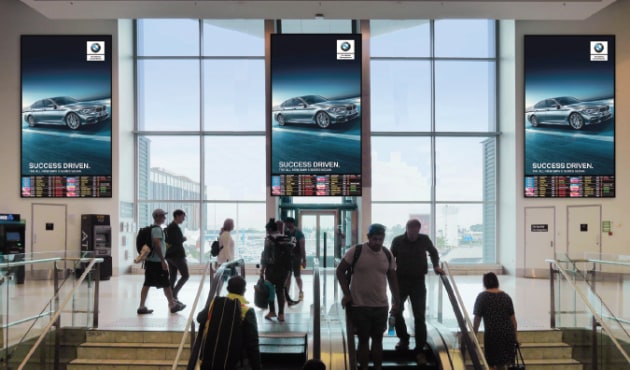 Digital expansion
Our approach will always be high quality screens with inventive technology positioned in premium locations. There is huge variation in the quality available and the difference is visible.
This emphasis allows advertisers to not only communicate at scale but be creative and deliver a more tailored, contextual message, resulting in deeper engagement and greater effectiveness.
Our clients deserve the best and, as such, will always prioritise quality and work towards initiatives allowing brands to connect with their audiences in smater more impactful ways outdoors.
Looking at what we have planned with both site development and Calibre measurement, it's an exciting time to be at APN Outdoor New Zealand,
JCDecaux and acquisition
While the proposed takeover of APN Outdoor by JCDecaux is the latest change, the impact on our business in New Zealand is less obvious as there is no JCDecaux presence here. The benefit of being part of the largest and most innovative out-of-home media company in the world, however, is tremendous for our clients and will continue to build on the growth and innovation that we have delivered over the past 12 months.
AdNews is proud to deliver strong, independent and credible news 24-hours a day, almost 365 days a year. And we know our free, online news helps power your career and knowledge. But, can we ask a small favour? To fund our ongoing commitment to delivering the best industry news, that you show your willingness to support us by taking a digital subscription to AdNews magazine? The cost is less than $50 for the entire year, and $4.94 per issue. Support AdNews. Support journalism.
By APN Outdoor NZ country head Mike Watkins 
Have something to say on this? Share your views in the comments section below. Or if you have a news story or tip-off, drop us a line at adnews@yaffa.com.au
Sign up to the AdNews newsletter, like us on Facebook or follow us on Twitter for breaking stories and campaigns throughout the day.