Analysts are increasingly seeing the advertising sector, one of the first industries to feel the drag of the pandemic economic downturn, as undervalued by the market in general.
And analysts at US-based research house MoffettNathanson now consider Interpublic Group (IPG) to be the strongest of the holding companies.
"It has consistently outperformed its peers on organic growth over the past five years," the analysts write in a note to clients.
The company last week beat market expectations by posting third quarter net revenue of $US1.95 billion, down 5.3%. Organic revenue, a widely used measure in the advertising sector, fell 3.7% in the three months to September.
The market and analysts liked the result.
MoffettNathanson has upgraded IPG to Buy from Neutral with a raised target price of $US24, about 25% ahead of where the share price is now.
"Interpublic has consistently showed that their operating results, strategic focus and corporate communication/transparency are a cut above their peers," say the analysts at MoffettNathanson.
IPG lagged the industry in the early 2000s but has since turned the business around, with organic growth recovering to the industry average after the 2008-09 financial crisis and exceeding industry growth since 2015.
MoffettNathanson says CEO Michael Roth, who will be exiting at year-end, deserves much credit for fixing a badly broken company. 
"We believe the COVID-19 pandemic has highlighted the strength of Interpublic relative to other advertising agency holding companies," the analysts say.
"Given the pressure of falling client ad spending, agency models have been stress tested during this time, with Interpublic emerging as the most resilient among the group."
While organic revenue fell by an average of 17.5% in the second quarter for WPP, Omnicom and Publicis, they declined by just 10% for Interpublic.
The analysts forecast IPG's results will be the best among the group again in the December quarter.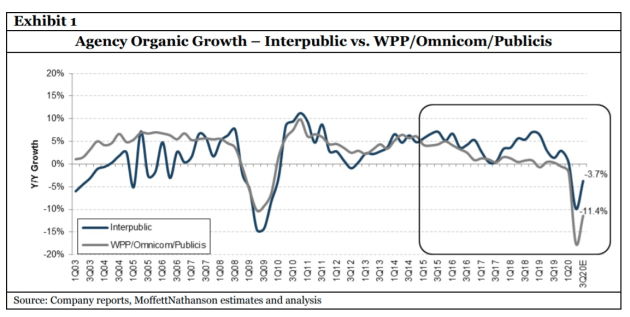 IPG's Roth, last week announcing third quarter results, pointed to uncertainties ahead but he believes the company is well resourced and positioned.
"COVID as we are painfully aware remains a threat to everyday life and regrettably is picking up in many key global  markets," he told an analyst briefing.
"Unemployment while a better picture than earlier this year remains historically high. The status of important government support programs is unresolved, especially, in the US, but globally as well. All of this makes client decision-making for the holiday season difficult to forecast.
"It's very likely that any improvement growth we do see across our industry will not be linear by quarter. This is just to acknowledge economic reality. Despite these unknowns, IPG remains well-positioned to continue its outperformance of the industry.
"We're hearing from clients that they are at a decisive juncture for brands. There will be enduring consumer changes as a result of the pandemic including the mass shift to e-commerce, the emergence of digital consumer experience and a deeper accountability for brand authenticity and purpose.
"We are distinctively well resourced with outstanding talent and tools to help marketers rethink and reimagine their brands. Further with technology playing an ever-increasing part in day-to-day life, we're seeing increased demand for data management and marketing technology expertise at the level of the enterprise."
MoffettNathanson started covering advertising agencies in June 2018 with a cautious tone, identifying structural headwinds facing the industry including clients moving marketing activities in house and consultancies bulking up to compete for digital business.
"While the industry, and the world, have been through dramatic changes since then, we believe now is the time to take a fresh look and get more constructive on the relative winner of the group," the analysts say.
"We believe Interpublic's relatively robust performance throughout this crisis highlights not only strong operational execution, but also a healthier mix of clients and exposure to client sectors.
"In particular, health care spending has continued to be strong through this crisis, and is an industry in particular where agencies can add value given the intricacies surrounding regulations and sector knowledge. Interpublic has the highest exposure to health care among the agencies, accounting for 27% revenues in 2019.
"Also, technology clients have become an important component of the nation's top advertisers, and technology is the second largest sector for Interpublic."
In 2019, IPG had the highest exposure to tech and telecom, which accounted for 17% of revenues compared to 16% at WPP and 12% at Omnicom.
"We expect Interpublic to further focus on these healthier client sectors to grab share going forward," say the analysts.
The analysts expect IPG's organic growth to fall by just 4% in 2020 from a 3% rise in 2019, which they describe as a moderate fall.
"Going forward, we anticipate Interpublic will return to industry-leading organic growth at the +3% to +5% rates achieved pre-crisis," say the analysts.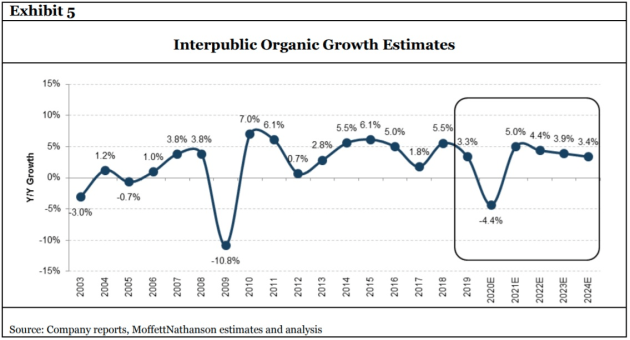 Have something to say on this? Share your views in the comments section below. Or if you have a news story or tip-off, drop us a line at adnews@yaffa.com.au
Sign up to the AdNews newsletter, like us on Facebook or follow us on Twitter for breaking stories and campaigns throughout the day.