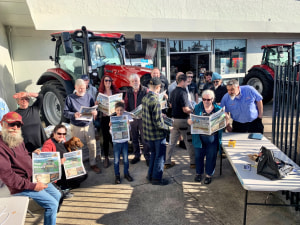 Regional journalism is finding new life with independent ownership as communities organise to keep their local newspapers circulating following significant cuts this year.
In May, News Corp Australia announced it would close more than 100 print papers which would move to a digital-only product, and 14 to close completely.
At the time executive chairman Michael Miller said the market, hit by COVID-19, could no longer sustain community and regional publishing. In April, Australian Community Media (ACM) said it would be suspending a number of non-daily titles due to the weak market.
One newspaper axed by News Corp, the Richmond River Express Examiner was quickly replaced by locals who set up their own not-for-profit paper The Richmond River Independent through a community association.
Produced by ex-News Corp staff, the weekly paper, with a print run of 10,000, is edited by Susanna Freymark who edited the Express Examiner for almost five years. Freymark tells AdNews that their model proves there's enough advertising to support regional journalism, but just not for big businesses.
"I don't think it's that the advertising market sunk too much," she says about the closure of community newspapers this year.
"COVID has been hard for everyone. I think what happens when any company gets really big, like News Corp, is they lose sight of their readers and advertisers. In the country, you have a relationship with your advertisers, you don't just take their money.
"You go and talk to them, there's a whole relationship that my sales manager has with them and I think when companies get big, they lose that."
Freymark says their not-for-profit model, with about five staff, means costs are kept small. "As soon as you become bigger, you have bigger costs as well, I don't know their model, but I think there's enough [advertising] otherwise we wouldn't be doing it."
The Richmond Independent has had local advertisers such as Casino RSM Club on board which has taken the front page for the whole year, as well as the council and local MPs.
Without being tied to News Corp, Freymark says it means not having to write stories that generate subscriptions - a strategy adopted by most publications in the face of falling advertising revenue but one that works against local papers because it doesn't encourage hyper-local stories that work for community papers.
"Once News Corp made the big push for subs, there was a lot of pressure on journalists to write stories that will sell," she says.
"And of course the stories that make people click are usually sensational stories, crime, courts. So I found there was more and more pressure to do those sorts of stories.
"In a print paper, if someone's having a 70th wedding anniversary, or if someone's grown a giant sweet potato, I can put that in. Whereas before, that's not the sort of story that would get subs. I think before, because the pressure was on for me to get a certain amount of subs each week, you were sort of forced to do the stories that would make people click."
Great to see locals launching their own independent paper in the Richmond River region after Murdoch axed so many local papers recently. Well done @SusannaFreymark and all the best to your new venture! https://t.co/pGR3jbLZzL

— Kevin Rudd (@MrKRudd) July 14, 2020
Another community paper that emerged during the pandemic was South Australia's The Naracoorte Community News to fill the gap left after ACM suspended the Naracoorte Herald at the start of the pandemic, which has since resumed printing.
Michael Waite, a former Naracoorte resident who runs Naracoorte News, said he was compelled to launch it after feeling "outraged" that ACM withdrew their local paper.
Produced by a small team, the Naracoorte News broke even in its first month. While it's just printed its 20th edition, with a cover price of $2, and continues to be backed by the community, Waite says competition from big publishers could make it difficult to sustain the paper.
"We have a community model that works. We are focused on content, the local story," Waite tells AdNews.
"We can sustain that, we've proven that and done it in the middle of COVID-19. But because we're a small profit community newspaper, we have just enough to buy some supplies, cover some basic cost increases for the next year and invest in our journalism, I can't compete against a 20% profit margin corporation who then tries to split the market and is happy to run big operating losses in a market for long periods of time."
🗞Happy Naracoorte Community News day🗞
Did you know that The News is delivered to 200 homes in Naracoorte?
Where home delivery isn't possible, the team mails out the newspaper via Australia Post.#buythepaper #ourcommunities #ourstories pic.twitter.com/Dc6SlfZx3K

— Eliza Berlage (@verbaliza) August 26, 2020
The pop up of these independent titles is a small relief for an industry hammered by digital media. From 2008-2018, 106 local and regional newspaper titles shut in Australia, representing a 15% decrease in the number of these publications, according to ACCC data.
This left 21 local governments previously covered by these titles without coverage from a single local newspaper, online or print, including 16 local government areas in Australia.
The pandemic then cut even deeper into the sector. Two months deep into the pandemic, SMI figures, which look at agency booking numbers show that newspaper advertising fell 46.1% in May.
In response, the government revealed the $50 million Public Interest News Gathering (PING) program to support more than 100 regional publishers and broadcasters.
However, a criticism of the program was that companies had to provide financial statements for the prior financial year to receive funding, stopping new independents from accessing support. This meant they were not only competing for advertising against businesses in a difficult market, but businesses that had received support from governments.
While News Corp Australia hasn't applied for the grant and ACM is still finalising its grant with the government, others such as Nine, Win and Prime Media Group have received millions in funding.
Waite questions how much value government funds to big regional news media businesses provide the market when they've had their core business model pulled apart. He argues that community newspapers need to remain not-for-profit to work and that the reentrance of big businesses such as ACM that could "self-destruct" the market.
"This model works. It's a passion project for me, but it's a community investment model using locals, by locals. It works for the right reasons because it's telling the community's story," he says.
"You have to light the load of sales so that every dollar raised in ads goes literally into writing the story, or printing and producing the newspaper. And as long as you do that, this is a wonderful model.
"The minute you try to pay stockholders a 20% return on their stock, pay for big corporate offices, for big corporate executives, you're just taking money out of these communities that can least afford it.
"I welcome government support of journalists. I believe it's [journalism] a critically important skill in our community, in our country, and rural newspapers are a wonderful way to grow that. And truly supporting models that truly support the growth of journalism would mean that funds would go to Naracoorte community news and not the ACM-type models."
Freymark, who has missed out on government funding, doesn't think big publishers should be receiving government funding, particularly when they've wound down their investment in community and regional papers. She says "it's a missed opportunity" to support print in regional communities where she believes it still has a "much longer life".
"There's been a flurry of independence, I don't think everyone realised what a seminal moment it was in media history that you suddenly got this rise of these independents which is great for the print factories of course," she says.
"And so I think that's still emerging and I think the money could be much better spent on all the independents."
Have something to say on this? Share your views in the comments section below. Or if you have a news story or tip-off, drop us a line at adnews@yaffa.com.au
Sign up to the AdNews newsletter, like us on Facebook or follow us on Twitter for breaking stories and campaigns throughout the day.