This first appeared in-print, under AdNews' 1928 branded content offering
Reaching 82% of Kiwis every day is standard practice for Adshel, harnessing a network of 4000 touchpoints. Sales and Marketing Director Ben Gibb takes us through a pit-stop Q&A.
Tell us about the current state of the NZ out-of-home market and what role Street Furniture plays?
The NZ out-of-home media market has now settled following extraordinary 28% growth in 2016 and 18% in 2017 (Source, Outdoor Media Association of New Zealand). Street Furniture in the country has grown along with the rest of the market and sits at 28% share of total out-of-home media spend.
It's worth noting that, unlike in Australia, Adshel NZ is purely Street Furniture with no rail or retail assets. Our core products are Adshel Classic (static) and Adshel Live (digital); the same products that Australian advertisers will be familiar with from the Adshel Australia stable.
What have been the key drivers of that growth?
Part of the reason is that Adshel is the exclusive operator of Street Furniture in NZ and we have coverage across most major towns and cities. The ability for advertisers to deal with one operator across a standard format and achieve broad national coverage easily and efficiently has contributed to it becoming such a popular channel.
Furthermore, one factor unique to NZ is that as a channel out-of-home has traditionally under-indexed as a proportion of total media spend, compared with other developed media markets including Australia. Now we're witnessing a catch-up, as advertisers recognise the broadcast potential of the channel and its ability to deliver reach efficiently.
There are also the underlying tailwinds, such as the fragmentation of traditional mass media, increasing urbanisation and the increase in commute times. These mega trends are happening all over the world and it's no different in NZ.
Surely digitisation has propelled Adshel's offering?
Digitisation has been a key to our growth. At Adshel we've seen significant growth from 'new to Street Furniture' advertisers who are utilising the features of our digital product. This includes creative flexibility enabling the delivery of more relevant and timely messaging, and buying flexibility (by day and location), which has opened up digital out-of-home as a tactical channel for retail and travel advertisers, amongst others.
We are in the advanced phases of our digitisation strategy relative to the size of our market. We are approximately one sixth the size of Australia, in terms of the out-of-home market valuation, and we already have over 280 screens across the five largest cities in NZ. This makes our network one of, if not the, largest digital Street Furniture networks in the world per capita.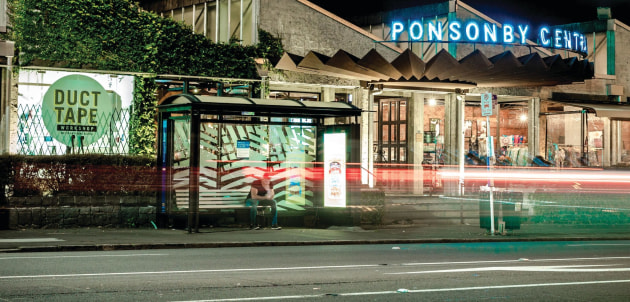 What does the future look like for Street Furniture in NZ?
For us, the key driver of growth will be to continually add value to our offering to ensure we are meeting our advertising client's requirements, now and in the future. This will involve leveraging the benefits of digital technology and potential ad-tech solutions to complement and enhance the core strengths of Street Furniture as a broadcast channel. We're focused on more flexibility, more accuracy in audience delivery, and more efficient ways to trade.
Recently, there has been a real shift amongst marketers back to traditional brand building media channels, and given the broadcast nature of out-of-home we remain an effective part of that mix, and are perfectly positioned to capitalise on this. With the right data and technology Adshel is uniquely placed as both an effective long-term brand building channel and a path to purchase channel that can drive short-term sales results for advertisers.
This future will be underpinned by better audience data that will allow us to segment and target audiences based on their real-world behaviour, together with ad-tech platforms that enable advertisers to utilise this data easily and effectively.
Another reason we're so excited about the future, is the role that Street Furniture plays as an amenity in the community and potentially as a component of a smart city strategy (delivering on the livable city objectives of our council partners). At the moment this is largely about shelter for public transport users, but in the future, this could include; wifi, phone chargers, way-finding and other useful tools that help connect communities and make life easier. 
Let's talk about the elephant in the room – OOH audience measurement and attribution. Has lack of a unified industry solution caused any issues for Adshel?
It is a unique quirk and the biggest challenge for the NZ out-of-home sector that we have no industry-wide standard to measure out-of-home audiences. Adshel has remained supportive of a unified approach and we are currently working closely with key stakeholders via the Outdoor Media Association of New Zealand, including its members and in consultation with the Commercial Communications Council Media Committee, to develop a solution.
How have brands in NZ been using Street Furniture? Are you seeing growth out of any categories in particular?
We've seen a big increase in the number of advertisers from an array of categories over the past few years. This has been driven by our digitisation strategy and the increased creative and buying flexibility it enables, as well as leveraging data to provide improved audience profiling, and therefore more precisely targeted campaigns.
Audience data like Roy Morgan's Helix Personas allows advertisers to supplement their location targeted buys with audience targeted campaigns. More than half of our advertisers are now utilising some form of audience targeting which has improved efficiency and effectiveness.
Adshel Live as an example has attracted a whole new range of advertisers particularly from the retail, travel, telco, banking and media sectors.
Finally, we've seen some amazing work coming out of NZ. Can you give us examples of recent campaigns that have harnessed the benefits that Street Furniture has to offer?
We've been lucky in NZ that many of our advertisers have adopted the contextual relevance and creative flexibility of Adshel Live through various data triggers like weather, traffic, social, time of day, or their own first party data. We know through Neuroscience research that contextually relevant campaigns are 19% more effective.
One of our favourites is a campaign we ran for the Auckland city centre business association: Heart of the City. The campaign was brought to life across Street Furniture all over Auckland city, with 115 targeted locations. The campaign dynamically delivered creative to 63 Adshel Live sites to maximise the campaign's relevance. Very specific, cleverly targeted headlines were created to appear on specific days, at relevant times, and in specific locations around the city. More than 2,500 different creative permutations were constructed! The campaign was a fantastic demonstration of how exploiting the power of digital out-of-home coupled with complete campaign flexibility can enable hyper-targeted, hyper-relevant, and dynamically served messaging by time, day and location in a real world environment.
AdNews is proud to deliver strong, independent and credible news 24-hours a day, almost 365 days a year. And we know our free, online news helps power your career and knowledge. But, can we ask a small favour? To fund our ongoing commitment to delivering the best industry news, that you show your willingness to support us by taking a digital subscription to AdNews magazine? The cost is less than $50 for the entire year, and $4.94 per issue. Support AdNews. Support journalism.
Have something to say on this? Share your views in the comments section below. Or if you have a news story or tip-off, drop us a line at adnews@yaffa.com.au
Sign up to the AdNews newsletter, like us on Facebook or follow us on Twitter for breaking stories and campaigns throughout the day.