This is from the July issue of AdNews Magazine.
AdNews Spotlight shines a light on smaller or more unique agencies in the industry that are making a big impact. This month it is Brisbane-based creative agency Rumble. Split into four, soon to be five, separate agencies, "Rumblers make it happen". Founded by Nancy Hartley, James Burchill and Remy Brassac, clients include Sunsuper, Ladbrokes, Tourism & Events Queensland and Greyhound Australia.
Why did you start Rumble?
We wanted to create more meaningful partnerships with businesses, where unbridled creativity can make a real business difference.
What services do you offer and how has this changed/adapted since you launched?
The success of Rumble has enabled us to create Rumbletown - an ecosystem of specialisation with four companies (soon to be five) available, separately or co-joined, for any business requirement - creative strategy, digital, PR, startups, media.
What's your point of difference and what makes your team unique?
We're developing the concept of creative entrepreneurship. We do more than campaigns, we create products and business ideas in joint venture partnerships with companies. By creating Rumbletown, we've been able to help other top professionals step out and become business owners. They themselves then attract the best talent in their field and are able to grow their businesses autonomously, but completely supported by the 'township'. We are business owners and builders. Our entrepreneurial spirit makes us natural listeners and collaborators.
Who is your ideal client and what's the dream brief?
A client that expects impeccable work and trusts us; a client that is ready to collaborate. And a brief attached to a big hairy business goal that puts a client in the mood for something special.
What has been the agency's biggest challenge?
Bootstrapping our investment in different businesses and joint ventures without going into debt.
Biggest highlight?
Being named Asia Pacific's Independent Agency of the Year at Adfest 2016, just two years into the business, and flying James up to Bangkok at the last minute to collect the award. This one single guy is up on stage in contrast to the multitudes from Dentsu and BBDO who won in other categories. It's a moment indelibly etched in our memories.
How do you view the competitive landscape?
It's the age of the independents as senior experience moves out of holding company structures. The trick is to not simply offer a smaller version of the same thing again.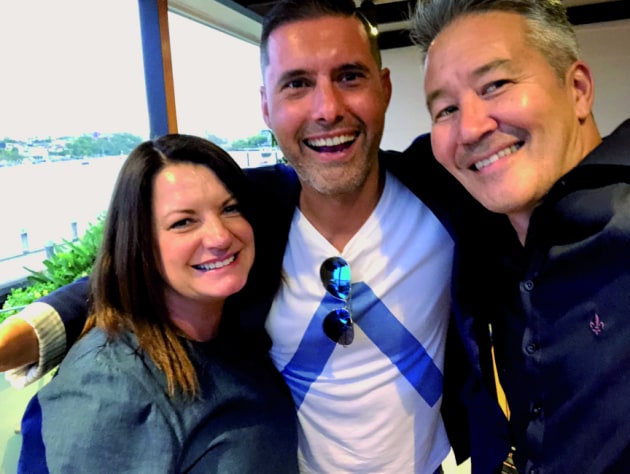 Rumble leaders: Nancy Hartley, Remy Brassac and James Burchill
Notable 'people and culture' efforts made by the agency?
The agency is approximately 60:40 female to male ratio, with women in leadership positions and all creative teams male/female combinations (It's not a rule, but this has always worked incredibly well for us). We are extremely flexible to ensure parents can continue to progress their careers while raising a happy family — which also means we can have the best talent. We make sure our people know that they are valued and that we are committed to their personal development. We're very open and transparent with our team about what the business is up to and the role they play in our shared success.
What's on the agenda this year?
We're proudly Brisbane, passionate about our city and the creative and business community here. That will never change. Growing in the right way is also important to us and right now we're actively exploring opportunities for partnerships and collaborations in Melbourne and Singapore.
Why is the agency 'one to watch' in 2018?
We never want to stand still, we always want to keep getting better, doing different and unexpected things, making a real difference for businesses whether it's through campaign work, product development or tech innovation. There's really exciting work currently in development, including a product innovation that will dramatically improve the lives of elders living at home. And our Rumbletown model of creative entrepreneurship, though young, is already proving to be a dynamic success.
Name of the office dog/any office pet?
All dogs are welcome at Rumble, but our most regular guest is Koda, who belongs to art director Bec McCall. Koda's presence makes any day better.
The top pieces of work and why?
Ugly Xmas Rashie for Cancer Council
Our brief/request from the client was to make a Christmas card thanking donors/supporters of Cancer Council. What we created was a product innovation business - owned by Rumble - with proceeds going to fund cancer research and support services. A magic bullet, creating skin cancer awareness, behaviour change and a new annual income stream for Cancer Council that didn't rely on traditional donors. To date, 11 million people are educated on the risks of skin cancer, 22,000 rashies are sold, with $1.5 million–plus in sales and Y4 about to launch. And Ugly Xmas Rashie selfies from the likes of Chris Hemsworth and Hugh Jackman - the best unpaid influencers you could get.
Sunsuper campaign 'Dream with your eyes open'
We won the business two years ago by being able to evolve their long–standing brand promise of "making retirement dreams more than dreams". The work plus the brand transformation contributed to Sunsuper winning the grand slam of industry awards; the first time it's ever been done.
Life–Fi — currently in development
An elegant piece of code allowing for crowds of users to engage via mobile without identity protocols. First application will be for Surf Life Saving Beach Safety.
Why members of staff love working at Rumble:
Art director Bec McCall:
"The people. Apart from being a bunch of legends that have an aptitude for loud, accurate high-fives and mad lols, there is a Rumbler attitude that brings the agency and the work it produces to life. It's the no bullshit, can-do attitude of a group of talented humans that makes working here both inspiring and fun!
Account manager Harold McKeon:
"Working with everyone here has been the biggest breath of fresh air. Rumble recognizes and fosters great creativity and gives every opportunity to grow. It's testament to Nancy, James and Remy that they've built an environment that promotes the best parts of advertising (and won't stand for the worst)."
Writer Rhys Venning:
"No hidden agendas, no egos, no corporate stuffiness, and no bullshit. Just a great bunch of mildly attractive people with a level of enthusiasm rivalled only by competitive aerobics."
AdNews is proud to deliver strong, independent and credible news 24-hours a day, almost 365 days a year. And we know our free, online news helps power your career and knowledge. But, can we ask a small favour? To fund our ongoing commitment to delivering the best industry news, that you show your willingness to support us by taking a digital subscription to AdNews magazine? The cost is less than $50 for the entire year, and $4.94 per issue. Support AdNews. Support journalism.
Have something to say on this? Share your views in the comments section below. Or if you have a news story or tip-off, drop us a line at adnews@yaffa.com.au
Sign up to the AdNews newsletter, like us on Facebook or follow us on Twitter for breaking stories and campaigns throughout the day.