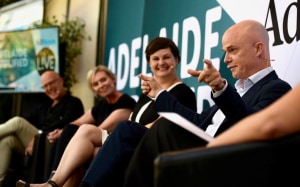 The long awaited total TV measuring system, VOZ, will be an important step forward for the industry but will still fall short in covering the entire video ecosystem, says KWP media director Michelle Grogan.
The new data will bring together linear and BVOD viewers for a clearer picture on the TV audience which has become fragmented. Daily VOZ data is set to be rolled out from June.
Speaking at AdNews' Adelaide Amplified event, Grogan says that while VOZ is a step forward, a measuring system that brings in all screens, such as cinema and socials, should be the end goal for the industry.
"I'm probably not as excited about it as some others might be because I think screens goes beyond just BVOD and linear TV screens," Grogan says.
"I don't think VOZ is a silver bullet in the sense that it still won't pick up certain screens that I consider part of the ecosystem myself. It's a step forward though and it will give us more opportunity to provide accountability and data to the clients and that's always really useful.
"Obviously you can't just go from having OzTam to something that captures every single screen out there that's providing video content, but you have to start somewhere and VOZ is the step forward and means from there the next logical step will be working on bringing in other screens as well. That's exciting because for such a long time there wasn't anything else, there was just OzTam."
Grogan says that she views the video ecosystem in the same way radio has come to be viewed as audio.
"I don't like to think about the screens as being just TV - it's TV, cinema, office tower screens, social screens, anywhere that a piece of video content can be run whether it's six seconds or 60.
"That's something I've subscribed to for quite some time and I try to talk to my clients about that screens ecosystem. The same way that we don't talk about radio as radio - it's audio. I think screens is about understanding there's a lot of different opportunities for people to see motion creative and you also have to factor in that it's a very different experience depending on what that screen is. So it's an ecosystem for me rather than just a channel."
Have something to say on this? Share your views in the comments section below. Or if you have a news story or tip-off, drop us a line at adnews@yaffa.com.au
Sign up to the AdNews newsletter, like us on Facebook or follow us on Twitter for breaking stories and campaigns throughout the day.