This article follows on from: Ad spend analysis: 'TV gets its mojo back'
Digital media spend had the strongest growth out of all channels in 2017. Digital grew 12.3% growth in a market that shifted by only 0.7%, the annual SMI figures reveal.
Other channels that performed well include outdoor, up 7.3%, radio, up 3.3%, and cinema, up 2.8%. Newspaper media bookings were down 20.7% and magazines bookings declined 20.8%.
On the surface, this appears to be a broadly positive result for digital and certainly digital video, but the reality is that almost all of the growth in digital is going to two players - Google and Facebook, according to four senior media buyers in the know.
"It's become a very competitive market outside those major global players and that will continue in 2018," Amplifi chief investment officer Ashley Earnshaw points out.
Early in 2017, media buyers observed some money shifting away from YouTube over brand safety concerns, but this hasn't had a huge financial impact on the video platform, and certainly not on its parent company Alphabet (which also owns Google).
"It's not a consistent pattern across the market and what we've observed is that it hasn't had a significant impact on their overall market performance last year," Earnshaw says.
That said, Omnicom Media Group chief investment officer Kristiaan Kroon tells AdNews that digital media spend is somewhat more moderate than in previous years as the channel continues to mature.
"It's getting older and bigger and they're still very big numbers," Kroon says. "It was certainly a year in which brand safety and media transparency issues came to the fore and for digital it's very complex for them. And when TV gets better at defending its revenue there's less money to go into other channels."
Kroon points out that outside of the two largest players, many digital media companies from the US have begun retreating from Australia because they aren't seeing the revenue numbers they had forecast.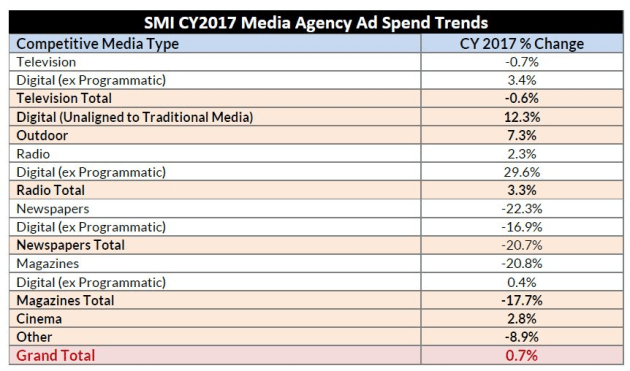 Fear of missing out
Publicis Media chief operating officer Chris Nolan says that brands continue to heavily invest in Facebook and Google despite the cost of investing in these platforms through live bidding inflating due to more competition.
"More advertisers in category using these auctions is driving the price up," he says. "You would think [this would reduce demand], however, there's a fascination by many advertisers to maintain their competitiveness on these platforms with the view or perception that it is maintaining the competitiveness of their overall business.
"The key is advertisers need to get a greater level of certainty around what business outcomes those platforms and their overall digital program is delivering for their business. And other premium publishers need to establish a greater level of trust in their platforms if they are to encourage a greater level of use as opposed to Facebook and Google and the options they are providing."
Nolan says that publishers need to work out how they can establish the sort of trust that is seen with the verified marketplace in the UK.
"I find it interesting Nine, Google and Fairfax have a co-operative in terms of data. That is an indication of more things to come," Nolan adds.
Irrespective of platform, most of the growth in digital bookings is in digital video, and PHD chief investment officer Lucy
Formosa Morgan predicts this will continue to be the case this year. "From what I'm seeing with clients is that video is where the growth really is," she says.
As Nolan points out above, this is driving up cost, and Formosa Morgan says a good example is the higher cost of catch up TV to linear broadcast.
She believes that an influx of video inventory should drive this down as TV networks continue to invest in VODs and other digitally-served content.
Can print come back?
Print's decline continues at pace and Earnshaw says this is partly due to attribution.
"With a digital economy clients are much more cautious around non-attributable media," he adds. "They are looking for different and more dynamic solutions in digital."
Another drive, he points out, is that investment tends to mirror consumption, "but perhaps in 2018 we will see the investment in newspapers moving behind the consumption trend".
"We do see strong proof points in the return in investment newspapers can bring and as we worked with the TV networks, we need to do the same with newspaper publishers to demonstrate to clients where it is the right fit you can have strong returns on investment from print campaigns."
Media buyers want publishers to improve attribution and demonstrate to clients the impacts of media spend on business outcomes.
Outdoor and measurement
Another media channel where measurement and attribution will come to the fore this year is out of home.
"There's been a slight cooling of out of home investment but it finished the year very strongly," Earnshaw adds. "It's still a good result for them after years of strong growth. The out of home industry has done a great job of embracing the digital future and blending that with data.
"It listened, organised itself itself well and sold itself well to the market."
Formosa Morgan believes that outdoor's conversion of static billboards to digital is largely pushing growth and the market is in discussions with media owners on how they can improve tracking and measurement across the sector.
"We need to make sure there is the rigour behind the numbers we would expect," she adds.
Earnshaw also notes the solid year for radio, adding that: "radio is always a good barometer of the media market and publishers will be happy they finished in strong low-digit growth."
A major issue this year for publishers will be measurement and media buyers are interested in channels working together to find a cross-media solution.
Formosa Morgan predicts: "TV will post slight growth this year, digital will continue to increase and some advertisers are quite under-indexed. Magazines and newspapers will continue to decline and outdoor will growth but not to the same level.
"I'm still keen to get one measurement tool across digital, video and TV so you can have a proper grown up conversation and track viewers across platforms. I think there is a gaping hole there."
It's a sentiment marketers share.
This article follows on from: Ad spend analysis: 'TV gets its mojo back'
Have something to say on this? Share your views in the comments section below. Or if you have a news story or tip-off, drop us a line at adnews@yaffa.com.au
Sign up to the AdNews newsletter, like us on Facebook or follow us on Twitter for breaking stories and campaigns throughout the day.