Media bookings in Australia grew by 0.7% to $7.11 billion last year with a turnaround in TV, strong gains in digital and outdoor, and continuing decline in print, according to figures released by the Standard Media Index.
In this two-part series, AdNews approached four senior media buyers to analyse the results and what it means for each media channel in 2018.
The 'record year' in bookings was driven by strong demand from the retail, automotive and government sectors as well as renewed interest from banks.
The figures also received injections of spend around the same sex marriage vote and the Queensland election.
"This time last year the market was extremely cautious as there were no scheduled events in 2017 that were expected to spur advertising demand," SMI ANZ managing director Jane Schulz says.
"But you never know what's around the corner, and in the second half of this year we've seen especially strong growth from the government category due to advertising surrounding the same sex marriage debate and the Queensland election, with the category providing an extra $53.6 million to the market in this period."
The results are all the more impressive given that in 2016 media bookings were buoyed by the Rio Olympic Games and federal election. This year, notable events that will bolster the market include the Commonwealth Games, Winter Olympics and the Victorian state election.
"Even though it was only a slight growth year-on-year, seeing that growth will bring optimism and positivity to the market," Amplifi chief investment officer Ashley Earnshaw tells AdNews.
"We certainly didn't have the impact of Rio and when you consider the caution in the market around digital and the cooling of digital in the second half, we view the results as positive and that clients are showing faith in their media spends to deliver business outcomes."
Publicis Media chief operating officer Chris Nolan tells AdNews the reality is that most growth in media spend is pouring into two platforms – Facebook and Google – and there aren't significant changes elsewhere.
"You've got continued decline in print, you've got healthy growth in outdoor being driven by its digitisation and as a general awareness medium," Nolan says.
"TV continues to play an influential role in building brands because of the video and audio capability of the medium, but then you've got challenges around reaching that audience. Those trends have been going on for a long time and while there is some change, it's a consistent change.
"The significant change is in Google and Facebook - they are getting an increasing share of the growth in digital."
Omnicom Media Group chief investment officer Kristiaan Kroon tells AdNews the past year has seen what he labels "channel normalisation".
"By that I mean that TV declines are slowing and out of home and digital growth also slowed," he says.
"That was a very strong feature of the back half and we expect that to continue into 2018. It's a very low growth marketplace and there will be a lot less money moving between channels."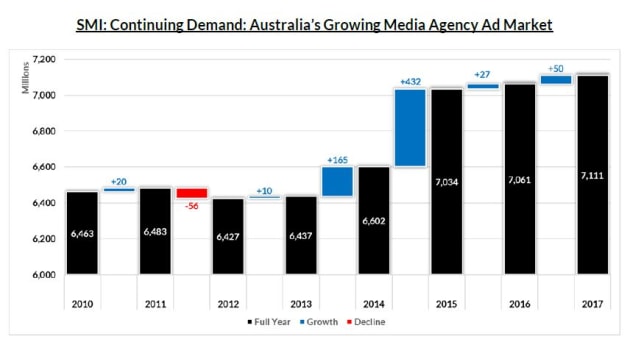 TV's turnaround
One of the main takeaways from 2017 is the turnaround in television as an advertising platform. In 2017, media bookings in TV declined by 0.7% across the market, but metropolitan free-to-air ad revenue actually grew by 1.4% to $1.5 billion in the second half of the year.
This is a significant turnaround on the 3.1% decline in TV ad revenue in the second half of 2016, and media buyers are confident TV has turned a corner after more than three years of decline.
PHD chief investment officer Lucy Formosa Morgan tells AdNews advertisers realise TV still works as a mass reach medium and this trend will continue.
"The demand is still strong and the government brought in a fair bit of cash with the same sex plebiscite and the Queensland election, then there was the Ashes at the end. We're finding demand is strong in Q1 of this year as well," she says.
Formosa Morgan tells AdNews TV networks have become more sophisticated with their digital video offerings and clients are starting to "lean in".
"Connected TV is a whole new area that is also starting to open," she adds. "The networks are coming to the party in terms of finding opportunities advertisers and viewers where they are actually viewing."
Kroon believes TV's turnaround is due to better content and "they've got their proposition to market much better".
"They probably benefited from not so great stories coming out of digital, but it's more than that, confidence is returning. TV certainly got its mojo back in 2017," Kroon adds.
'New tech can drive growth'
Earnshaw believes television has come through a period of uncertainty and restored confidence to advertisers, led by ThinkTV's efforts to "remind clients and agencies about the return on investment in television".
"Television has also done a great job in the past 12 months of embracing changes in technology with automation coming to the forefront now," he adds. "There's also intent-based marketing as well; television has learnt from digital and embraced digital metrics.
"We're now able to book television with better targeting ... television has done a great job of rapidly evolving its offering and moving from a spot-based model to something that gives it a springboard for this year."
Earnshaw believes these advances could help the TV industry grow, although this still varies by category and company.
"I do believe that automation and better targeting is going to support increased investment in television," he says. "It's also about better content. What we've seen from the television networks is better content combined with better targeting. It gives optimism for TV across the year."
Moving away from spots
Automated trading was first pioneered in this market by MCN, but is now being rolled out at Nine and, soon, Seven.
This provides certainty in TV investment rather than relying on a consistency of schedule – one of the factors buyers consider when drafting media plans.
"Historically the networks have relied on their schedules alone to bring through that assurance, what we are seeing now is the technology has overtaken that and is taking volatility out of the market, certainly with daytime television," Earnshaw says.
"They're also giving us the schedules that meet the ratings and cost guarantees clients want. Also we observe that live event TV is still very powerful and we have some great events this year, such as the Commonwealth Games."
Another way TV has lifted its game in recent years is by adopting a more screen neutral approach. Good examples of this are Seven's all screens approach to covering the Australian Open and the Olympic Games, and how TV networks increasingly offer TV show integrations across multiple channels.
"Historically the screen stack has been a screen neutral way of planning client's campaigns, but what we're seeing with the free-to-air networks is that they're investing in different technologies that enable clients to book with one CPM across different screens," Earnshaw points out. "It's quite here yet but something I anticipate we will see in 2018."
Tomorrow, AdNews asks media buyers about the domination of Facebook and Google, other digital media players and how outdoor, radio and print are likely to perform.
Have something to say on this? Share your views in the comments section below. Or if you have a news story or tip-off, drop us a line at adnews@yaffa.com.au
Sign up to the AdNews newsletter, like us on Facebook or follow us on Twitter for breaking stories and campaigns throughout the day.