The campaign taps into Facebook's facial recognition software, providing the Missing Persons Advocacy Network further support in the fight to find more missing persons.
Missing Persons Advocacy Network (MPAN) and WhiteGrey Australia have launched a new campaign that uses the power of Facebook's new facial recognition and auto tagging technology to aid in the search for missing persons.
The world first campaign, 'Invisible Friends', features a selection of Facebook profiles of missing persons, supported by a push to get as many Facebook users around the world to befriend these profiles.
The initiative searches the backgrounds of each photo and video posted by the friends of each Invisible Friends profile, in the hopes of identifying and locating these missing people.
With around 500 million photos and videos posted to Facebook every day, if even one of the faces matches, the Facebook algorithm will then auto tag the profile and notify MPAN of the missing individual identified in the image.
"Invisible Friends is an ingenious way to put artificial intelligence to work for a good cause, and carry out a task humans simply aren't capable of," MPAN founder and director Loren O'Keeffe says.
"By searching through billions of posts per week, we're not only raising awareness for the devastated families of these missing people, but also hope to put an end to their ambiguous loss, the most stressful type of grief."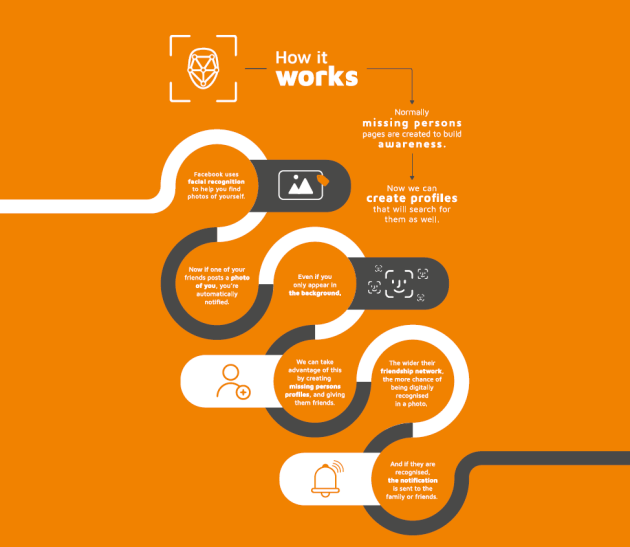 Facebook's facial recognition technology operates at an accuracy of 98% which is 13% more accurate than the facial recognition technology employed by the FBI.
And while there are some obvious privacy concerns for those that don't want to be found, MPAN and WhiteGrey have created profiles only where an active police report exists, and other strict criteria are met.
 "Facebook has changed the way we interact, recently declaring that there's now only 2.5 degrees of separation between the entire population of the planet. This simple, creative idea has such immense potential because of its immediate, global reach," WhiteGrey Melbourne ECD Anthony Moss says.
"It's been a very rewarding project to be involved in with Loren, and the hope is that we can roll this out around the globe to other missing persons organisations."