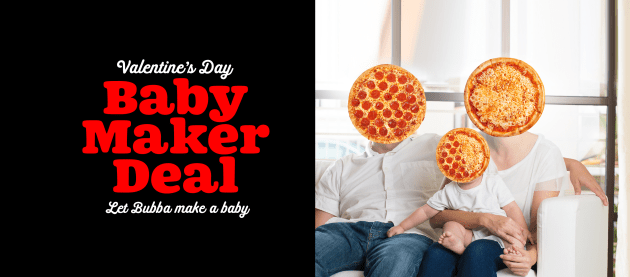 By All Means created the campaign.
Bubba Pizza and By All Means created the Baby Maker to get couples in the mood on Valentine's Day. 
All responsible adults who ordered two large pizzas will get a free small pizza...nine months later. 
Each free pizza will be half one, half the other—so if someone ordered one Aussie and one Mexican, their newborn pizza will be half Aussie and half Mexican. 
"While the same can't always be said about your partner, pizza is something that reliably satisfies," By All Means creative partner Toby Cummings says.
"It may be the ultimate consensus food, which makes it easy to insert into Valentine's Day. Bubba and BAM together have turned a seemingly ordinary retail offer into something more stimulating and interactive. I think Saint Valentine would be proud."
Bubba Pizza director Damian Hopper says: "Valentine's Day is about making each other happy, and with 30% of Australians agreeing that food compatibility is the most important aspect of a relationship, pizza is a pretty safe bet for most couples. Sure, a free small pizza nine months later may not seem like the best deal on paper, but then again, neither is having a baby. At least you can eat this one."
Expecting couples received a voucher which they can use to claim their pizza babies on 14 November. Those who forget will have their babies sent to Bubba's online orphanage, where they will be put up for adoption. 


Credits
Client: Bubba Pizza
Director, Bubba Pizza: Damian Hopper
Agency: By All Means
Creative: Ash Gotti
Creative: Jacob Redding
Senior Account Manager: Harriet Bell
Creative Partner: Toby Cummings
Creative Partner: Ed Howley
Managing Partner: Mat Cummings
Artwork: Joanne Gerace